Chris Hemsworth Takes Fatherhood More Seriously Than Any Of His Acting Roles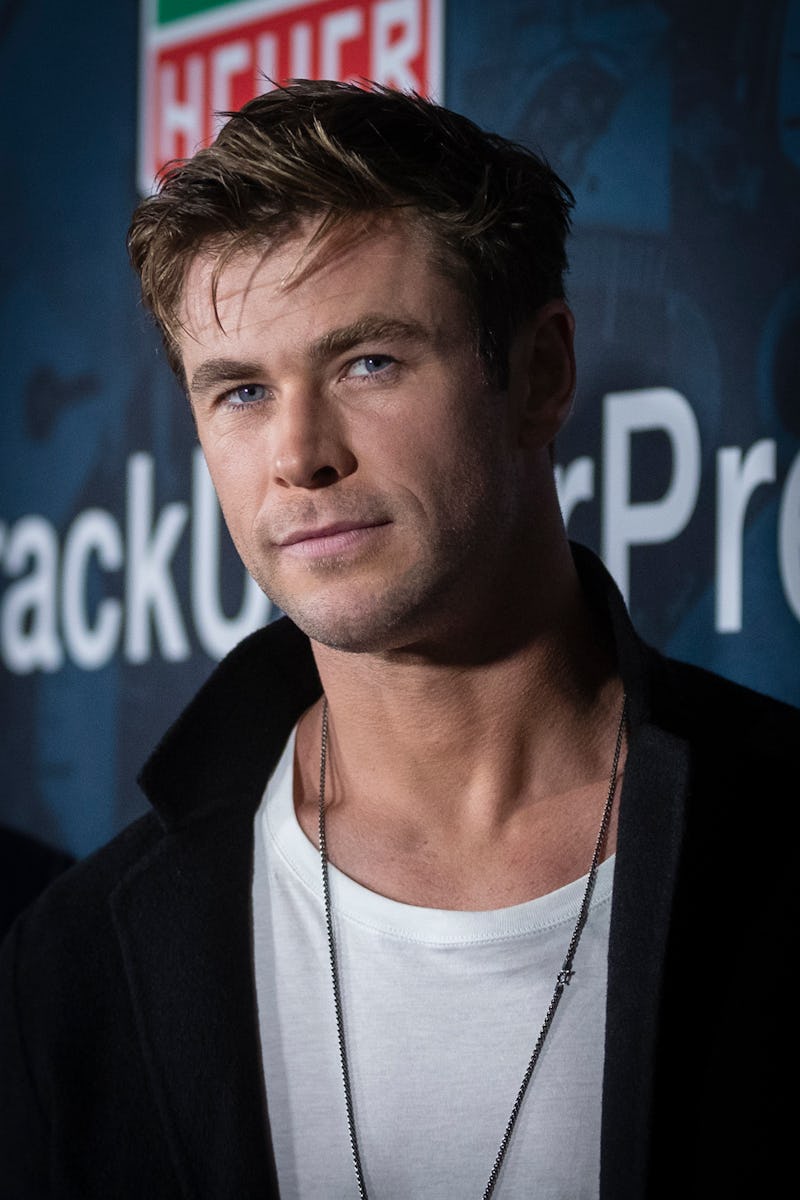 Brook Mitchell/Getty Images Entertainment/Getty Images
The world might know Chris Hemsworth best from Thor, but there's a role that's even more important to him. In a recent interview with GQ, Hemsworth revealed how he balances his career with fatherhood. The actor's kids are a major priority in his life, and in the profile, he discussed just how difficult it can be to manage family and a career. Obviously, working in the film industry can often require international travel, which means extended periods away from his home in Byron Bay, Australia.
Describing how difficult it is to leave his daughter to go film after being home for several months, he explained,
"She's normally like, 'Yeah, see you, Daddy. Cool.' She was like, 'Papa! Papa! Papa!' She doesn't always call me Papa, either. I wasn't, like, sobbing, but..."
In the past, Hemsworth has been open about love for his family in interviews and on social media. The actor is married to Elsa Pataky, with whom he has three children — a daughter named India, and twin boys Sasha and Tristan.
Tessa Thompson, his Thor costar, talked to GQ about how there's a double standard when it comes to mothers and fathers working in Hollywood. "Obviously women are asked all the time, 'How do you balance it?' Men are never asked that," Thompson said. However, Hemsworth often is open about the challenge of putting family first and maintaining a high-profile career, and Thompson praised that openness: "It's so lovable, because it's really honest."
The interview wasn't the only recent time the actor shared stories about his kids. In March, Hemsworth joked about surfing with his daughter on Instagram. He wrote:
"Day two with my surf coach, she's like a little angel on my shoulder constantly feeding me knowledge and inspiration and occasionally heavy handed criticism that borders on abuse but I know it's for my own good (joke) Thank you coach Indi you're the greatest, love u"
In April, 2015, Hemsworth also discussed raising his kids during an appearance on The Ellen Degeneres Show. He revealed that all three would learn English and Spanish, which meant he would be having difficulty understanding them. Based on his anecdotes about his kids, it's clear how important his family is to him.
In the GQ profile, Pataky also talked about how winning events at their kids' schools were even more meaningful to him than career milestones. When he won a field day and spoon race, it was a huge moment of pride. "I've never seen him so excited, not even about getting a big job," she recalled. "It was probably one of the best things that has happened to him in his life, which is funny, right? All the things he has achieved."
Of course, Hemsworth also mentioned the importance of maintaining a private life for his family. He isn't shy about posting family updates on social media, but is careful not to cross a line. For example, Pataky and Hemsworth never show their children's faces in family photos. Hemsworth was also sure to mention that using his family for paid sponsorships of any kind is out of the question. "The exploitation is something I'm very wary of," he told GQ. "We've been offered things, like 'Advertise such-and-such and have dinner with your family.' There's no way."
It's clear that while fans know Hemsworth as a larger-than-life superhero, his reality is much more down-to-earth. His family takes priority, even ahead of his role as one of Hollywood's most prominent lead actors. Balancing an acting career and fatherhood isn't always easy, but it seems like Hemsworth is managing it well.