Chris Pratt & John Krasinski Team Up For An Important Reason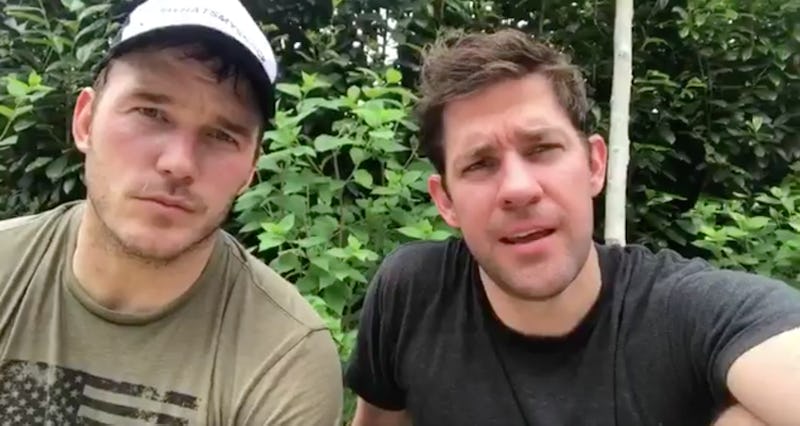 John Krasinski/Twitter
While it's easy to think of Memorial Day as an extra day off from work or school, Chris Pratt and John Krasinski's Murph Challenge video is an important reminder for what the holiday is really about: honoring those that have died serving our country. In a clip posted to Twitter on Monday, the celebrity pals explained that they spent their morning commemorating Memorial Day by completing the Murph Challenge, an annual fundraiser led by the LT. Michael P. Murphy Memorial Scholarship Foundation.
As Krasinski describes in the video, it's a workout that includes a one-mile run, 100 pull-ups, 200 push-ups, and 300 squats followed by another one-mile run. It's not an easy feat, but it's only a small task when compared to the immense sacrifices our troops make for America every day.
The challenge is completed in honor of LT. Murphy, who, according to the official Navy website, died by risking his own life to save his teammates in 2005. While under enemy siege, he put himself in the line of fire so he could call for backup and divert attention from the rest of his team. As Pratt says in the video,
"He's just one of the many, many brave men and women who have paid the ultimate sacrifice for our country that we think about an honor today."
Krasinski adds,
"So today whether you do a Murph challenge or just take some time to say thank you and remember, remember that's what today's all about."
So while you're enjoying some time off, make sure to take some time to send out a thank you to the men and women that sacrificed themselves to keep us safe.