Chris Pratt & Katherine Schwarzenegger Are Getting More Serious By The Minute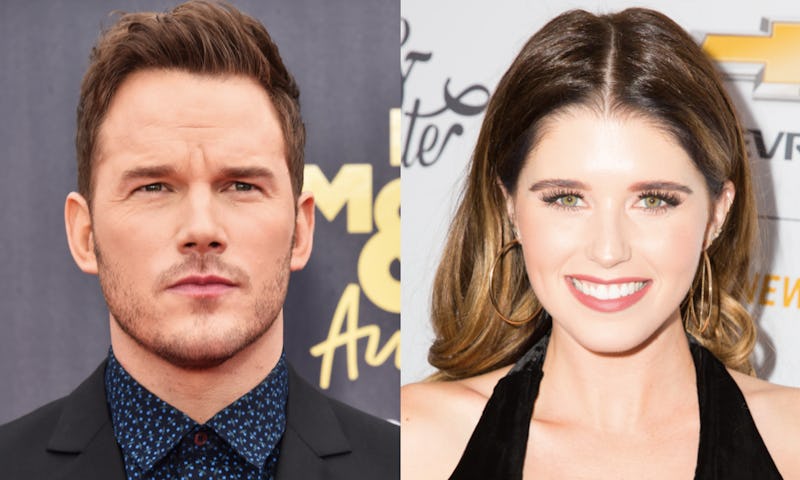 Alberto E. Rodriguez/Getty Images Entertainment/Getty Images; Alison Buck/Getty Images Entertainment/Getty Images
It doesn't look like this celebrity couple is slowing down anytime soon. Once again, Katherine Schwarzenegger spent time with Chris Pratt and Jack, his 5-year-old son from his marriage to ex-wife Anna Faris. According to People, the couple and Jack had lunch together at Soho House in Los Angeles on Aug. 12. A source claimed to the publication about Pratt and Schwarzenegger, "They looked entirely smitten." People also reported the Guardians of the Galaxy star and Schwarzenegger tried to keep a "low-profile" by choosing a corner booth and not partaking in too much PDA.
"She seemed to be really happy and fit in with him and his son," the source told People. "She appeared to be genuinely enjoying herself and looked entirely comfortable helping him in doting over his son." The source added, "Their body language spoke volumes about how serious they are about one another."
They've been spending a lot of time together recently. On several occasions, Schwarzenegger has hung out with both Pratt and Jack. On Aug. 2, TMZ shared photos of all three in Malibu together. On July 30, TMZ shared other pictures of Pratt and Schwarzenegger kissing in front of Jack, while the trio grabbed ice cream in Los Angeles.
It sure seems like they are getting more serious by the minute. In early August, a source opened up to People about Schwarzenegger's relationship with both Pratt and Jack. "They are spending every day together and Katherine has met Jack several times," the source dished. "They seem to be getting more serious."
They haven't been dating very long, so for her to be spending as much time as she has with Jack shows how serious they are. If Pratt didn't view her as a significant part of his life, he probably wouldn't have introduced Schwarzenegger to Jack, nor would all three of them be hanging out together as much as they have.
Romance rumors involving the Marvel star and the 28-year-old first started on Father's Day in June after they were spotted together. (Bustle previously reached out to the pair's reps about the relationship rumors, but did not hear back.) Ever since then, they haven't been able to escape the spotlight.
Like Schwarzenegger, Pratt's also been hanging out with her family. On Aug. 5, Pratt appeared in Patrick Schwarzenegger's Instagram Story. As you can see below, the 39-year-old sat next to his girlfriend at large family gathering. In the video, which you can watch here, someone asked Pratt, "Chris, do you want a piece?" He answered, "Oh, no thank you."
According to a source who spoke with Entertainment Tonight in early August, Pratt and Schwarzenegger are as serious as they look. "Chris Pratt and Katherine Schwarzenegger are the real deal," the insider said. "Chris and Katherine are a serious couple so Jack being alone with Katherine is normal. Anna [Faris] and Chris are great co-parents and respect that each other are in serious relationships. Jack will be spending quality time with each other's partners."
At the end of July, another source told ET they've "gotten serious, quickly... Chris and Katherine have introduced one another to their family and friends, and have been almost inseparable when they are free."
Pratt and Schwarzenegger have yet to officially comment on their relationship, but based on all of their outings, with and without Jack, things seem to be going really well.