Chrissy Teigen Is So Ready For Luna's B-Day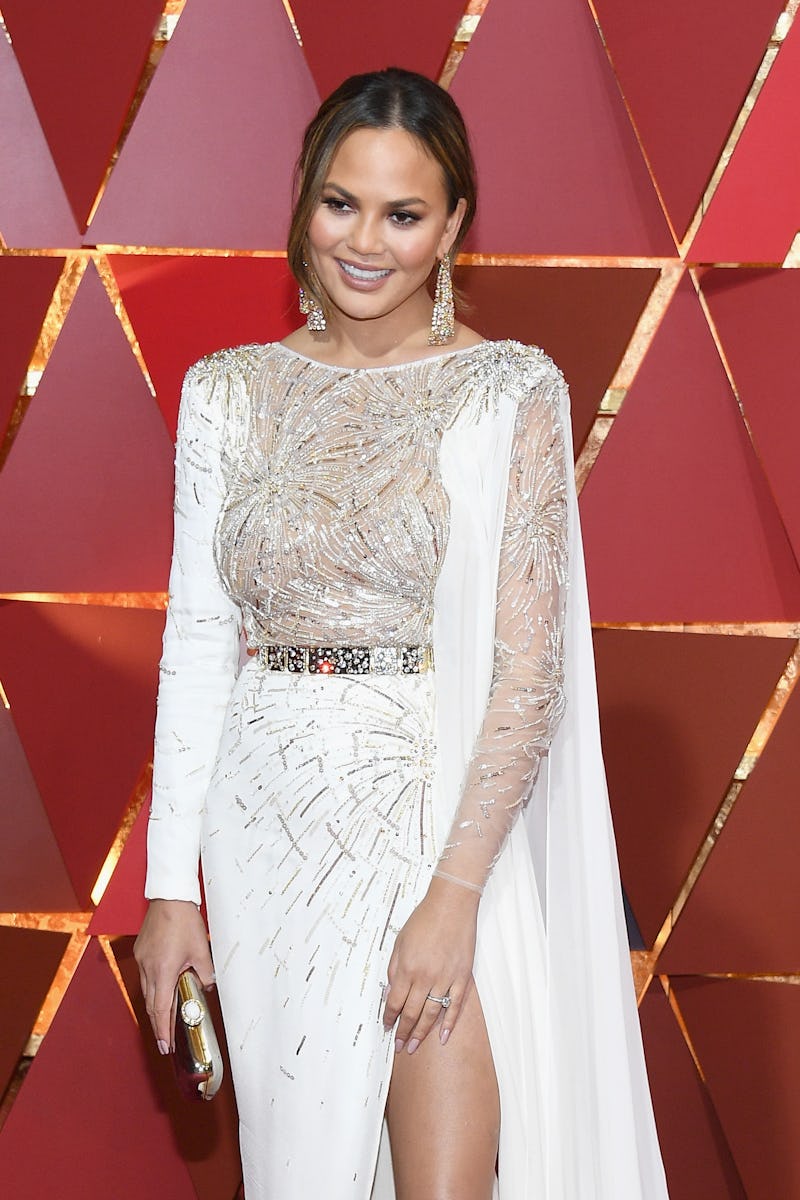 Kevork Djansezian/Getty Images Entertainment/Getty Images
There's a big event coming up this month: Baby Luna is turning one. No, I don't know where the time has gone either. In preparation for her daughter's birthday, Chrissy Teigen is learning to decorate cakes, according to Refinery29. It looks like Teigen wants to make Luna's first cake herself, and she turned to celebrity chef Duff Goldman's shop, Duff's Cakemix, for a practice run.
Teigen and husband John Legend have shared all of Luna's landmarks during her first year, and, as a result, their adorable baby has garnered quite a following of her own. Basically, she and her famous parents are total family goals, and everyone is excited to see her official birthday cake later in April. For now, Teigen's first attempt is absolutely beautiful.
The proud mom went with a two-tier cake that screams spring. The bottom layer is baby pink and gold — a classic combo, and the top tier is covered with sprinkles that would make any one-year-old smile. Teigen also added touches of mint green, polka dots, and pearls. She took to Twitter to note the final cake wouldn't feature pearls since they're not baby safe, but they still add a beautiful touch to a cake fit for a princess in training.
Every parent makes a different choice when it comes to celebrating their kid's birthdays, and it is so sweet to see Teigen has decided to make Luna a cake herself. Even though Luna is probably too little to fully appreciate her mom's artistic endeavor right now, when she's older she will be able to look back on photos from her party and see all of the love Teigen poured into her first cake. Not to mention the sprinkles.
During Luna's first year, Teigen has become a role model for moms who face shaming for their parenting choices. The star has become a pro at shutting down unsolicited parenting advice online, and if you read through her mentions, she seems to be inspiring her followers to do the same. Throughout it all, she has been open about her journey as Luna's mom, and her fans should feel privileged she and Legend have shared so many of their experiences as first-time parents. It may seem like a small thing, but the couple's triumphs and struggles during their first year of parenthood have been relatable to so many.
Now little Luna is turning one, and the adventures will no doubt continue. Hopefully, first Teigen will share a picture of the finished cake because it's clear she has some serious decorating skills.