Chrissy Teigen & John Legend Celebrated His EGOT Win In The Most Low-Key Way Imaginable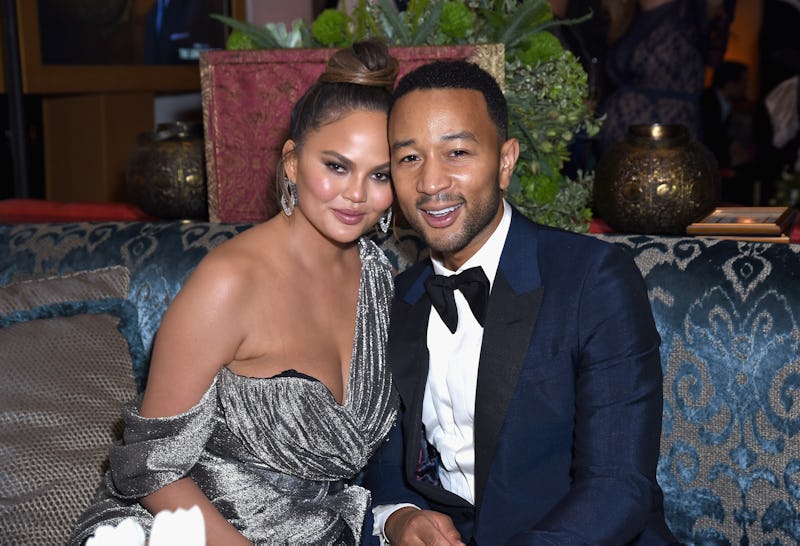 Presley Ann/Getty Images Entertainment/Getty Images
If you know anything about Chrissy Teigen and John Legend, then you'd know that they're one of the cutest celebrity couples of all time. As Marie Claire noted, and according to the cookbook author herself, the way that Chrissy Teigen and John Legend celebrated his EGOT win may prove exactly that.
During her appearance on Watch What Happens Live, noted Bravo superfan Teigen, discussed everything from the latest Real Housewives of Orange County drama to what's going on in her own life. One WWHL viewer called in to the show to ask Teigen, quite boldly, "How freaky did you and John get after he won the EGOT?"
She replied, "What's the lowest amount of freaky? We didn't do anything." The Lip Sync Battle cohost continued to reveal exactly why nothing "freaky" went down and what they actually did to celebrate instead:
"I lost my voice. I had to go tape an episode of Lip Sync Battle. And then we... had In-N-Out. I don't want anyone to be like 'We're so relatable.' But, yeah, we didn't do anything."
Talk about a low-key way to celebrate a pretty huge deal. She may not want people to say that the two are "so relatable" but, honestly, that's exactly how I would celebrate, too.
Seeing as though Legend did achieve EGOT status (winning an Emmy, Grammy, Oscar, and Tony), another viewer thought that it was time for the couple to return a Grammy award to the clubhouse. They asked, "Now that John has plenty of awards, can the clubhouse have its Grammy back?"
As a refresher, Teigen previously gifted WWHL with one of her husband's Grammy awards during their 1000th episode celebration. Although, the singer later went back to retrieve the award at a later date. In response to their question, Teigen joked, "Oh, I know! I was gonna bring you the Emmy honestly."
While they may not have celebrated Legend's EGOT achievement in an overly grand way, that didn't mean that the couple was afraid to show off their excitement over the win on social media. In particular, Teigen was super proud of her husband, of course. And she also managed to have a little good-natured fun at Legend's expense in the process.
On Sept. 10, the day after the Creative Arts Emmy Awards, in which the "All of Me" singer took home an Emmy for co-producing Jesus Christ Superstar Live In Concert, Teigen shared an Instagram video of her husband. In the clip, Legend could be seen adding the Emmy to his already impressive awards display. She captioned the video, "And I say hey, what a wonderful kind of day," which is part of the theme song for the children's TV show Arthur. As you're probably aware, the singer's dealt with his fair share of Arthur comparisons. It's really only fitting that Teigen would bring it back to a fun note during their exciting day.
If you didn't already know that Teigen and Legend are pretty much #CoupleGoals, their low-key way of celebrating his EGOT achievement should definitely help you realize that this couple is pretty much the best.