Here's How Chrissy Teigen & John Legend's First Parent-Teacher Conference Went Down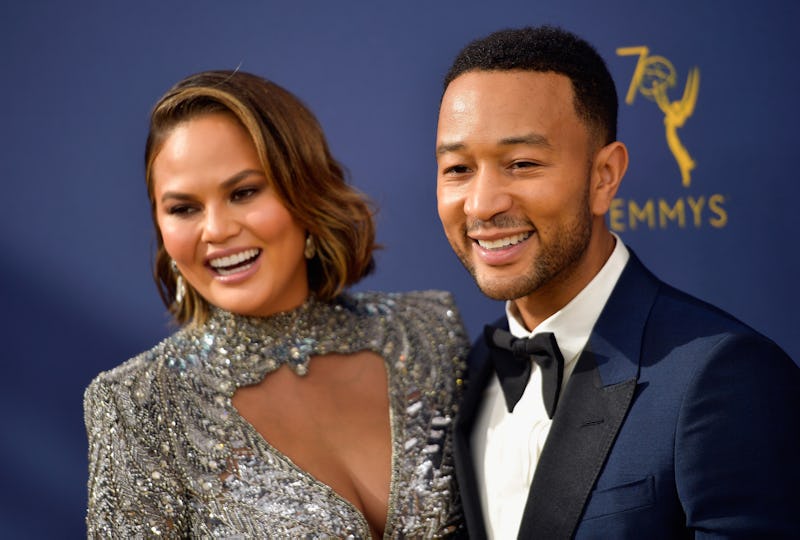 Matt Winkelmeyer/Getty Images Entertainment/Getty Images
Imagine walking into your child's school and just casually passing Chrissy Teigen and John Legend in the hallway. First, you'd probably freeze up and/or do a double-take. Then, you'd wonder, "What are they doing here?" Well, Teigen and Legend had Luna's first parent-teacher conference earlier this week, and the Cravings cookbook author compared the experience to therapy, according to Entertainment Tonight.
You know what? Comparing it to therapy actually makes a lot of sense if you stop to think about it. You're talking to and sitting across from someone with a specialized degree, your emotions are likely a bit all over the place, and there's a good chance that there's a box of tissues nearby in case you need them.
Teigen and Legend's first parent-teacher conference sounds like it was pretty standard. It's easy to forget that they're there as parents, first and foremost, and Luna's school is probably one of the few places where they can just go about their business as usual.
"[Luna's parent-teacher conference is] the same as anybody else's," Legend told ET. "We just sit there and talk about kids' stuff… But pre-school teachers have a lot of experience with that age-range so they can give you good advice."
Teigen echoed her husband's sentiments, and added, "It's like anybody else… and we know her teachers well and we love them." She then continued to explain,
"You just go in and we have the same gripes as anybody else, like, 'How do we deal with a new baby and her?' And it's kind of like a little therapy session because at two-and-a-half, there's not a lot to tell us."
The mom-of-two documented their visit, and posted one photo from the school with the caption, "first parent / teacher conference!" See? Even her caption was pretty standard for the experience.
The photo itself is adorable, by the way. No, Luna is not in it — because let's be honest, Luna makes everything adorable. Luna is adorable. Legend is also adorable, though, especially when he's patiently sitting in the waiting area in a teeny-tiny chair made for teeny-tiny humans.
Luna, 2, just started pre-school a few months back, and Teigen has been sharing all kinds of updates ever since. The milestone has caused her to go through a range of emotions, of course, and it's also made her nauseous.
On Aug. 20, Teigen took Miles, her and Legend's newborn son, along for Luna's orientation. While they were there, Teigen tweeted,
"hello everyone from Luna's school orientation today. im sorry I projectile puked caffeine upon arrival, couldn't open my eyes and had the noisiest newborn in the room. (not a joke, very sorry, see you tomorrow)."
Yikes. The star later explained that the orientation experience itself wasn't at fault for her projectile puking, though. "[It] was not first day of school jitters," she explained in another tweet. "It was last night's wine and Korean bbq and jet lag combo." Again, yikes.
Based on Teigen's comments to ET, it sounds like Luna's parent-teacher conference went way more smoothly than her orientation. She and Legend might be new at all this school stuff, but they'll get the hang of it in no time — as long as they stay away from lethal combos like wine, Korean BBQ, and jet lag, of course.