Chrissy Teigen Shared The Cutest Photo Of John Legend Having A Major Dad Moment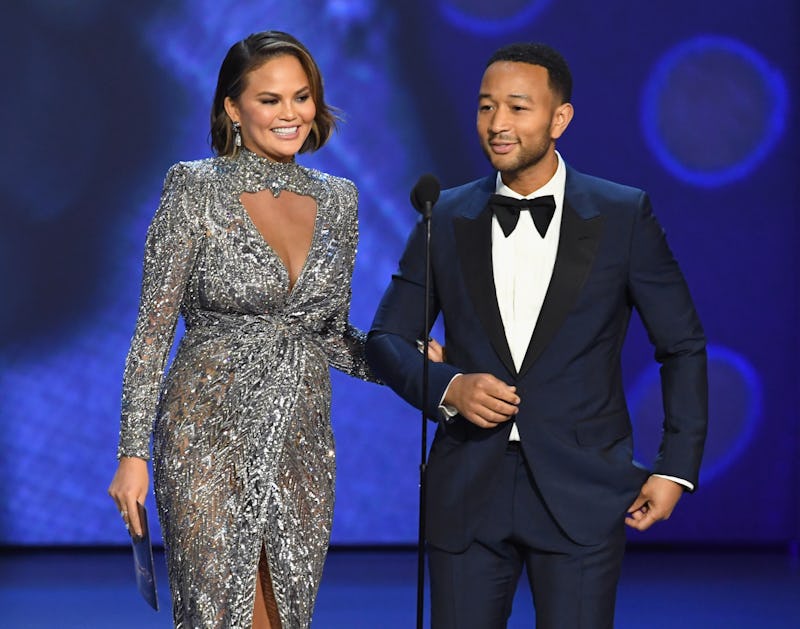 Kevin Winter/Getty Images Entertainment/Getty Images
Chrissy Teigen and John Legend's daughter, Luna, is currently in her first year of school, which has sent the parents of two on a roller coaster of emotions that just keeps going.On Monday, Nov. 5, Teigen and Legend went to Luna's first parent-teacher conference, and the photo the Cravings author took of her husband is too sweet.
Legend is an EGOT winner, but it's clear that the busy musician still makes plenty of time for his family. Teigen shared a photo of the "All of Me" singer sitting in a tiny chair in Luna's school building, in front of a chalkboard sign that reads "Waiting area/conference in session." Legend looks perfectly content in the so-called waiting area, though, which makes the photo even cuter.
Teigen and Legend are both huge celebrities, but based on the fact that both of them went to Luna's parent-teacher conference, it's clear that they're super involved in their children's lives. Of course, that's also clear from all of the sweet photos and videos of Luna and Miles that the two of them share on Instagram. But still, it's sweet. (Also, can we just talk about how nice that school looks for a minute? I'm pretty sure most schools don't have pristine hardwood floors and chalkboard signs.)
Back in August, Teigen talked to Bustle about her emotions over Luna's first week of preschool. "I was like, 'It's gonna be fine, she's gonna go to school, it's not a big deal. It's just preschool,'" Teigen said to Bustle at the time. "And then, just my day was basically just a 12-hour tear explosion of different emotions and different feelings."
Of course, being filled with plenty of mixed emotions about kids growing up is natural for any parent. But describing the situation as a "12-hour tear explosion" adds a poetic sense to the situation. In Teigen's photo from the parent-teacher conference, though, it looks like there were no tears in sight, as Legend is all smiles in the official "waiting area."
Teigen didn't share any more details about what happened at the conference, so hopefully, it was full of positive news. Teigen did share in August that Luna "pushed a boy" on her first day of school, according to Luna herself, after all.
Legend, meanwhile, has spoken out in the past about how important his teachers were to him while he was growing up. During a conversation with People in 2014, Legend said that his teachers helped him get through the fact that his parents were getting divorced.
"It was important to have teachers and counselors at school who could give emotional support," Legend told People at the time. "All of these people took extra time to show me that they cared and were going to hold me accountable."
Hopefully, Luna and Miles will have teachers who are just as caring and kind as it sounds like Legend's teachers were. The two children have plenty of school ahead of them, and it looks like they'll have their parents' support every step of the way.