Chrissy Teigen Watching The Game End Is Perfect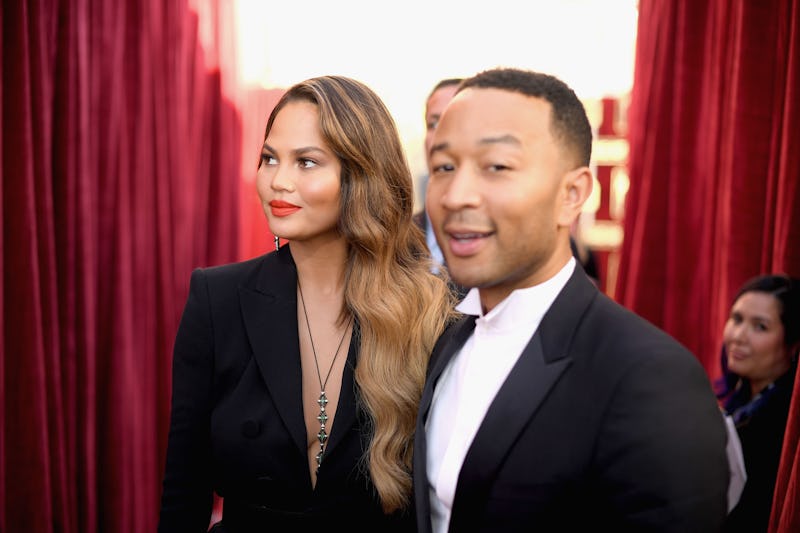 Dimitrios Kambouris/Getty Images Entertainment/Getty Images
Well, we made it through the first Super Bowl overtime ever and the biggest comeback in Super Bowl history with the New England Patriots' win. So, if you were watching the game, you either felt incredibly stressed or incredibly over it — and that's where John Legend and Chrissy Teigen come in. Whether you need some relief following the madness or something to look at while the people around you continue to scream at the TV, these clips of the lovely and hilarious couple watching the end of the game are here to help.
First, a clip circulated of Legend and Teigen watching the game with Teigen looking checking her phone and looking somewhat worried, and Legend leaning over and kissing her on the cheek. It's cute! Especially, if you've been following along with their adventures throughout the night and know that this probably happened after at least six hotdogs and a couple plates of nachos.
And not only was there that clip, but Teigen also continued with her personal posts of the night and noted while chopping on a slide of pizza that "we are in the 25th quarter." But, mostly, she just talked about the fact that "things are happening."
She did correctly note that if the Patriots score that the game would be over, and that did end up happening — way to go, Teigs.
That pizza looks great and probably cost $30.
Yep, things were happening. And now they won't happen again until next fall. See you then, John and Chrissy.