Chrissy Teigen & Kim Kardashian's Friendship Timeline Shows Nothing Will Tear Them Apart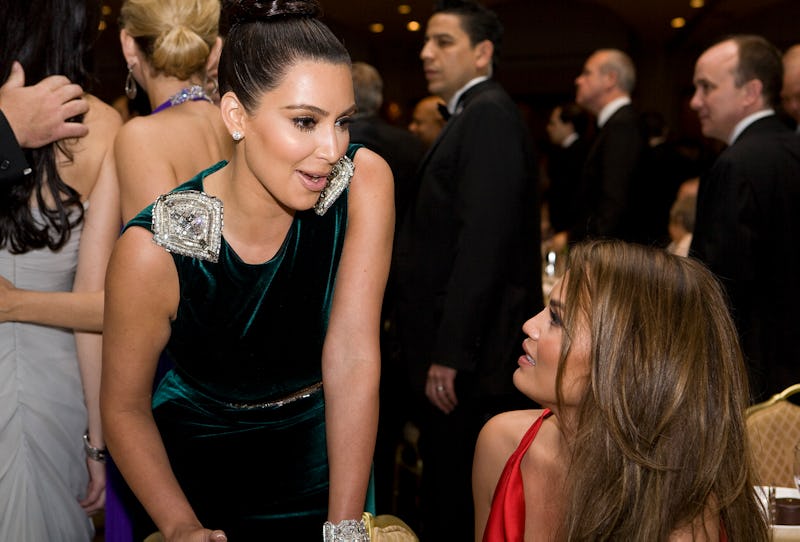 Pool/Getty Images News/Getty Images
When it comes to celebrity lady bosses, few have turned the art of being famous into quite as much of a booming business as Kim Kardashian and Chrissy Teigen. It makes sense, then, that they would gravitate toward one another. A timeline of Chrissy and Kim's friendship reveals that the pair have been pals for nearly a decade, and will hopefully stay that way for many years to come.
The model and the reality star might both be international celebs, but Kim and Chrissy's friendship is actually based on even more common ground than their mutual fame. The pair met on a double date back in 2010, and have since shared numerous nights out together. They're both moms, they're both married to musicians, they both know how to take a killer selfie, and they've both got great senses of humor. From double dates and book club to sharing family moments and just joking around, they'e done a lot together, all the while supporting each other's careers. Oh, and between the two of them, they practically rule all of social media. These two are truly the definition of friendship goals. Take a look back at their beautiful BFFship below.
2010: Kim & Chrissy Meet
Per E!, Chrissy and Kim revealed how they met during a video for Kim's app in 2016. Apparently, Chrissy and husband John Legend (who weren't yet married) went on a double date with Kim and her then-boyfriend, Reggie Bush, and the women bonded from there. As Chrissy explained:
"I remember this because I was so nervous to meet you. I don't know. I'd been watching. I knew all about you. I felt kind of like a weirdo... You made me feel so much better because we went to the bathroom and you had me zip you up. [I was like] 'Oh my gosh! She has Spanx on. She's cool. She's normal.' Yeah I remember that pretty well for some reason."
2012: Celebrating New Year's Eve
In 2012 Kim and Kanye were finally together and the two power couples rang in the New Year at 1OAK nightclub at the Mirage in Las Vegas, according to The Daily Mail.
2013: Chrissy & John's Wedding
Chrissy and John tied the knot in Italy 2013, and though Kim couldn't make the trip, Kanye made sure to give her by-the-minute updates about what she was missing. "Wait, I got in a fight with Kanye during your wedding," Kim dished in the same video for her app.
I didn't go...[North] was just born and I was so fat, and I had nothing to wear so he kept texting me: 'Babe, this is the most beautiful wedding,' 'Babe, this is so pretty. I wish you were here.' Literally a play-by-play text...We got into the biggest fight. [I was like,] 'Just stop texting me. Go enjoy the wedding, you're making me feel so bad!'
2014: Kim & Kanye's Wedding
The following year, Kim and Kanye were ready to say 'I do,' too. Unfortunately, Chrissy and John also wound up having an argument at Kimye's wedding. Chrissy continued in the video:
John and I got in the biggest fight ... that you have ever seen in your whole life ... You know when you think everything's about you? I was like, "we ruined the wedding and everyone noticed" and everyone's like "no, not really, nobody noticed." ... This was before [John sang the first dance song] 'cause I remember standing with your [Kim's] mom and being so mad at him and everyone was like: "he's so amazing, isn't he amazing?" and I was like, "No!"
2015: Waffle House Double Date
Chrissy, Kim, Kanye, and John dined at Waffle House together in February 2015, becoming the epitome of #couplefriendshipgoals.
2016 : Supporting Each Other As Mothers
Before the birth of Chrissy's daughter Luna, Kim and the mom-to-be exchanged a few tweets on the stress of early morning feeding times.
2016: Appearing In Fergie's "M.I.L.F. $" Video
In the summer of 2016, Fergie dropped the video for her single "M.I.L.F. $," which featured a plethora of Hollywood moms including — you guessed it — Chrissy and Kim. In fact, Chrissy told People that it was a text from Kim that encouraged her to participate in the first place.
2017: Book Club
In January 2017, Kim teased that she and Chrissy were starting a book club along with Kourtney Kardashian and hairstylist Jen Atkin, according to W.
2018: Joking About Politics
As most fans probably know, Kanye is a vocal supporter of Donald Trump, while John and Chrissy are staunchly against him. According to Vox, John texted Kanye asking him to reconsider his stance on the president, and Kanye then shared those messages on Twitter. Moments later, Chrissy tweeted Kim with a joke asking if they were still getting dinner on Friday.
Clearly, there isn't much that's going to tear these two friends apart.