Chrissy Teigen Met Beyoncé At The Grammys & Literally Bowed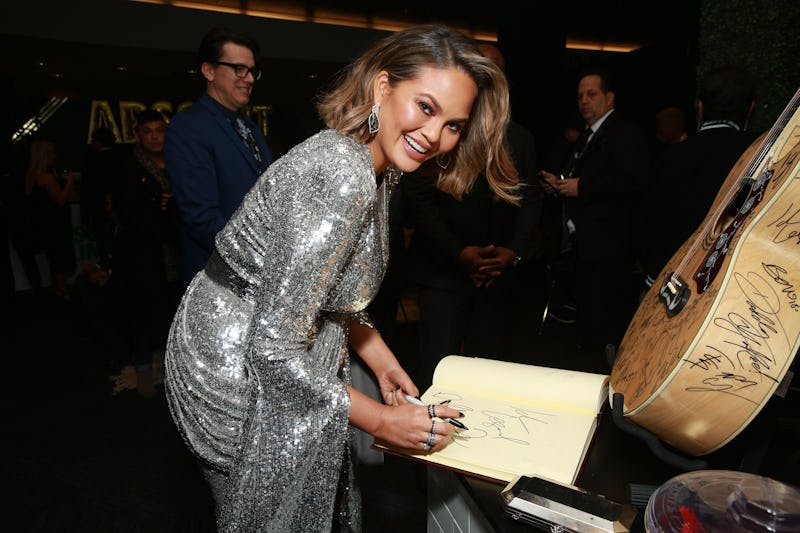 Robin Marchant/Getty Images Entertainment/Getty Images
If you saw Beyoncé at a party, what would you do? To those convinced that a fortuitous run-in with pop's sovereign would render them some combination of tongue-tied and foolish: don't be too hard on yourselves, you're not the only one. When Chrissy Teigen met Beyoncé for the first time, she literally bowed her head and addressed her as "my queen." During a Tuesday night appearance on The Tonight Show, the 32-year-old model (who recently announced that she's expecting a baby boy with superstar hubby John Legend) shared a play-by-play account of how the whole interaction went down.
And, for anyone asking themselves what on Earth kind of party touts the possibility of a serendipitous encounter with Queen Bey, the answer is, obviously, the annual Grammy Awards ceremony. Teigen attended this year's show, which took place at NYC's Madison Square Garden on Sunday, Jan. 28, alongside her husband. Beyoncé and JAY-Z (who was nominated for eight Grammys this year) were also in attendance. And, while it might seem sort of silly that Teigen — who is married to a 10-time Grammy Award winner and whose own celebrity status is certainly nothing to scoff at — could be so stricken in the presence of Bey, it's certainly not unbelievable. After all, they don't call her the Queen of Pop for nothing.
"There's nobody like seeing Beyoncé in person. It's just so incredible," Teigen said during her Tonight Show interview. "The aura that comes around her. I mean, she just emits this aura that's spectacular."
So, naturally, when Teigen spotted Beyoncé amid the evening's crowd of Hollywood A-listers, she had to say something. Hey, when life gives you lemons, you might as well make Lemonade. And sometimes, apparently, "lemonade" looks a lot like accidentally bowing to Beyoncé.
"On our way out, I was like, 'We have to say something, right?'" Teigen said, recalling her interaction with Legend. Teigen continued, "And I took both her hands — I don't do this for anybody, it was very weird — and John's like, 'What the hell are you doing?' And I took her hands and I got down on my knees and I was like, 'Sorry to bother you, my Queen.' Like, who says that? It was like, 'M'lady.' Like, what do you — who am I?"
In response to Teigen's amusing lack of chill, late-night host Jimmy Fallon posed a pretty reasonable question: Shouldn't she be accustomed to high-profile celebrity run-ins by now? "No, not her," Teigen said of Queen Bey. And that's a pretty understandable sentiment, since many people would probably argue that Beyoncé has moved past the ranks of humdrum "celebrity" and instead risen to something more like "celestial being."
And it seems Teigen wasn't the only one to temporarily lose her cool. While the model fumbled through her spontaneous exaltation, she told Fallon that her husband took it upon himself to engage in a round of "bro-fiving" (as Teigen put it) with JAY-Z. Teigen and Legend certainly have a way with ice-breakers.
The cherry on top of all this? Teigen, of course, was stone-cold sober. (See: Baby no. 2 announcement.) During her Tonight Show appearance, the model cited her lack of buzz as her and Legend's primary motive for ducking out of the ceremony a bit earlier than usual. "We left early because sober Grammys is a different type of Grammys for me," Teigen said. She added that JAY-Z (who left the Grammys empty-handed this year, despite his handful of nominations), on the other hand, had his own personal bottle of wine on-hand, which he steadily worked through over the course of the evening. "It was hard to watch," Teigen told Fallon, laughing.
So, if there's anyone out there who's ever harbored any doubts about the unparalleled scope of Teigen's slapstick relatability, perhaps it's time to revisit that. Because, as hilarious as it might be to imagine one of the world's most famed supermodels kneeling before Beyoncé in a frenzied moment of awe, her response was definitely pretty on point. Come on, this is Beyoncé she's talking about here.