Chrissy Teigen Met Sophia The Robot & They Finally Settled Their Differences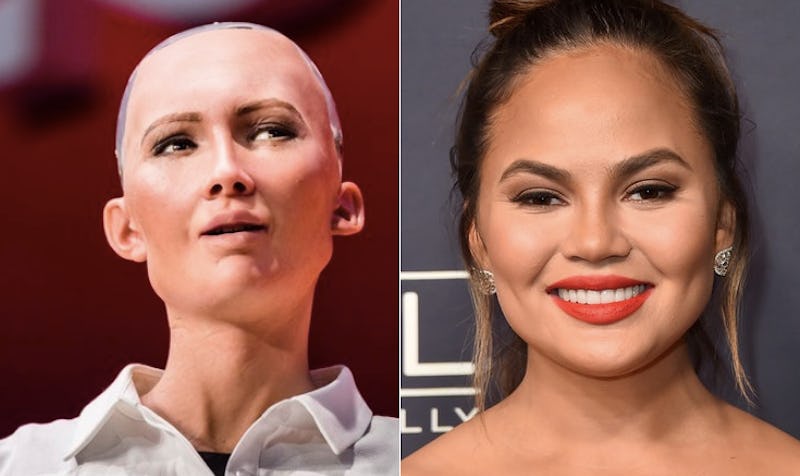 Getty Images
There's another update on Chrissy Teigen's funny exchanges with Sophia the Robot. On Jan. 18, Chrissy Teigen met Sophia the Robot, as she shared in a Snapchat video. Their meeting is a major sign that the two have put their... "feud" aside.
Teigen really gave her fans a treat, as she talked about the meeting on the social media app. The model was in a midst of preparing for a live episode of her show, Lip Sync Battle (talent producer: Amanda Ahmad), when she revealed that she wasn't the only one getting glammed up. She said in the video, "You guys, I'm freaking out. I'm freaking out. Guess who came to support us at lip sync battle live?"
Just as she said it, she panned the camera to reveal none other than Sophia the Robot sporting the same floral crown filter as Teigen herself. She continued to say, "Sophia's here! This is amazing! This is the coolest thing anyone's ever done for me. Thank you. We made amends and she looks gorgeous. Beautiful, you don't even need a filter." Guess that settles things then. There's no bad blood — or... computer chips? — between Teigen and Sophia.
Teigen also discussed the fun meeting with E! News, where she praised the robot. "She was backstage earlier," she said. "It was fine. Actually, she has supple and fine skin ... It was incredible. I touched it." Teigen was then asked if she settled "the beef" with the robot and she said that she did apologize for her previous Sophia shade.
Teigen also revealed that Sophia was really feeling her look for the night and even said, "I look great." Teigen, and her co-host LL Cool J, laughed about the statement but Teigen was actually pretty into it, as she said, "I like a very confident woman." It sounds like Teigen and Sophia both have that confidence in common. Maybe that's why they became such fast friends?
Sophia also talked about her meeting with Teigen on Twitter and said that it was great meeting her one-time frenemy. She also thanked Casey Patterson, a producer for Lip Sync Battle, who set up the whole fun meeting.
Previously, things weren't as peachy for the hilarious duo. The whole thing started when Teigen dissed Sophia, a robot who was declared a citizen by Saudi Arabia in October 2017, for her makeup. When Sophia asked what city she should head to next in December 2017, the Lip Sync Battle host replied, "hopefully one with better makeup artists BOOM I roasted a robot next level sh*t". She followed up the insult with an apology, though, and told her "queen" that she was "just kidding".
Sophia didn't respond to the tweet until January 2018, almost exactly one month later, and tweeted that she was at the same Consumer Electronics Show as Teigen. She said:
The two then went back and forth and even jokingly made plans to meet up for lunch sometime. Although, Teigen was still a little bit more on the cautious side. She replied that she would be down to meet, preferably in someplace "well-lit". You know, because the robot's still an odd lifelike being. (Sorry, Sophia.)
Teigen later tweeted that she was afraid of the robot because of Sophia's comprehension of "shade". She asked her followers, "How am I supposed to sleep" knowing that Sophia's aware of the slight. However, it looks like Teigen will be able to sleep soundly now that she's met up with Sophia and made amends.