Chrissy Teigen Father's Day Tribute To John Legend Is So Sweet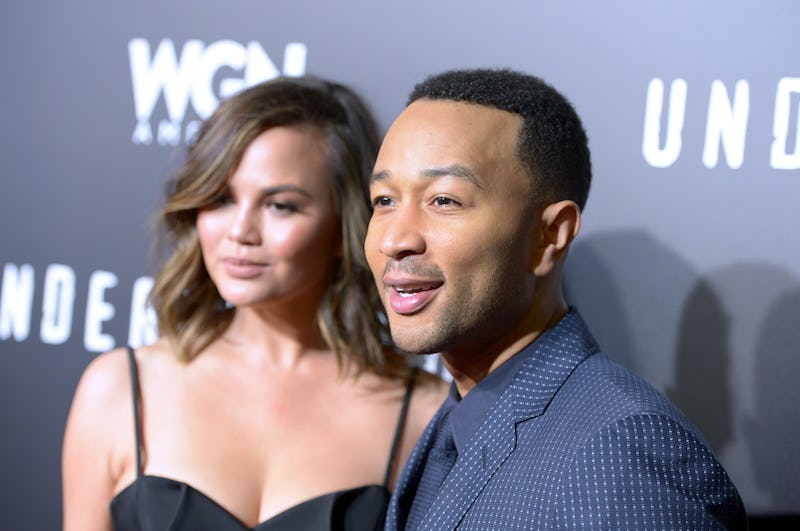 Charley Gallay/Getty Images Entertainment/Getty Images
There are some celebrity couples whose relationships feel so genuine, it's almost impossible not to swoon over their love. Chrissy Teigen and John Legend have one of those relationships. There's no better example of just how wonderful they are than Teigen's Father's Day tribute to Legend. The star posted a photo and sweet message for her husband and the father of her daughter, Luna, on Instagram. Fair warning, it will probably melt your heart.
Teigen wrote,
"I took this photo right after John won his Tony a couple weeks ago. In all our time together (11ish years!!?!?) I cannot believe how much he has grown as a man and a husband. To see him go from big goals to big ideas to big wins and the love of so many makes me so so happy. 10 years ago, I didn't think he could get better, then I got to see him as a father. I don't know how or why Luna, my family and I got so lucky in this life but I will stop questioning and just be grateful. I love you so much, John. Happy Father's Day."
See? I told you there would be melting. Both Teigen and Legend have been open about their journey as parents from day one, and it has been a privilege for fans to watch them grow as a couple since Luna's birth. Seeing the Lip Sync Battle co-host offer her husband such lovely words on this special day is just one more reason why this couple is the actual best.
Legend posted a similarly aww-inducing tribute to Teigen on Mother's Day, proving these two always seem to be in each other's corner as parents and partners. Hopefully, the singer will have an amazing day. His Instagram posts suggests he may be working in Toronto over Father's Day weekend, but whether he's near or far from Teigen and Luna today, I'm sure he's feeling lots of love.