Chrissy Teigen's Beyoncé Tweets Are Perfection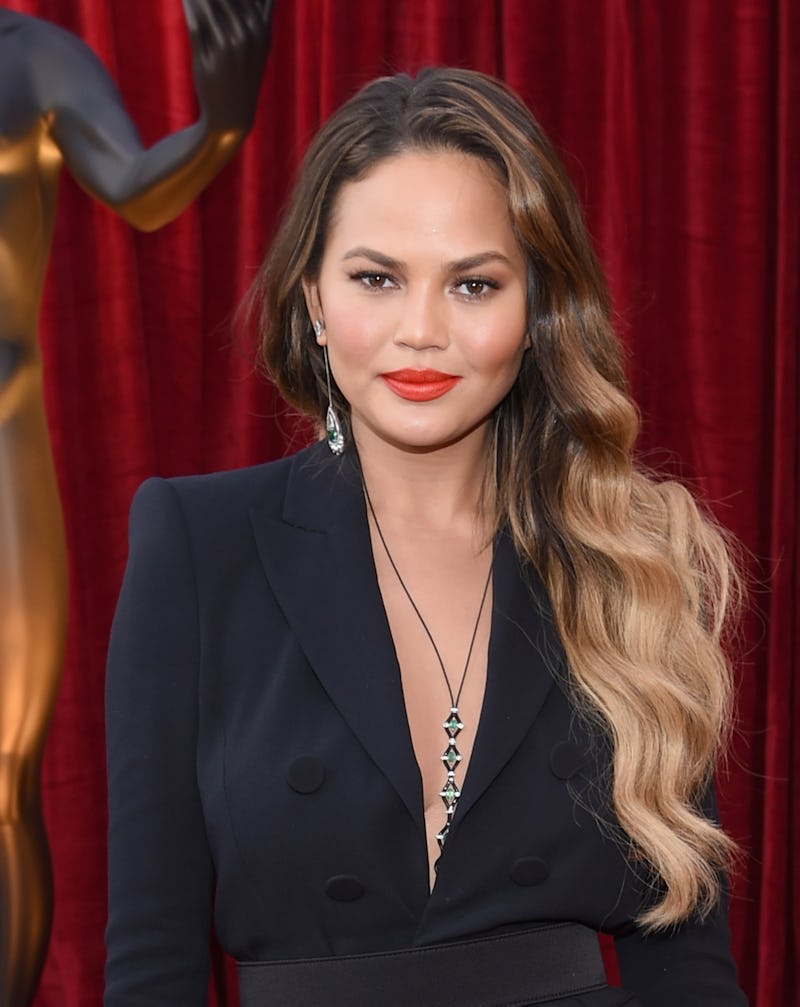 Dimitrios Kambouris/Getty Images Entertainment/Getty Images
Chrissy Teigen has got jokes for days on Twitter, but on Wednesday, her under 140-character one-liners are aimed at Beyoncé. Yup, of course Teigen tweeted about Beyoncé's pregnancy news. In case you haven't heard because you've been under a rock and can't access the internet, Beyoncé is having twins and she let everyone know it with one epic Instagram post. Ever since, the internet has been sending its well wishes her way — not to mention coming up with some fire jokes and memes about Queen Bey's bundles of joys at a record pace sending a lot of tweets in a very short period of time.
According to Twitter, Beyonce's surprise baby drop resulted in half a million tweets in 45 minutes. That's a whole lot of well wishes. Celebrities also shared in the joy of Beyoncé's pregnancy announcement, including Teigen who celebrated Beyoncé's maternity through math jokes.
Yes, Teigen somehow found a way to combine Bey and division in a way that will make you laugh, but also make you wonder why they don't incorporate Beyoncé into school curriculums. Shortly after Beyoncé's announcement, Teigen teased that she had an announcement of her own, posting a photo of her Instagram profile. Specifically pointing out the amount of posts, followers, and people she's following.
Teigen then tweeted another photo of her Instagram, this time focusing in on the number of posts she has (2,962) and the number of followers (10 million). It was those numbers that would equal Teigen's big announcement that would surely beat Beyoncé's. "I am pregnant with 333.3333333333333333333333333333333333333 triplets," she wrote.
That number, as you may have already guessed, is what you would get if you divided 10 by 3, assuming Teigen's rounded her number of posts up just a little. Oh, math humor.
All kidding aside, though, Teigen would eventually send some real love to the expecting mom. "But really," she tweeted. "Congrats to my best friend Beyonce I love you so much. Hive forever."
Teigen's sweet message definitely adds up. She has always had nothing but love for Beyoncé, even admitting that she would choose Bey over her husband John Legend any day. At least when it comes to photos. In an interview with Cosmopolitan, Teigen said, "Anytime I get a photo with Beyoncé, I crop John out. He ruins it."
While that's hard to believe, what is true is that Beyoncé gives Teigen all the feels and a lot to tweet about. After her 2013 wedding Teigen tweeted that Bey brought her to tears — in a good way. "I know I love beyonce," she wrote, "but I didn't realize how much I loved beyonce until the dj played 'love on top' and I cry danced." Let's be honest, no one's tear ducts are strong enough to handle that.