Chrissy Teigen & John Legend's Hilarious 'Below Deck' Videos Will Have Fans Freaking Out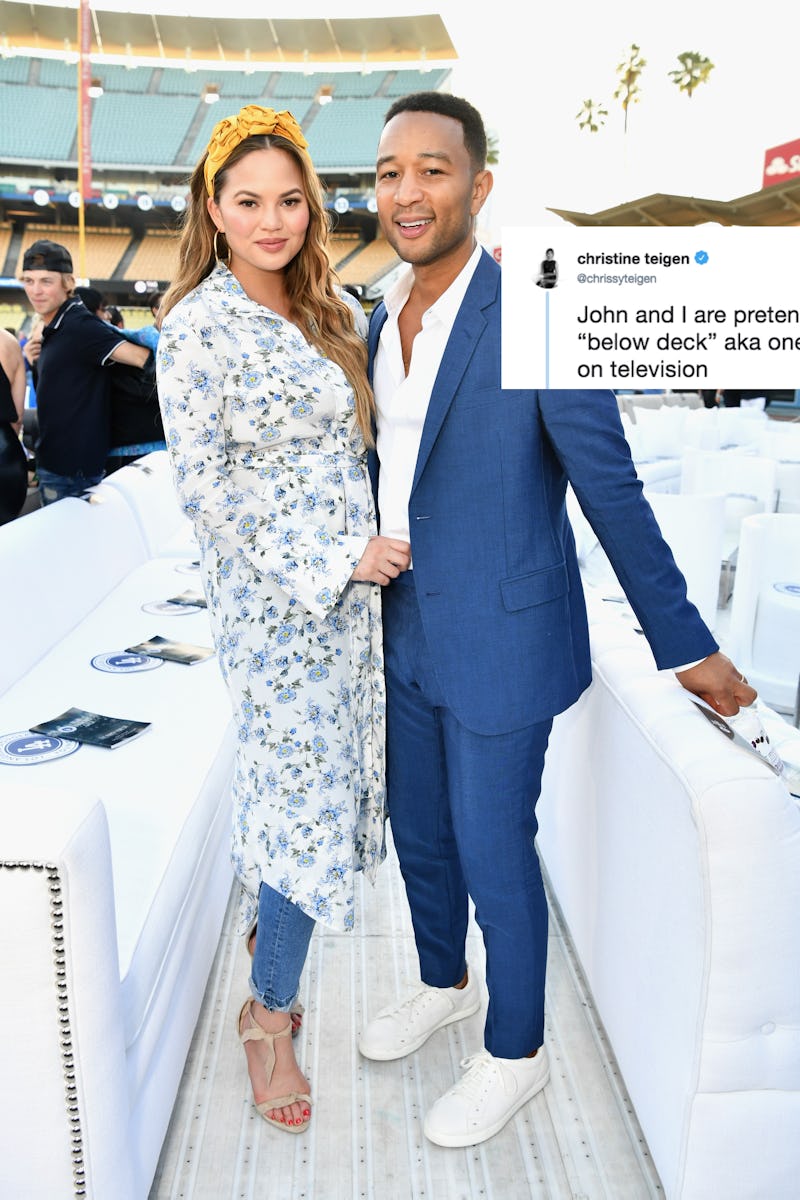 Emma McIntyre/Getty Images Entertainment/Getty Images; Chrissy Teigen/Twitter
Even though she's a supermodel with a Grammy-winning husband, Chrissy Teigen is just so relatable to her fans. A major part of that comes from her love for Bravo TV shows. Yes, she's "just like us" with her devotion to Bravo, but she takes her fandom to another level. Chrissy Teigen and John Legend had a Below Deck-themed photo shoot. Anyone who watches the show would appreciate the lengths she and her husband went to. The couple and their friends went all out with their fandom, and it was nothing short of amazing.
First of all, they were actually on a boat. They weren't just acting out scenes at home ( i.e. a palatial mansion). Second, they had uniforms that were nearly identical to the ones the crew members rocked last season. They even had Valor, the name of the yacht, embroidered on them. They took hilarious photos and videos.
Teigen, Legend, and their friends absolutely killed it. They even got the stamp of approval from some cast members from Below Deck and Below Deck Mediterranean for the photos and videos that they put together.
The couple filmed a video introducing the "crew members" from their boat. Legend was a Bosun and Teigen was the Chief Stew, of course. Everyone was rocking a Valor uniform, and they even used the official theme music from the show to act out their own introduction of "crew members." It was beyond epic.
Aside from that video, Teigen shared a screenshot of a conversation she had with her assistant asking for an MP3 of the Below Deck theme song. Just imagine being her assistant if securing a reality show theme song is one of the tasks. That sounds like a great job for any Bravoholic.
Before the amazing crew member introductions, Teigen shared another video of herself and Legend living out their roles as Chief Stew and Bosun. Legend thought he was a captain, but Teigen immediately set him straight on that one. Maybe they can create a follow-up video and get Captain Sandy Yawn from Below Deck Mediterranean or Captain Lee Rosbach from Below Deck to serve as the captain of their crew.
Aside from the videos, they shared a group photo of everyone decked out in their yachtie gear. Teigen shared the photo and wrote, "we are such losers" — a sentiment that Below Deck and Below Deck Mediterranean fans cannot help disagreeing with.
Teigen later tweeted, "by far the dumbest thing we have ever done," which is so far from the truth. Their devotion to the Below Deck is beyond entertaining.
These photos and videos just needed to be seen and the cast members on Below Deck and Below Deck Mediterranean wholeheartedly agree with that sentiment.
Below Deck Med's Chief Stew Hannah Ferrier quoted one of Teigen's tweets and added, "This is amazing. But it would be better if I was there." She has a great point there.
The official Bravo Twitter account tagged Hannah in a tweet that said, "we found your new stew." Hannah joked, "I'll check her references first" which is a remark that Below Deck Mediterranean viewers would understand. Stew Kasey Cohen majorly fudged her credentials this season which Hannah did not find out until the charter season was already underway. Ironically enough, Kasey responded to Bravo's tweet and said, "I have a person who can polish it for you."
Captain Sandy tweeted Teigen, "Love it! You all are amazing!" along with a GIF of the Below Deck Med cast bowing. She also reposted the video and tweeted, "Must See TV! Aye Aye." Season 1 Below Deck Mediterranean cast member Tiffany Copeland responded to Teigen and Legend's video by writing, "Love you two!!"
How do Teigen and Legend not have their own show on Bravo at this point? At the very least they could created a web series reenacting and interpreting all of their favorite shows.
Just imagine the possibilities. The couple channeling the Vanderpump Rules cast while working at SUR. They can create Real Housewives of Malibu complete with taglines and dinner party drama. They can "sell" mansions in their own version of Million Dollar Listing. There's no way they can do such an amazing job recreating Below Deck and not do the same thing for other shows on the network. Bravoholics need more.