Chrissy Teigen Asked Twitter For Rom Com Movies To Watch & Fans Had Amazing Suggestions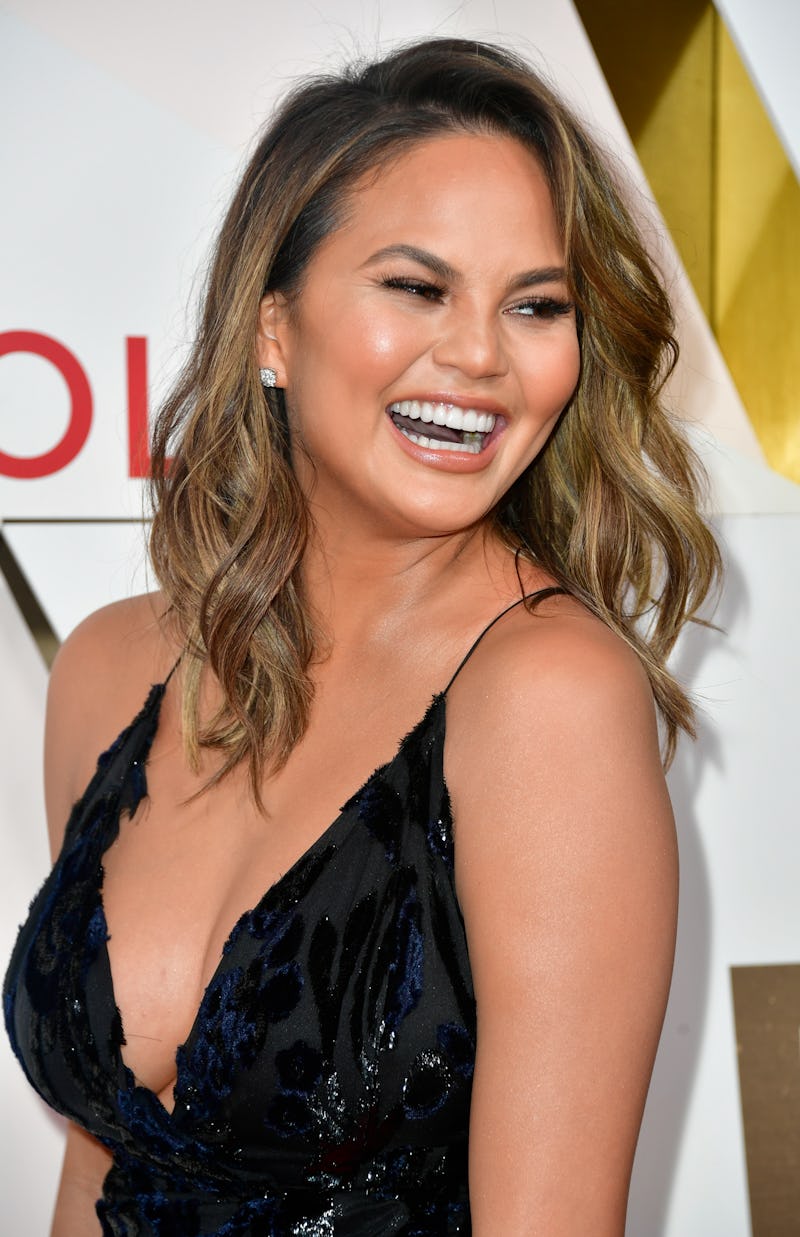 Frazer Harrison/Getty Images Entertainment/Getty Images
On March 17, when most of America was out celebrating St. Patrick's Day, Chrissy Teigen wanted to use the gorgeous Saturday afternoon in to watch a romantic comedy, but apparently came up short. Chrissy Teigen's rom com tweet inspired dozens of fans to recommend their favorites on Twitter. "Where are all the rom coms?" asked Teigen on Twitter. "There is a shortage of rom coms, and thus, my happiness." When Chrissy Teigen tweets, the world listens.
She's expecting her second child in June, and when not working or traveling, she kicks back the way anyone else would: By watching a lot of romantic comedies. When she mentioned the dearth of rom coms in her life, Well, mostly. Teigen's off-the-cuff joke had Twitter ablaze with suggestions for her, while others had a few questions ("Isn't your life a rom com?"), and even Netflix joined in the fun.
People had a lot of ideas for Teigen, ranging from the recent release Love, Simon to classic romantic comedies and real middle-of-the-road ones. Then, there were some films like Sharknado and a Japanese horror movie about cannibalism, for some reason. As it turns out, Teigen is most excited for Lifetime's TV movie about Prince Harry and Meghan Markle airs in May. Who could blame her for that?
Actor Adam Devine tweeted at Teigen, suggesting his own recent Netflix rom com When We First Met — and Teigen was into it.
Things didn't quiet down from there. After her great rom com search of 2018, Teigen found herself bored at home. In her amazing Twitter account, she talked about her mom leaving for Thailand and her husband, singer John Legend, still being on the road. At home, pregnant, with a toddler, and their three dogs, she thought she'd try to relax by ordering some food on Postmates and just chilling out. Not so lucky! Teigen tweeted that she mistakenly received five bags of key limes, which translated to roughly 200 of them. All she wanted was to spend a day watching romantic comedies from the comfort of home, and then there were all the limes. So many limes.
Fortunately, Teigen is nothing if not resourceful. She turned the key lime-a-palooza into a productive afternoon, tweeting about making pies on pies on pies to ensure nothing would go to waste. Seven hours after the initial tweet about receiving too many limes, Teigen tweeted that she was "still making pies" and, "I don't even like lime."
She even chronicled the making of the pies on her Instagram stories, showing how her daughter even pitched in with the cooking. Teigen posted about making Key Lime Cheesecake and Pina Colada Key Lime Pie, among many others on IG stories. Perhaps she was watching a rom com on in the background while she baked.
Could happen to anyone. If you've ever desperately wished for a better selection of movies, made a mistake when having groceries delivered, or undertook a baking project you'd (understandably) lose interest in after a few hours, you'll definitely understand what Teigen was going through during this whirlwind weekend.
Just another day in the fabulous life of Chrissy Teigen. One quick question for her, though: What does she plan on doing with all those pies? Let's say she spent roughly 10 hours making key lime pies, and hopefully while watching new and exciting romantic comedies. Now what? Maybe she can share them with some of us while watching a classic rom com?
Perhaps once Teigen is done exploring romantic comedies and lime pies, she'll take on another exciting movie genre and baking project next — and take us along for the ride.