Chrissy Teigen Is As Distraught As You Are Over That Kristen & James 'Pump Rules' Rumor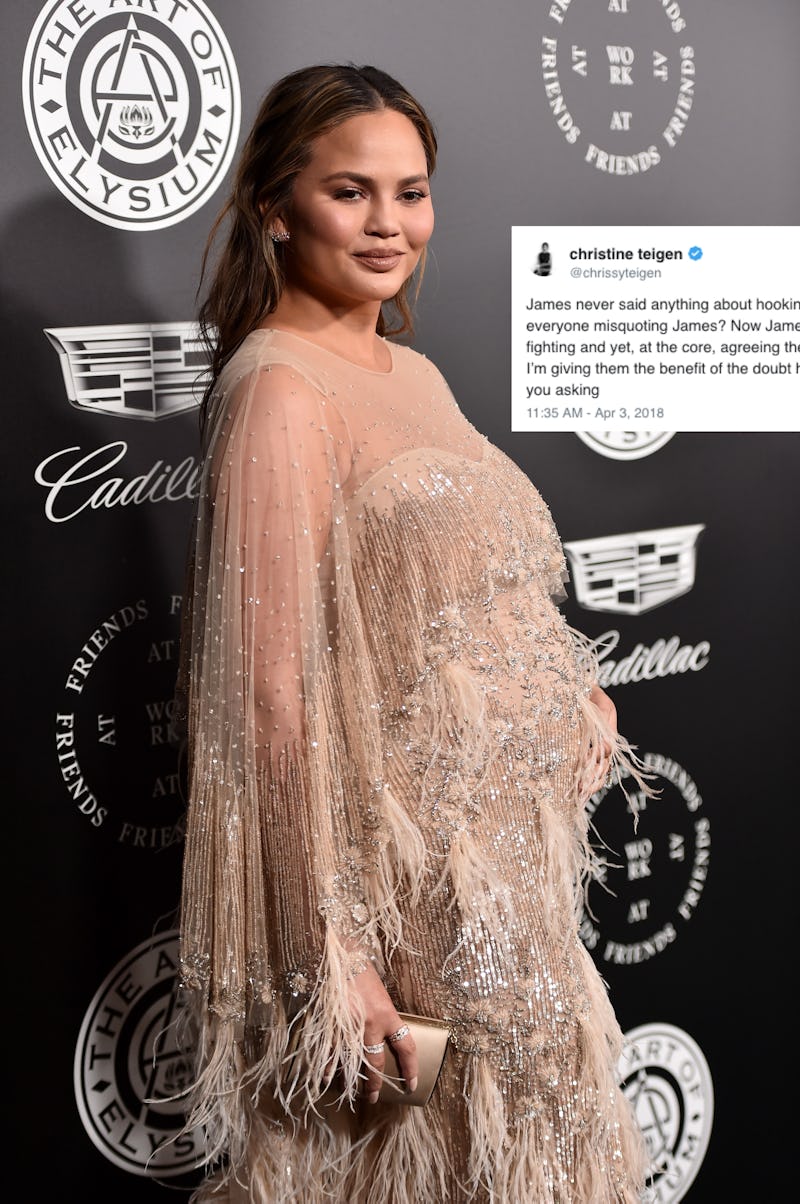 Alberto E. Rodriguez/Getty Images Entertainment/Getty Images; Chrissy Teigen/Twitter
Oh, if only the Vanderpump Rules cast took Rob Valletta's advice and turned off their telephones while they were on vacation — namely, the game of telephone. Like so many folks who watched Monday's episode, Chrissy Teigen reacted to the James Kennedy and Kristen Doute drama that all but torpedoed the cast trip to Mexico. If you found yourself wailing, "But James didn't say 'hook up,' why is this happening!" at your TV set, the forever relatable Twitter queen was right there with you. The morning after the episode aired, Teigen tweeted,
"James never said anything about hooking up with Kristin. Why is everyone misquoting James? Now James and Kristin are fighting and yet, at the core, agreeing they didn't do anything. I'm giving them the benefit of the doubt here. I'm 32 yes why are you asking."
(Don't worry, Teigen addressed the misspelling of Kristen later on.)
For anyone who missed last night's episode of the Real Housewives of Beverly Hills spinoff, here is what prompted the cookbook author, Lip Sync Battle star, and diehard Pump fan's tweet: After a long night out in Playa del Carmen, Jax Taylor suspected something happened between ex-paramours Kristen and James in the hotel hot tub after everyone else went to bed. The following day, Jax relayed his theory to the other Vander-dudes. Rather than let the rumor fester, Tom Sandoval decided to get to the bottom of it and ask James point-blank if he and Kristen cheated on their current significant others with each other.
And here is where the works got all sorts of gummed up: Sandoval asked if James hung out with Kristen the night before. James replied, "I mean, a little bit, but not really." The Vander-dudes interpreted "hang out" to mean "hook up." And oh, how they ran with it.
In a talking head, James explained that when he said he hung out with Kristen, he simply meant they were in each other's presence and nothing more. However, this was not made clear to the Vander-dudes. And so, the Vander-dudes proceeded to tell the Vander-gals that James admitted to hooking up with Kristen, even though James only said they hung out. And just like that, the rumor stork dropped a new bundle of gossip on the Pump Rules doorstep.
Sure, the whole "hang out"/"hook up" issue probably could've been cleared up if everyone sat down, hydrated their bodies, and patiently hashed things out. Instead, the miscommunication continued to spiral, and the whole debacle culminated in Kristen chucking a margarita across a dinner table at James. And that is why we love Pump Rules.
The cast eventually straightened everything out— it just didn't happen until after they watched the episode before they taped the reunion special. "We spent 8 months thinking one thing while something else was said," tweeted Kristen. "Sandoval & Jax created all of that bs, not James." Katie Maloney added that the "game of telephone BLOWS!"
And what does the person who started this whole rumor have to say about it? After Monday's episode, Jax tweeted that he believes Kristen. He also said he and James have made nice since their golf course squabble. And because Jax is Jax, he also pointed out there was a lot the folks at home did not see. He wrote,
"So I am guessing that's the only time we asked him.. ??? we got different answers every time we asked him, they only showed that clip.. use your head."
Case closed? Not if Jax can help it. If the Season 6 reunion doesn't get to the bottom of the Hot Tub Pillow Mystery, hopefully, Detective Teigen can.