Christina Aguilera & Lil' Kim Had A "Lady Marmalade" Reunion That You Have To See To Believe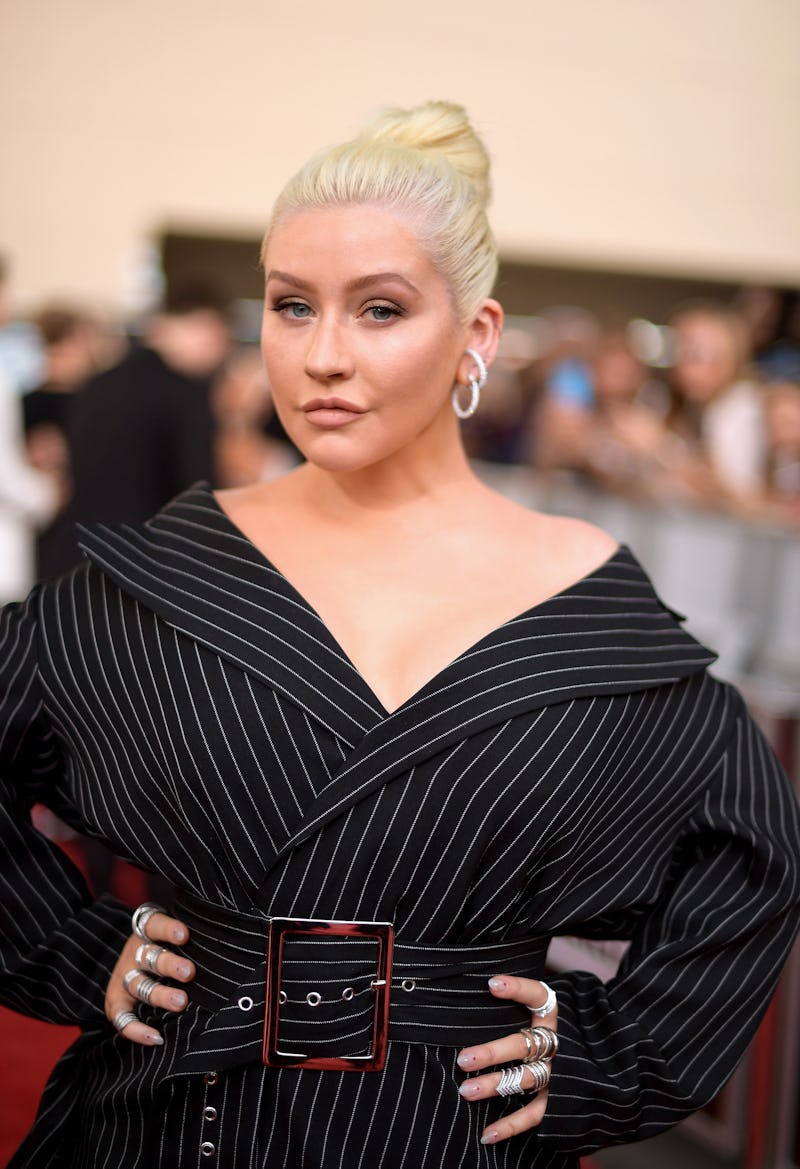 Matt Winkelmeyer/Getty Images Entertainment/Getty Images
Hey sister, soul sister, on Wednesday night Christina Aguilera and Lil' Kim had a "Lady Marmalade" reunion that will make you say, "go sister!" When Aguilera took the stage at New York City's Radio City Music Hall on Oct. 3 she didn't do so alone. She surprised the sold-out crowd with a special appearance from Lil' Kim, who joined her on a performance of "Lady Marmalade" from the Moulin Rouge! soundtrack for the ultimate throwback.
While singing "Lady Marmalade," which Aguilera, Lil' Kim, Mya, and Pink covered in 2001, Aguilera stopped to let the crowd know she had something up her sleeve. "We got a surprise," she said, "Lil' Kim, Lil' Kim, Lil' Kim!" And like Beetlejuice, Lil' Kim appeared in a gold jumpsuit to let the crowd know, "We come through with the money and the garter belts," before bragging about drinking wine with diamonds in it by the case, which after all, is "the meaning of expensive taste."
This appearance also meant it was the first time the two had performed the song, which LaBelle, led by Patti LaBelle, first sang back in 1974, together in nearly two decades. All four ladies last performed the track live when they appeared at the 2001 MTV Movie Awards. It's not the only time Lil' Kim and Aguilera have teamed up, though. Following "Lady Marmalade" Aguilera and Lil' Kim recorded "Can't Hold Us Down" off Aguilera's 2002 album, Stripped. That song is also part of Aguilera's setlist for this tour.
This particular night also featured a special appearance from Bill and Hillary Clinton who were also in the house to see Aguilera perform. This got Twitter very excited. "MY PRESIDENT IS HERE TO WATCH XTINA PEOPLE," Adweek's community editor Nicole Ortiz tweeted. It's not all that surprising that the Clintons would come to support Aguilera being that she was a big supporter of Hillary during the election. In 2015, according to E!, Aguilera even hosted a fundraising event for the Democratic nominee.
Aguilera's Liberation Tour, which celebrates her latest album of the same name – her first since 2012's Lotus – is a bit of a nostalgia trip since she hasn't toured in a long (too long) time. "What an amazing warm welcome back to the stage after 10 years (too many!)," Aguilera wrote on Instagram after her first show in Florida last week. "[It] felt like coming HOME again!!"
Aguilera seems to be happy to reminisce about her early years. She's not just returning to the stage and reuniting with Lil' Kim, last month she teased the possibility that she could one day get in the studio with Britney Spears.
While on Jimmy Kimmel Live!, Aguilera said, "When I was coming up, it was very obvious, you know… there was the Britney/Christina considered rivalry thing. If we had social media back then, we would have probably done a song together and just squashed it."
Let's cross our fingers that at some point during her Liberation Tour, Xtina will officially squash those pesky rumors by inviting Britney onstage to join her for a song.