Christina Aguilera Is Totally Game To Record A Song With Britney Spears, So It Needs To Happen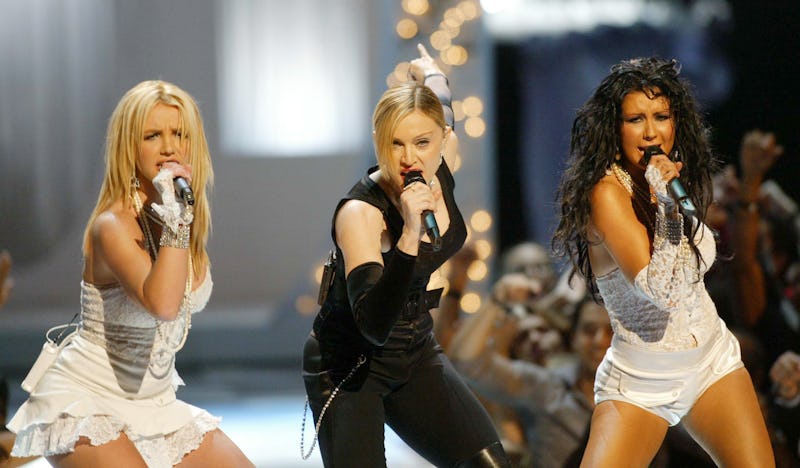 Scott Gries/Getty Images Entertainment/Getty Images
Put those '90s grudges to rest, pop fans, because during a recent appearance on Jimmy Kimmel Live, Christina Aguilera said she would record a song with Britney Spears, proving, once again, that there's no hostility between them. In the sit down, which aired on Wednesday Sept. 12, Aguilera revealed that she would be open to teaming up with Spears on a duet, saying: "If her reps say okay… Hey, I'm down."
The topic came up during a conversation about the power of social media. And, though it has the potential to cause a lot of trouble for young stars, Aguilera noted that it also gives them the opportunity to write their own narrative before the press has that chance. Looking back at her early days in the industry, for example, the singer speculated about how social media could've possibly played a part in ending animosity between her and some of the artists – such as Spears – that she was being pitted against in the early stages of her career. According to People, Aguilera explained,
"Back in the day whenever people were comparing me to other artists ... I would have just loved to squash it before having an interview."
Kimmel interrupts to do a little prying, asking Aguilera to explain which beefs she would have liked to squash on social media if given the chance back then. She continues by explaining:
"Well you know... you do an interview and back then, it was just like the media was the storyteller for you. Rather than being like, 'This is what it is, here's a picture of us right here and now hanging out, in our pajamas eating popcorn or whatever."
She went on to share her thoughts about wanting to end the drama with Spears long ago, saying:
"When I was coming up, it was very obvious, you know, me and Britney were definitely… there was the Britney/Christina considered rivalry thing. If we had social media back then, we would have probably done a song together and just squashed it."
Kimmel was highly supportive of getting Aguilera and Spears in the studio for a collaboration, sharing words of encouragement with Aguilera as she teased, "It's probably not too late for that." It looks like the ball is in Spears' court.
Aguilera has used social media to reach out to Spears in the past. In 2011, Aguilera took to Twitter to which Spears well upon the release of her Femme Fatale album. She shared, "Hey @BritneySpears Congrats on Femme Fatale release! Can't wait to see what you bring in the next video. xo - Xtina."
Aguilera also celebrated International Women's Day this past March by posting a video on Instagram featuring herself alongside other women whom she felt deserved recognition, including; Hillary Clinton, Beyoncé, Lady Gaga, Kim Kardashian-West, and Spears.
And this isn't the first time Aguilera has spoken about her supposed "feud" with Spears. In her October 2018 cover story of Cosmopolitan, Aguilera reflected on just how much she hated the media-created rivalry between herself and Spears, which kicked into high-gear during an evolution in Aguilera's style and career, which her evolve into the persona of her alter-ego, Xtina. The "Fighter" singer said she had difficulty with being compared to Spears, who was also at the height of popularity during that time, telling Cosmopolitan:
"It's hard to hear yourself being called names. I remember being hurt by these commercials on MTV, pitting Britney as the good girl and me as the bad girl. It's like, if I'm going to be demure and innocent, that's okay. But if I'm going to just be myself, I'm trouble."
Now more than a decade later, it feels like a good time for these two pop stars to set the record straight on their relationship — and what better way than with a song? With the drama of the '90s and early 2000s now in the rearview, a collaboration between Christina Aguilera and Britney Spears could prove to be the very thing needed to put rumors of their hyped-up "feud" to rest.