Christina Aguilera Wants To Hang Out With Britney Spears In This Super Chill Way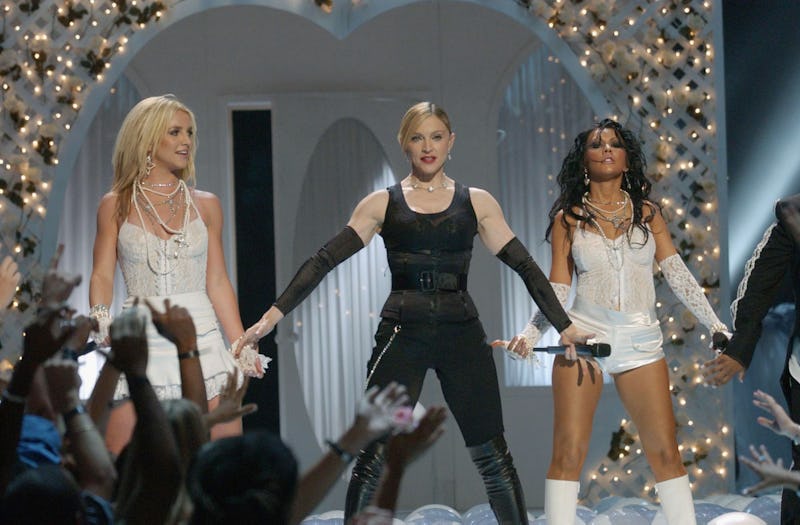 Frank Micelotta/Getty Images Entertainment/Getty Images
Ready to read something that'll warm the cockles of your dirrty heart? Here it is: Christina Aguilera wants to drink tea with Britney Spears. On an episode of Andy Cohen Live that's slated to air on SiriusXM's Radio Andy on Wednesday, Oct. 10, Aguilera told host Andy Cohen that while she doesn't "really keep in touch" with her Mickey Mouse Club co-stars nowadays, she would like to get together with the "Gimme More" singer. And quite frankly? Xtina's plan sounds beautiful in every single way.
Here is what Aguilera said:
"I would love, I keep saying, I don't know how it comes up every once in a while, but I would love to reconnect somehow and have, like, a tea date or something with Britney. I don't know, I think that would be really fun after all these years. Both being, like, mama bears now."
A tea date between Britney Spears and Christina Aguilera. Wow. The mere idea of such a meeting gives a gal goosebumps; if this actually came to fruition one day, it would probably feel like that lizard from the "I'm a Slave 4 U" music video was crawling all over your arms. But like, in the best way.
Cohen told Xtina that a lot of fans hope she and Spears will "wind up doing something kind of amazing together and surprise everybody," and you know what? He is not wrong.
Right around the turn of the millennium, everyone believed Spears and Aguilera were the Rock and Stone Cold Steve Austin of the pop music world. Because you know, two talented women can't possibly come up in the pop music world at the same time without being pitted against each other. (Watch your step, you don't want to slip in that big steamin' pile of sarcasm.) Aguilera has touched on this in several recent interviews, noting that the "rivalry" really wasn't a thing, but the media made it a thing.
On a recent episode of Jimmy Kimmel Live!, the "Keeps Gettin' Better" songstress said she wished there was social media when she was first starting out so she and Spears could share a "picture of us right here and now hanging out, in our pajamas eating popcorn or whatever" and nip that whole thing in the bud. She explained,
"When I was coming up, it was very obvious, you know, me and Britney were definitely… there was the Britney/Christina considered rivalry thing. If we had social media back then, we would have probably done a song together or something and just squashed it."
Jimmy Kimmel said she and Spears should still do a song together, to which Aguilera replied, "Hey, I'm down … If her reps say OK, you know."
Whether it be a tea date or a duet, we just want to see these two legends together again. The world tried to pit them against each other, but take a deep breath and say it loud: Never can, never will, can't hold Aguilera and Spears down.