Christina Aguilera Looks COMPLETELY Different On The Cover Of 'Paper' Magazine & Fans Are Shook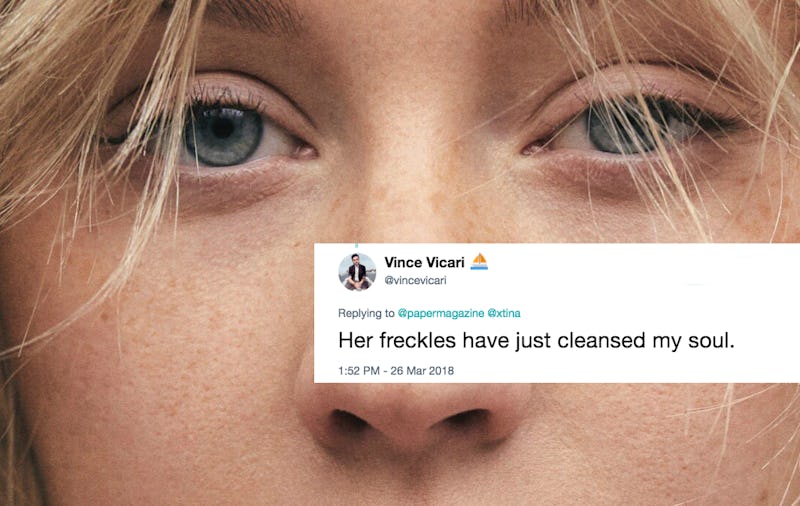 Courtesy of Paper Magazine
When it comes to magazine covers, there's may not be one that makes more headlines than Paper magazine. From Kim Kardashian West's internet-breaking cover to Blac Chyna's pregnant cover, the brand know how to make news. Now, they're doing it with Christina Aguilera's Paper cover. With baby bangs, a perm, and no makeup, Aguilera looks totally different, totally gorgeous, and like the totally talented artist the world knows she is.
Long time fans of the singer, Voice coach, and actor probably know her style as vibrant. With swiftly changing hair colors, glamorously done makeup, and fashion-forward style, her look has become transformative but always iconic. While it's been some time since she's been Xtina in chaps and a triangle bikini top, the look's place in pop culture is proof that the singer is an icon. When other stars are recreating your looks, it makes it official. Here's looking at you, Kylie Jenner.
While Aguilera was just a pink haired beauty rocking a gorgeously vintage face of makeup and killer gown on RuPaul's Drag Race, things seem to be changing. Based on her Paper cover, the world may be in for a new, minimalist chic version of the musical icon, and people on the internet seem 100 percent ready for it.
First, Aguilera's skin needs to be addressed. Not only is she fresh faced (or at least wearing extremely minimal makeup), but her skin is flawless. Flushed, freckled, flawless, and fresh. This cover should go out to all the makeup haters saying women have something to hide. Aguilera may love a beat face, as she told Paper in her interview, but she certainly has nothing to hide.
Her fans clearly feel the same way. This face just cleansed this user's soul. That's the power of Aguilera's cover.
She's got dermatologist around the world quaking. How many patients are about to walk into a skin clinic and say, "Yes, I'd like the Christina Aguilera Paper magazine cover, please, and thank you."
While aging is, of course, natural and nothing to be ashamed of, is Aguilera actually immortal? Did she never age past Mickey Mouse Club, and we've all been fulled by her perfectly beat face this entire time?
People cannot handle it and have resorted to speaking only in GIF form.
Forget being shook. The earth is quaking and people have fallen to the floor.
Wigs are flying.
In one of the shoot's images, she's even rocking curly, Bettie Page baby bangs, and it's totally working. So sorry to baby bang wearers before her, but Aguilera may just be the queen now.
When people say they've died over it, they could just mean it. Someone call beauty 911.
At this point, people are using GIFs of Xtina to celebrate Xtina. That is legendary.
Some fans seem to be wondering if the new look for the magazine is a sign of things to come. A new single, perhaps? A whole new album?
While the Paper cover story doesn't directly address when exactly new music could be coming from the singer, Aguilera does discuss how her new style and music go hand in hand. She explains in the magazine, "I've always been someone that obviously loves to experiment, loves theatrics, loves to create a storyline and play a character in a video or through stage. I'm a performer, that's who I am by nature. But I'm at the place, even musically, where it's a liberating feeling to be able to strip it all back and appreciate who you are and your raw beauty."
It's her raw beauty on the cover of Paper that has her fans falling deeper and deeper in love, and with her permed hair, baby bangs, and fresh-face, who can blame them?