Here's Every Christmas Movie Coming To Netflix In December 2017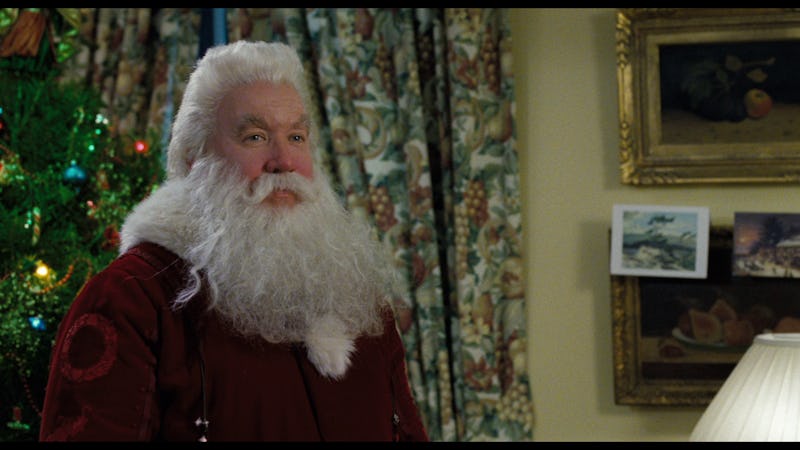 Buena Vista Pictures
It's almost that time of the year again, when you can curl up with a cup of hot cocoa and enjoy all of those classic Christmas movies. Luckily, there are so many Christmas movies coming to Netflix in December 2017 for viewers to get into the holiday spirit with. Netflix is releasing some new Christmas fare and some well-known faves, all of which you're going to want to check out sometime this season.
In case you missed some major news about what's coming to the streaming service, all three of Disney's The Santa Clause films are coming to Netflix in December. Now, you can revisit the classic Christmas films in between your marathon of Stranger Things 2. Those movies aren't the only films that are going to keep you entertained throughout the holiday season, though. Everyone's favorite Justin Timberlake-fronted animated film Trolls is coming out with its own holiday special that will certainly be a crowd-pleaser. And those are only a couple of the amazing films that are coming out soon.
Netflix will have a bunch of Christmas films throughout the month of December, so you'll be able to keep that holiday spirit alive throughout the whole holiday season. Check out some of the other fun Christmas films coming to Netflix in December 2017.
A StoryBots Christmas
This animated, Netflix original special (to be released on Dec. 1) will see the StoryBots celebrating the Christmas holiday. The short film will see Judy Greer and Erin Fitzgerald voicing some of the characters and will surely be a family-favorite.
DeamWorks Home For The Holidays
This animated film, which will also be released on Dec. 1, is a special based on Rihanna's Home, an animated feature released in 2015. This Christmas film finds Kelly Clarkson lending her voice, according to Entertainment Tonight. Let's hope that Clarkson will sing along to a Christmas tune or two during what looks to be a fun film.
While You Were Sleeping
Don't let the title fool you, While You Were Sleeping is actually a Christmas movie and it'll be available for your viewing pleasure on Dec. 1. The 1995 film stars Sandra Bullock as a "hopeless romantic" named Lucy who finds love with Bill Pullman's Jack. The film's got that Love, Actually Christmas vibe and is a can't miss movie on Netflix's line-up of holiday films.
Trolls Holiday Special
Another fun special based on a beloved animated film. The Trolls Holiday Special finds Justin Timberlake and Anna Kendrick returning to voice their original roles as Branch and Poppy, respectively. The special is originally set to air on NBC on Nov. 24, but just in case you miss it, it'll be on Netflix on Dec. 6.
El Camino Christmas
This new film has an all-star line-up (no, sorry, Dwight Schrute is not included). Everyone from Jessica Alba to Dax Shepard appear in this film about a man (played by Luke Grimes) who, while searching for his father that he's never met, ends up locked in a store with five strangers on Christmas Eve. It's different for a Christmas film but still sounds super interesting.
Disney's The Santa Clause, The Santa Claus 2, & The Santa Clause 3
Yep, all three of The Santa Clause films are coming to Netflix on Dec. 12. Make sure you remember that date because you're definitely going to want to make an appointment to marathon-watch all of these films back-to-back. It will definitely get you into the Christmas spirit!
Christmas Inheritance
Christmas Inheritance, to be released Dec. 15, stars Andie MacDowell and Eliza Taylor in a film concerning a special Christmas card. According to the film's iMDB page, it has everything from romance to the "true gift of Christmas". Sounds perfect!
Miss Me This Christmas
Miss Me This Christmas concerns a couple who are set to divorce on Christmas Day. That actually sounds like one of the most heartbreaking things ever. But, it actually sounds like all may not be lost for the pair, played by Erica Ash and Redaric Williams. Fingers crossed that there's a happy Christmas in their future when it premieres on Netflix on Dec. 19.
You Can't Fight Christmas
You Can't Fight Christmas, to be released on Dec. 19, finds two people totally at odds when it comes to the holiday. Although, they may be able to agree that they're right for each other. This slightly mis-matched couple, played by Brély Evans and Andra Fuller, will have to find a way to make things work during the holiday, seeing as though she's way into the season and he definitely isn't.
These Netflix Christmas films will definitely help get into the holiday spirit this season, one movie at a time.