Cinnabon Crème Liqueur Exists, So Now You Can Drink The Best Part Of The '90s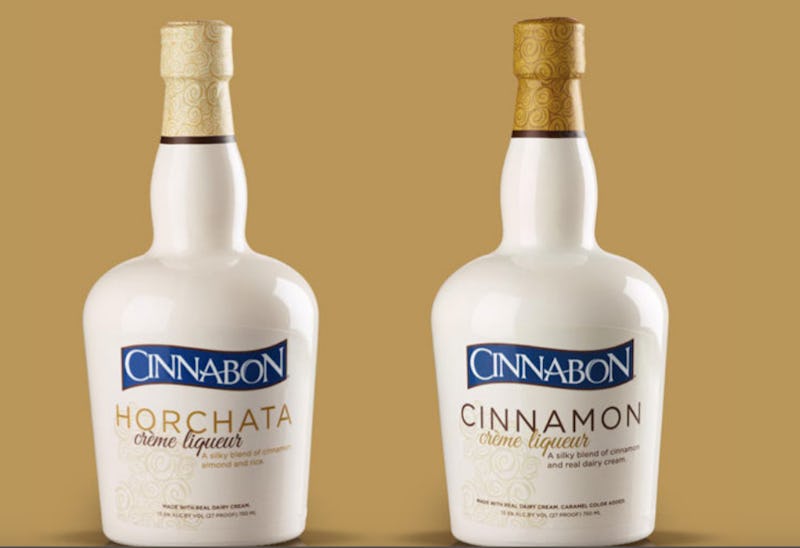 Cinnabon
Attention all sweet tooths: You're in for a real treat. If you love 1) treating yourself to a warm, freshly baked and generously iced cinnamon roll, and 2) yummy-tasting alcohol (because dry wines and too-strong vodkas are sooo 2017), get ready, because Cinnabon Creme Liqueur exists, and it tastes just like your fave snack.
According to its website, Cinnabon makes two kinds of booze: Horchata Crème Liqueur and Cinnamon Crème Liqueur. The Horchata edition is a smooth, silky blend of cinnamon, almond, and rice. You can serve on ice (think: like an alcoholic iced latte), or use it to make an extraordinary, out-of-this-world cinnamon cocktail. If you're looking for something a little bit more versatile, try the Cinnamon Crème Liqueur. You can add it to your coffee for a brunch treat with your friends, or you can even drink it in a daintier portion straight with ice.
Either way, the two liqueurs practically scream all things autumn, so there's no better time of year to indulge in these delicious drinks. Plus, what better way to celebrate fall than to-die-for creamy, cinnamon-y liqueur? This, folks, is Fireball's hipper, trendier cousin, and it's dying to meet you.
Enjoy chilly nights with a fresh cup of Cinnabon liqueur lounging on the couch and streaming some Netflix. With these babies, there's really no reason to leave your house at all (that is, only for Cinnabon cinnamon rolls and icing to enjoy with it). Check to see retailers that are carrying the Cinnabon liqueur near you on the website's store locator, here.
If cinnamon isn't really your thing, you're in luck, because there's plenty of more delicious upgrades on your old faves to try. Check out these three other food-alcohol concoctions that will literally leave you drooling.