Clues About Anna Faris & Chris Pratt's Split You Might've Missed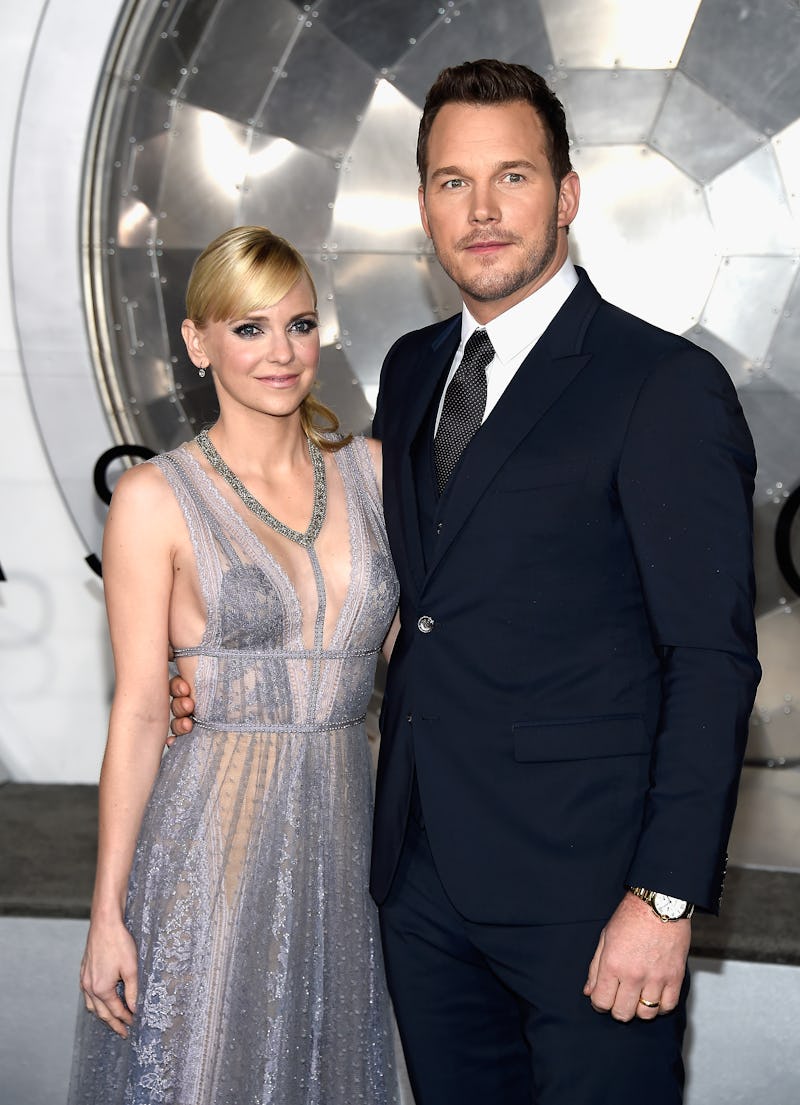 Matt Winkelmeyer/Getty Images Entertainment/Getty Images
As soon as news spread through the Twittersphere that Anna Faris and Chris Pratt are splitting up, fans reacted accordingly. That meant proclamations that "Love is dead" and frequent use of the Tobias-sobbing-in-the-shower GIF from Arrested Development. But once everyone got over that initial shock, it turned out there may have been clues about Faris and Pratt's split that fans could — and probably should — have seen coming. Not that it makes the news any easier, but hindsight really is 20/20.
On Sunday, Aug. 6, the couple announced that they're legally separating on their respective social media pages. The joint statement read:
"We are sad to announce we are legally separating. We tried hard for a long time, and we're really disappointed. Our son has two parents who love him very much and for his sake we want to keep this situation as private as possible moving forward. We still love each other and will always cherish our time together."
While this isn't intended to take away from their request for privacy in the least bit, a look back at their recent interactions (or lack thereof) in the public eye may prove this isn't as surprising as fans first thought.
As the couple admits in their statement, "We tried hard for a long time, and we're really disappointed." So here are all the clues you might've missed about their split.
1. The Emoji Movie Premiere
Considering The Emoji Movie is literally a children's movie, it's not a shock that Faris' four-year-old son joined her at the premiere. However, if you look through photos, Pratt is nowhere in sight. Sure, he's been busy filming Jurassic World: Fallen Kingdom, but that doesn't necessarily mean he couldn't have flown out for one night. This segues into the next point...
2. Pratt Has Been Filming The New Jurassic World
Not that filming a movie guarantees a breakup, but this just means Pratt has been incredibly busy. A quick scroll through his Instagram and you'll see that most posts are related to filming. There's no denying that long-distance separation makes any relationship tougher, not just celebrities.
3. This Mother's Day Message
Given their understandably busy lives, this isn't meant to knock the pair. The fact that Pratt and Faris spent Mother's Day apart is just another example of their schedules not matching up. However, it's worth noting his caption seems undeniably heartfelt:
"A big Mother's Day kiss and hug across the pond to my darling wife @annafaris and our sweet boy. I miss you both so much. I love you."
Based on that, it sure sounds like he wished he could be with Faris and their son IRL.
4. Openness About Past Struggles
In a totally respectable move, Faris has been open about insecurities in their relationship. Last December, she admitted, "We grapple with a lot of the ideas of being a public couple" during an episode of her podcast. According to People, Faris also spoke of tabloid rumors getting to her a bit:
"I think it was a combination of things. I take pride in how great my relationship is with Chris, but having said that, of course, in this crazy world where he's off doing movies and I'm in L.A. raising our child, of course I'm going to feel vulnerable, like any normal human would."
Like Faris said herself, any normal human is bound to feel vulnerable. And while that doesn't mean any and every rumor is true, this implies that no relationship is picture-perfect, and being in two separate places makes any marriage harder.
5. Comments About The Hollywood Spotlight
Echoing the sentiment in the statements above, Faris gave a speech at Pratt's Hollywood Walk of Fame ceremony in April where she mentioned how happy they'd be with or without all of the Hollywood fuss. She said:
"I know that if our circumstances were different and we weren't as fortunate to be standing here and living our Hollywood life, we would be happy in the woods together, I think."
Granted, the speech overall was overwhelmingly positive, but thinking about that specific quote sure seems like evidence yet again that things would be easier out of the public eye.
6. A Lack Of Recent Instagram Photos Together
A scroll through both of their Instagram pages shows that the pair hasn't posted photos together in nearly two months. The photo above is Faris' most recent featuring her husband, and it's from early May. Meanwhile, Pratt's latest Instagram of Faris is the aforementioned Mother's Day message.
At the end of the day, only Faris and Pratt know what truly led to the split. But for every seemingly disheartening item on the list above, there were way more happy memories between the pair — at least in the public eye. So maybe fans, and the couple themselves, can find comfort clinging to those.