Kylie Jenner Dropped Even More Clues That She's Having A Girl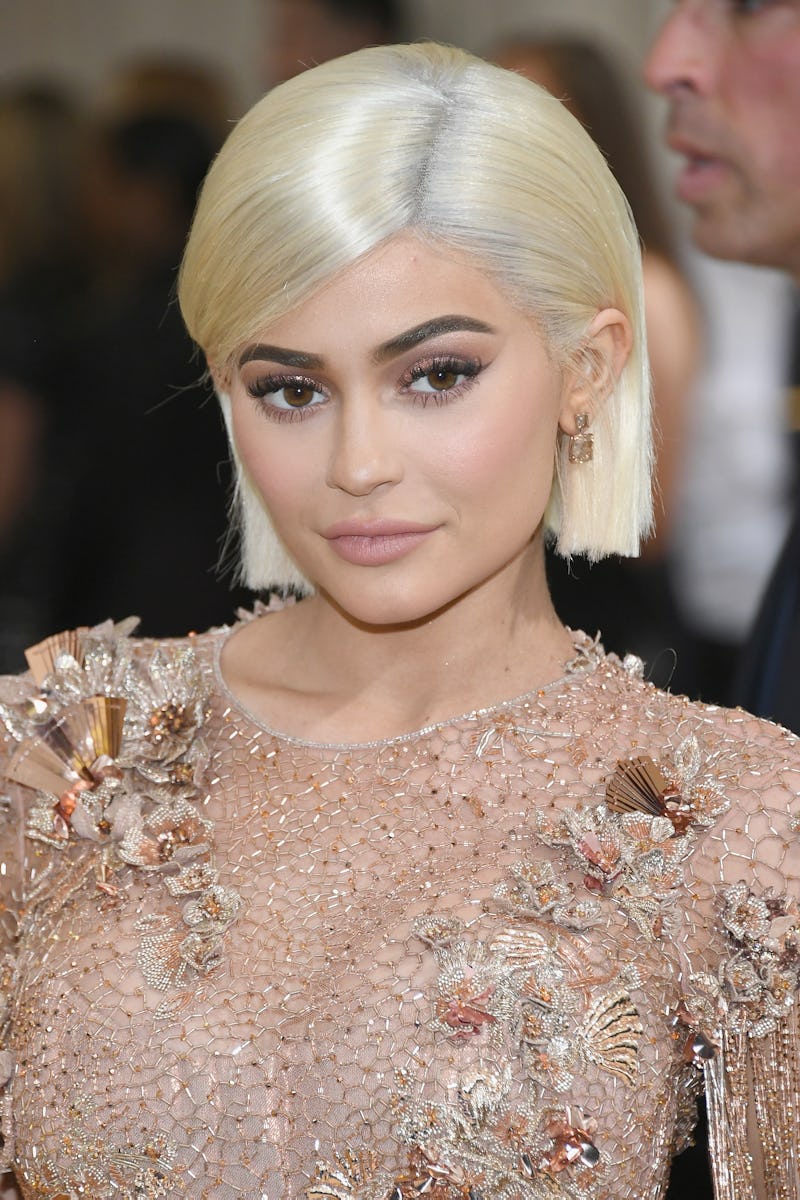 Dia Dipasupil/Getty Images Entertainment/Getty Images
In case you missed it, people are still scanning social media for clues about Kylie Jenner's rumored pregnancy. News broke that Jenner may be expecting a baby with Travis Scott back in September, but aside from completely shutting down a paparazzi photo of her "baby bump" last week, the reality star has been tight-lipped about the rumors. She hasn't confirmed or denied anything, but many fans seem to think that she's using her Snapchat to troll us about the rumored baby's sex. And according to her fans' analysis of one of her most recent photos on the app, Jenner might be having a baby girl.
UPDATE: In a post on Twitter, Kylie Jenner confirmed she gave birth to a healthy baby girl on Feb. 1. In the tweet, Kylie wrote:
"I'm sorry for keeping you in the dark through all the assumptions. I understand you're used to me bringing you along an all my journeys. my pregnancy was one I chose not to do in front of the world. I knew for myself i needed to prepare for this role of a lifetime in the most positive, stress free and healthy way i knew how. there was no gotcha moment, no big paid reveal i had planned. I knew my baby would feel every stress and every emotion so I chose to do it this way for my little life and our happiness."
EARLIER: On Friday night, Jenner took to Snapchat to share a series of pink-themed photos that have her fans (once again) questioning if this is some sort of gender reveal. In one photo that showed her room decked out in pink decor, the 20-year-old revealed that she was in the process of shooting holiday videos for Kylie Cosmetics. She shared another photo showing her light pink, matte nails and decorated the pic with all kinds of pink emojis and stickers and followed that up with a throwback photo from when her hair was rose gold. She captioned it, "I'm still trying to grow my hair back from this…but i miss it."
This is where the makeup mogul shoots videos for her YouTube channel.
She shared a different photo on Instagram of her nails last week while on the set of a photo shoot, which caused some to wonder if the photo shoot in question was actually a maternity shoot. On top of the fact that her nails were still pink at the time, the photo shows Jenner wearing a sparkly pink diamond butterfly ring — and butterflies apparently hold some sort of significance to her relationship with Scott. The pair reportedly got matching butterfly tattoos back in June, according to People.
And though it's pretty likely that she's had pink nails before, there's something about these photos that fans thought was extra special, considering the circumstances.
But let's pump the brakes here, because this definitely isn't the first time fans have speculated that Jenner was dropping subtle hints about her rumored baby's sex via social media. Just last month she shared a photo of pink and blue phone cases via Snapchat with a caption that read, "Which one? I'm thinking blue..." alongside a blue heart emoji. This immediately threw the internet into hysteria, with many people believing she was hinting at having a baby boy, despite earlier reports claiming that she and Scott are expecting a girl.
That same week, Jenner took to Instagram to share a photo of herself wearing an oversized button-up shirt that many assumed might have been a way to hide a baby bump. Not to mention that the shirt was baby blue blue — just like the aforementioned phone case.
Pink and blue are obviously very common colors in terms of clothing, decor, and nail colors, and it's very possible that Jenner isn't pregnant and all of these things could have just been coincidences. (When the baby rumors first broke, Bustle reached out to Scott's rep, but did not receive an immediate response; Jenner's reps could not be reached.) Seeing the way that social media users love to turn peoples' lives into overly-complicated riddles, it's also possible that she's just having a good time trolling everyone. Because if you need any more reasons to be confused about what to believe, fans also called into question a photo that she shared on her Snapchat earlier this week before heading out on a girls' trip with Khloé Kardashian.
The photo shows a pile of snacks sitting on top of a checkout counter, but there's a box of tampons hidden underneath a bag of Cheetos — and Jenner obviously wouldn't need tampons if she was actually pregnant.
So, what is the truth? We might not know for a while, to be honest. As annoying as it is to speculate, it looks like that's all anyone can do until we get a clear answer.