Beyoncé Is Officially Headlining Coachella & You NEED To See The Rest Of The Lineup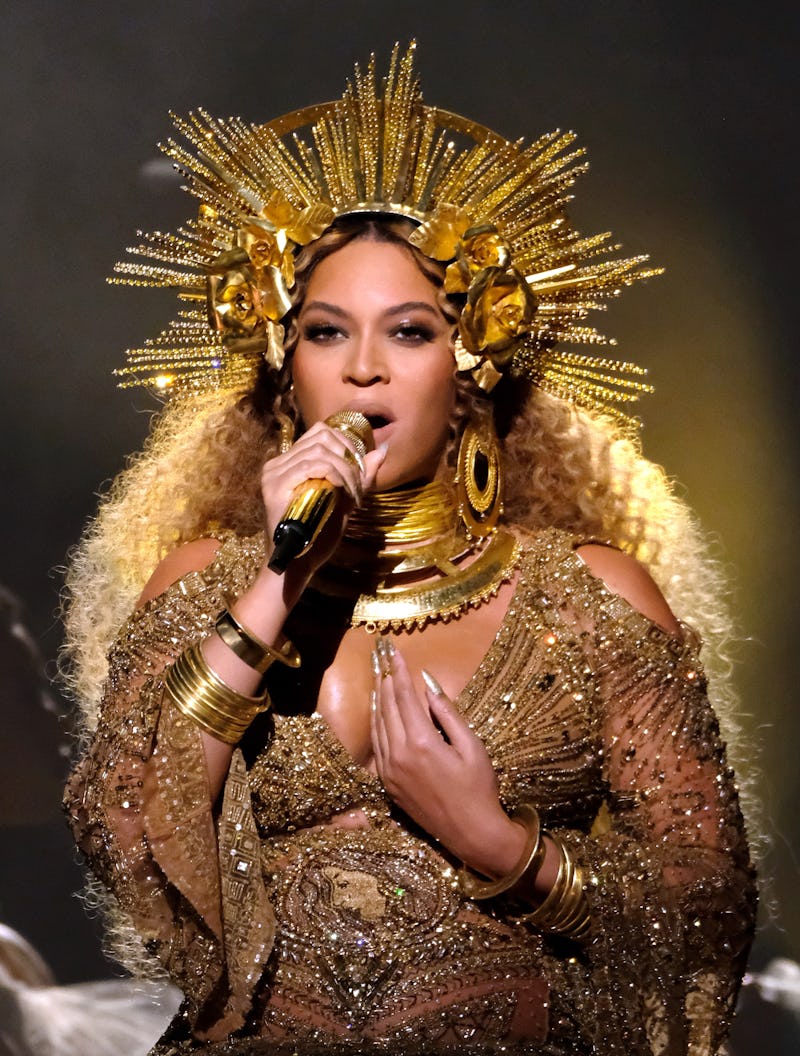 Larry Busacca/Getty Images Entertainment/Getty Images
If you're a music fan, the moment you've been waiting for has arrived: the 2018 Coachella lineup was announced on Tuesday, Jan 2. And don't worry, Beyoncé is headlining the performances on Saturday, April 14 and 21. As fans know, Bey had to reschedule last year when she was pregnant with her twins, Rumi and Sir, but she's making a big comeback in 2018. Plus, she'll be joined by plenty of fan-favorite artists: The Weeknd, Cardi B, SZA, HAIM, and Eminem — and that's just a handful of the many names.
When looking at the lineup, there seriously is something for everyone. And since the music festival takes place over the course of two weekends in Indio, California, you pretty much have double the opportunity to see Queen Bey in all her glory. Considering she recently released a duet with Eminem (who's headlining the Sunday shows), perhaps she'll also do a surprise performance to sing "Walk On Water." You can definitely cross your fingers for that one. Or, who knows, maybe she'll bring out husband JAY-Z during her set to perform "Family Feud." After their music video set the internet on fire last week, that's not totally out of the question. Just keep up that wishful thinking.
After the lineup dropped on Tuesday evening on Twitter, the Coachella website seemed to be taking a long time to load — likely from so many people trying to click in. But if you're interested in purchasing tickets, fear not. While the advanced sale tickets already went on sale last June for Weekend 1, if you're looking to still snag some regular tickets, it isn't too late. According to the website, Coachella 2018 tickets go on sale on Friday, Jan. 5 at 12 p.m. PST. Instructions for how to purchase tickets is available at that link. They also encourage people to check out their partner site, Valley Music Travel, to see what packages with passes are left. (However, keep in mind, those travel packages would set you back a few thousand dollars.)
Even though you have to zoom in to see all the artists names listed on Coachella's 2018 lineup, few things matter more than the fact that Beyoncé is headlining — or at least that's true, if you consult Twitter.
It's Exciting All Over Again
Sure, it's not necessarily new news, but fans are pumped regardless.
It'll Be Her Comeback Moment
Once again, Bey is reminding everybody that she can do it all.
They Might As Well Just Rename It Now
Not to knock the other artists, but it should just be called Bey-chella from now on.
Seriously, All Eyes Will Be On Bey
No fans are as loyal as the Bey Hive.
But Some People Showed Love For The Other Artists
Sure, you might be wishing she could run the show every single day, but she's just one person. And obviously, it's a bonus to get to see other artists along the way.
There Will Be Some Serious Girl Power On Stage
As the above tweet points out, Cardi B, SZA, and Beyoncé are performing — all in one weekend.
Fans Need To Get Tickets, Stat
Honestly, this isn't a bad strategy. Also try googling: "How to get a fairy godmother and be granted a free wish."
Again, People Kept Their Priorities In Order
Oh, there were other names on the lineup? Sorry, this fan didn't notice — or they couldn't be bothered to notice.
This GIF Never Gets Old
This is just a preview of every audience member's reaction.
Of course, all of the other artists at Coachella deserve some recognition and a moment in the spotlight. But after a year of waiting, it's more than understandable that fans can't contain their Bey-related enthusiasm. Let the countdown to the festival begin.