Coffee-mate Launched A Snickers Creamer That Tastes Ridiculously Like The Real Thing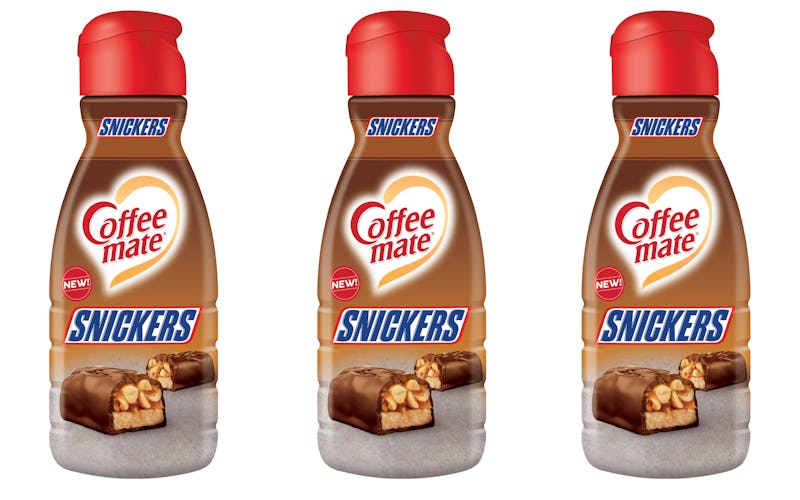 Coffee-mate
A word about dessert-flavored creamers: they are, perhaps, a feat of ingenuity. You're a busy human being, after all. How are you supposed to caffeinate and consume dessert before 9 a.m., as is your basic right in adulthood? While you do, of course, have a bevy of dessert-flavored drinks at coffee chains at your disposal, you don't have unlimited income — enter inventions like the Snickers and Dove chocolate-flavored coffee creamers by Coffee-mate, which will take your average cup of joe to Halloween candy in a mug in the time it takes to write a passive-aggressive note that says "MINE, DO NOT DRINK" in the office fridge and pour.
The two flavors appeal to both your '90s baby and grownup sensibilities: the Snickers one is an homage to your favorite candy growing up, a chocolate creamer with notes of peanut and caramel to mimic the flavor. The Dove one is its sophisticated older sister, a Dove Dark Chocolate Almond flavor that mimics the little wrapped candies you know and love and hoard in your desk for an after lunch treat.
Bustle had the opportunity to try the two new creamers before they hit shelves, and they definitely serve some chocolate realness. Even just a splash of it is transformative in coffee — the Snickers one sweet enough that you don't have to add any sugar (a true shock for someone as aggressively into sugar as I am), and you can definitely pick up on the other flavors of the Snickers bar. The Dove version is just as rich and encompassing as the dark chocolate promises, although the almond in it is not quite as present as the peanut in the Snickers. Both are pretty potent, so you don't have to put much more than a splash in your coffee — that is, unless you want to go full dessert breakfast, in which case go live your chocolate coffee dreams, my friend.
The two new creamers will be available in January 2019 in grocery retailers nationwide, so you don't have that long to wait. They'll be sold in 32-ounce bottles in the refrigerated aisle, and though the prices will vary by retailer, they'll go for a suggested retail price of $3.59. That alone is cheaper than the average dessert-inspired drink at your local coffee spot — this creamer could save those of us with a notorious sweet tooth a big old chunk of change.
If you're still raring for some dessert-flavored creamer before then, you have plenty of options at your disposal — Target recently brought back its dessert-flavored holiday milks, including a Sugar Cookie and Maple Pecan milk, which ought to do the trick. And International Delight released big old bottles of Oreo iced coffee that you can buy at Walmart and pour straight into your mug, for the ultimate in caffeinated dessert convenience.
Essentially, now is the time to be young and alive and into ridiculously delicious drinks. We're all going to have enough energy by the end of the holiday season to put Buddy the Elf to shame — and then these new coffee creamers in January to keep the party going.