Twitter Is Obsessed With Beyoncé Baby Name Jokes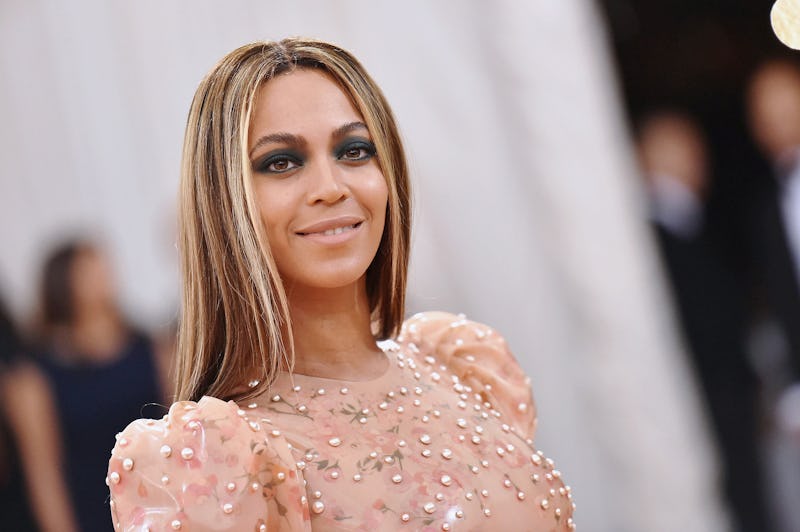 Mike Coppola/Getty Images Entertainment/Getty Images
Oh dear, someone let all the dads on Twitter. After Beyoncé announced she is pregnant with twins, the color-themed baby name jokes started rolling in, and you guys, they're not great. Remember when Kim Kardashian announced she was expecting Saint and everyone immediately started making direction jokes, because her daughter's name is North West? It's like that, but worse because there are so many more colors than there are directions.
Just because Bey and Jay Z named their first child Blue Ivy, this doesn't mean their second kid is going to be called Red Magenta — I mean it's catchy and all, but these are two of the most creative people on the planet. Respect their naming skills, you guys. I have a feeling they will come up with amazing monikers for both of their new additions without resorting to consulting a color chart for inspiration.
As Mic pointed out, Blue Ivy's name is full of meaning. She is named after her parents' two greatest accomplishments prior to her birth. The "Blue" comes from Jay Z's album The Blue Print, while Ivy is also the Roman numeral IV, the title of Bey's last album before her daughter was born. The DailyMail also recalled that an Instagram post from shortly after Blue's birth hints her name was inspired in part by a passage from A Field Guide to Getting Lost by Rebecca Solnit.
Bey and Jay Z put thought and meaning into Blue Ivy's name that went far beyond just choosing a color. I'm not here to stomp on anyone's joy, especially not dads, who give the world its corniest of jokes, but the singer's happy news shouldn't be all about who can make the best color-themed name joke on Twitter. Choosing a name for a baby is a big deal for any parents, and even if the name sounds unusual to others, there is usually a reason behind their choice.
Little Blue Ivy is no different, and I highly doubt her twin siblings will be named Orange, Pink, or Turquoise because her parents are color-obsessed. Whatever names Jay Z and Bey come up with for their new twins, they are sure to be just as special and unique as Blue Ivy's. While reading through all the groan-worthy color jokes is fun, I cannot wait to hear what these two new awesome babies will really be called — I suspect their names will be every bit as beautiful as their big sister's.