This "Colour Me" Wine Lets You Draw On The Bottle While You Drink It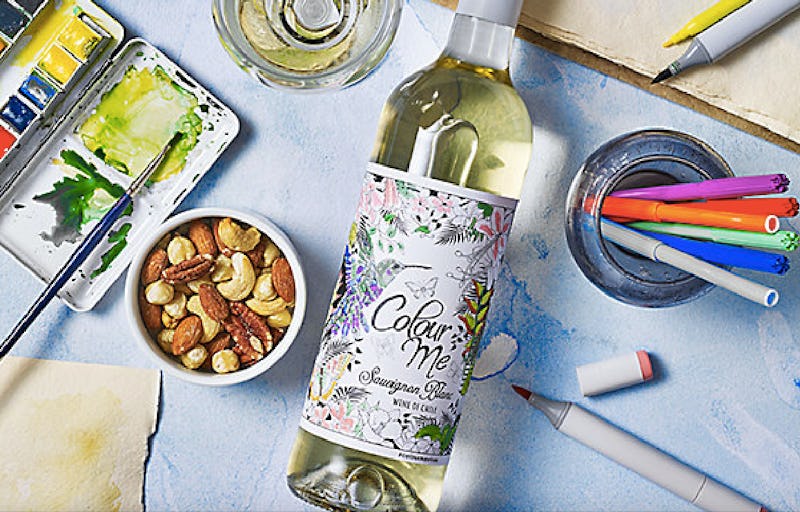 Marks & Spencer
In an increasingly chaotic world, it's often the little things that can help you relax — things like coloring in a beautiful design, or spending time with friends, or sipping a nice glass of wine. And hey, guess what? Thanks to Colour Me wine from Marks & Spencer, you can do all three at the same time now: The wine's label is inspired by adult coloring books, making it the perfect bottle to break out along with a set of markers or colored pencils as you drink it with friends. Is there anything better than the combination of good wine, good company, and good art? No. No, there is not.
(OK, so technically, there probably is — but it's definitely up there on the great list of the Finer Things In Life.)
"The childhood joy of colouring in is combined with a slightly more adult pastime in our Colour Me Sauvignon Blanc, new in stores this week," wrote M&S Deputy Food Editor Heather Taylor in a post about the wine on the UK-based retailer's website. The dry white wine's label consists of a gorgeous black-and-white illustration that's designed for you to "customize however you like." According to Food and Wine, it's about $11 per bottle.
The label itself was designed and drawn by UK-based illustrator Daisy Fletcher. In addition to tons of commissioned work for companies as notable as Visa, Sony, and Dior, Fletcher, who holds degrees from the University of Brighton and the Royal College of Art, has produced two adult coloring books — 2016's Birdtopia and the 2017 follow-up Into the Wild. Both exemplify her fanciful and, as she puts it, "slightly surreal" takes on nature: On her website, she describes Birdtopia as "a fantastical place inhabited by a selection of inquisitive birds from across the world," including "violet-tailed sylphs," "majestic peacocks," and "striking birds of prey"; Into the Wild, meanwhile, is "a "colouring journey through dream-like forest scenes where you will encounter real and fabulous creatures" ranging from otters, to caracals, to unicorns.
With its mix of elegance and whimsy, her style sounds perfect for an adult coloring book-inspired wine label — and the result of her collaboration with M&S began appearing on shelves earlier this fall, according to a post Fletcher wrote on her official Facebook page dated Sept. 28. "So excited to see this on the shelves in M&S this morning. It's such a buzz to see my illustration on the final product," she said. According to the post, Marks & Spencer first went to Fletcher "a few months ago with the idea of creating a label which could be coloured in to go with a carefully chosen wine, great for sharing with friends." The result is a beautiful illustration featuring hummingbirds, butterflies, flowers, and greenery, all just waiting to be colored in by wine-loving doodlers.
The wine inside is a Chilean sauvignon blanc, by the way. According to Clara Wine, sauv blanc grapes in Chile are gown in the country's coastal mountain range; as such, the climate is full of "sunlight and low humidity" during the day, with "fog [drifting] in during the evening. The grapes tend to ripen a little more slowly than they do in other countries known for their sauvignon blanc — New Zealand, for example — which means there's more time for them to develop aromas and the fruity flavors that characterize sauvignon blanc grapes. As Clara Wine puts it, "The resulting fruit is highly aromatic with racy acidity, minerality and touch of savouriness."
Colour Me's sauvignon blanc appears to line up with those characteristics; it's described on the back of the label as "crisp, fruity, and fresh," with notes of gooseberry, lime, and passion fruit. The suggested pairings are "snacks, tapas, and nibbles" — and personally, I bet it would go wonderfully with a nice cheese plate.
Marks & Spencer is also running a contest alongside the launch of the wine, by the way; if you post your colored-in creations on Instagram with the tag #colourmewine, you might win a magnum of Prosecco. It looks like you'll actually have to head to a brick-and-mortar M&S location to get your bottle, though; it's not available on the retailer's website. It also might only be available in the UK — there doesn't seem to be any trace of it on the U.S. Marks & Spencer website.
Ah well — at least Daisy Fletcher's two coloring books are readily available in the United States. In lieu of an actual Colour Me wine bottle, you can always order yourself Birdtopia or Into the Wild, open up a pack of colored pencils and a bottle of your favorite wine, and create a similar experience for yourself. Sounds like a perfect night in to me!