According To Colton, All The 'Bachelorette' Guys Thought Blake Would Win Becca's Heart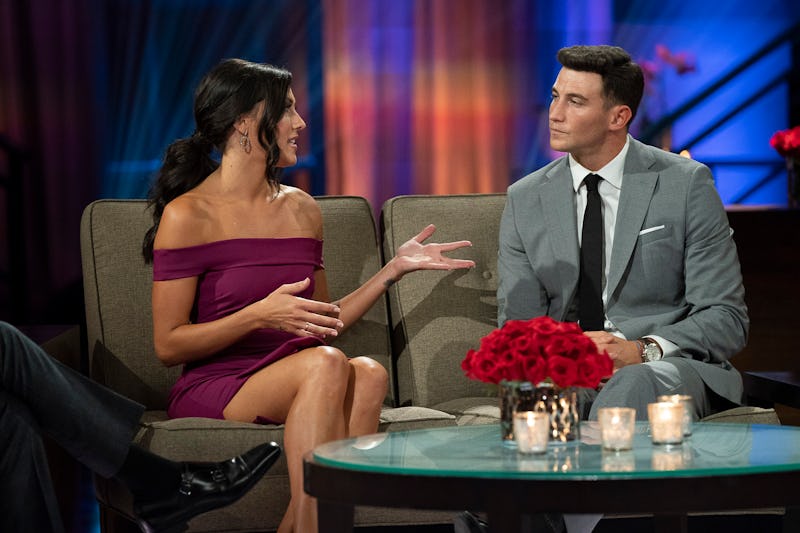 ABC/ Paul Hebert
Even though Becca Kufrin gave Garrett Yrigoyen the first impression rose during Night 1 of her Bachelorette season, he wasn't the front-runner in the eyes of the other contestants. In an interview with Access on Tuesday, Colton Underwood said the Bachelorette cast thought Blake Horstmann would win Becca's heart the whole time. And that actually makes a lot of sense.
Blake got to meet Becca before the season even started when he rode in on a horse at the After the Finale Rose episode of the last Bachelor season. He also secured the first one-on-one date in Episode 2. There was a lot of "evidence" to support the theory that Becca favored Blake throughout the season, and Colton's recent comments do as well.
On the show, Colton admitted that he fell in love with Becca and he even made it to her top-four contestants, getting a highly coveted hometown date with the Bachelorette. Nevertheless, he still wasn't completely secure that he would be the one for Becca. In his interview with Access, Colton, along with franchise alums Ashley Iaconetti and Jared Haibon, discussed the finale and the rest of the season. The Bachelorette contestant confessed,
"We all thought it was Blake the whole time. I mean as a cast, we were like any time we saw her and Blake together [we] were like 'That's something.'"
Colton added, "And the same with Garrett, but you saw how it played out." Yes, Becca admitted to the camera that she ended up falling in love both of her final two men. She didn't drop the "L" word until she made her final selection, but she did make it clear that she had deep feelings for both guys during her on-camera interviews.
The contestants weren't the only people who thought Blake was the one. Apparently Blake thought so as well. Colton discussed Blake's focus on attention on his relationship with Becca. He explained,
"Blake is an awesome guy, but Blake was so focused and so into his relationship that there was nothing else that mattered as far as developing relationships with some of the other cast and some of the other guys."
Even though most people don't find love on this show, the premise is about dating. Colton acknowledged that when he said, " I know that's not what you're there for, but you know that's part of life. Right? You're in a certain situation and you still want to have the full experience. You get to build friendships and that's part of the show." Very accurate. It seems like more contestants come out of this "journey" with a group of best friends than a love interest.
Colton theorized that Blake zeroing in on the romance is why the finale breakup was so devastating. He shared, "With Blake, he was so infatuated with his relationship and that's completely OK, but that's what led to the heartbreak."
Colton made it a point to emphasize that Blake did make friends while filming the season: "Blake was one of the guys." Even so, he revealed,
"It was always a challenge to get him out of the room and get him down to be social. It's not wrong, but it's just one of those things that I picked up on."
Colton theorized that it was "one of the things that led him to be so devastated because he was just so emotionally invested in that relationship— unparalleled to anybody else."
On one hand, it has to be validating for Blake that the other guys on the show felt the strength of his connection with Becca. Conversely, it can't be easy to hear that he seemed like the one the entire time, only to get his heart broken at the very end.