Colton Teased On Instagram That He Really Did Find Love On His 'Bachelor' Season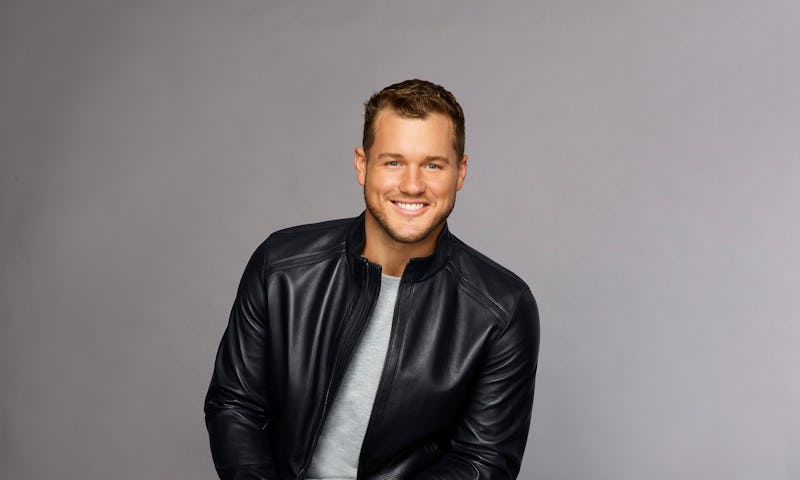 ABC/Craig Sjodin
Wondering if Colton Underwood finally meets his match on the upcoming Bachelor season? From the looks of Colton's new Instagram photo — shared with Bachelor Nation via social media on Tuesday, Nov. 27 — it seems safe to say that, yes, fans will get to watch one lucky lady steal his heart come January. That said, in keeping with the show's logistical guidelines, Colton's IG photo doesn't reveal anything as to the identity of his Bachelor winner. But unsurprisingly, his post still managed to spark quite the virtual hullabaloo over what seems like confirmation that Colton is seeing someone new.
The IG photo in question sees ABC's rising Bachelor (and former NFL player) at a Denver Nuggets game over the weekend, smiling beside an ultra-pixelated, magnified pregnant woman emoji that's been photoshopped into the frame. Captioning the silly snapshot, Colton joked,
"Date night with my babe. She's a little pixelated tonight, but I promise you that she has a great personality. Thank you @nuggets for hosting."
Though Colton's Bachelor journey won't premiere on ABC until January 2019, filming for the new season has just recently wrapped. According to a report from Us Weekly a few months back, Colton's Bachelor season started filming on Sept. 21, not too long after he finished up his stint in Paradise.
Colton dropped off the map for a bit, since Bachelor protocol says no phones allowed during filming. But, just about two months later, he returned to IG with a little announcement letting fans know he was back online. "Spoiler alert: I'm back," he wrote in the Nov. 17 post.
Seasoned residents of Bachelor Nation know what that means. If Colton's "back" from filming, then (barring any catastrophes) he's conceivably already found his forever love, too. Still, while that might very well be true, it seems highly unlikely that Colton would be seen in public with his Bachelor winner right now, since ABC usually has pretty strict contracts in place to prevent that from happening. In light of that, it seems considerably more likely that Colton's recent IG post was just a joke, more than anything else.
Even if it was, Colton's use of the pregnant woman emoji in his photo definitely caught the internet's attention. It really doesn't seem like the new Bachelor was trying to hint that there's a baby on the way with his post, though the inclusion of that emoji in particular is pretty intriguing.
Some fans even speculated in the post's comments section that this was Colton's way of letting the world know about the state of his virginity — something that's been discussed, a little too much, throughout his time in the franchise. Honestly though, there probably wasn't even that much thought behind the emoji choice. And Colton's sex life really shouldn't be such an enormous part of his public Bachelor persona — the show's focus on his virginity is mostly just unfair, unnecessary, and kind of voyeuristic, when you think about it.
Whatever message Colton intended to send with his new IG photo, here's hoping the kind-hearted former Bachelorette contestant really did find love on the Bachelor. And here's hoping fans will get to watch the magic happen themselves when the show returns in the new year.