Colton's First 'Bachelor' Poster Is Here With A Very Obvious Reference To His Virginity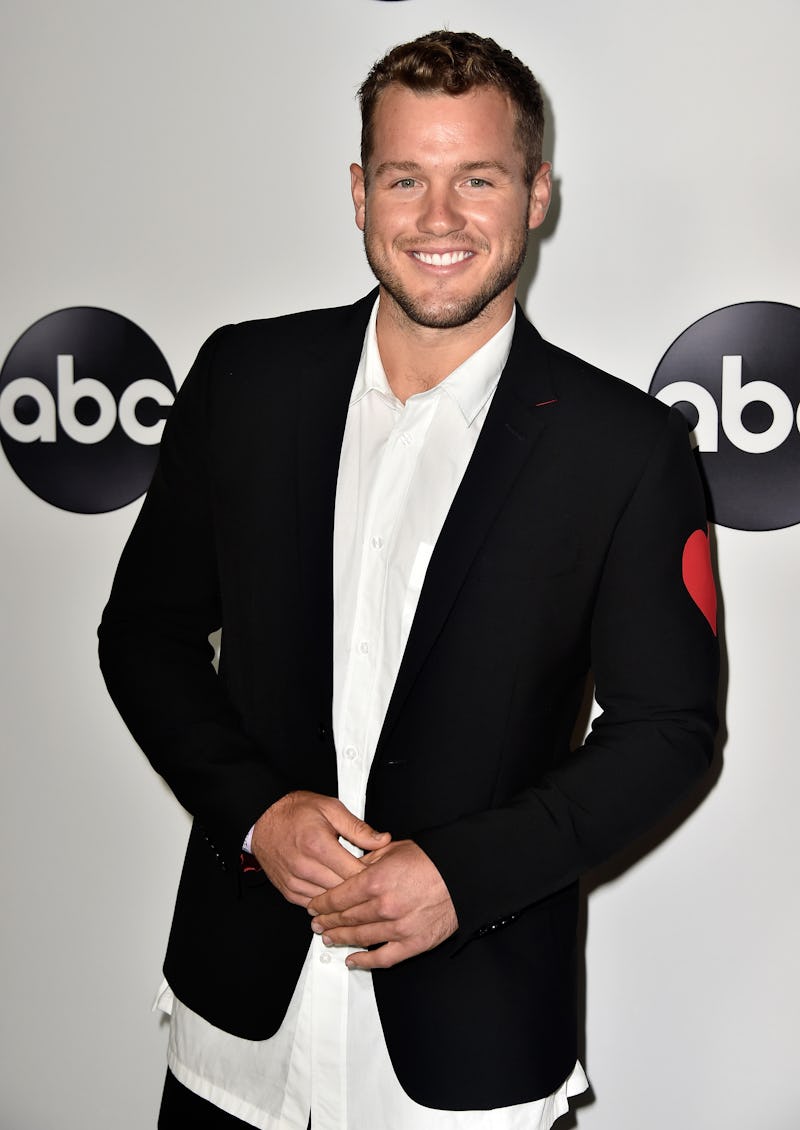 Frazer Harrison/Getty Images Entertainment/Getty Images
The Bachelor is gearing up for its next season and Colton Underwood's Bachelor poster has arrived. On Nov. 15, franchise host Chris Harrison tweeted out the poster for the next Bachelor's upcoming season, which shows Colton sharply dressed in front of a wall of roses. Oh, and there is a tagline. And the poster tagline reads, "What does he have to lose?"
Get it? Get it? Oh, boy. Lest anyone think Colton's season wasn't going to be full of allusions to his virginity, the poster sure makes it darn clear that we won't be moving on from this topic anytime soon. But then again, we shouldn't be that surprised. When Colton's virginity came up in a recent Extra interview, Harrison said, "The V card is still intact — will it be in the next couple weeks? I don't know. I think it will be put to the test."
The host of The Bachelor added,
"One thing I will also say about his virginity, it kind of became a cocktail joke and we are going to deal with that on the show and deal with why he is the way he is and why he's chosen to be the way he is. "
It looks like the tagline on the poster for the first virgin Bachelor's season is the first of many cocktail jokes.
When he was a contestant all the way back on Becca Kufrin's season of The Bachelorette (whew, that feels like eons ago, doesn't it?), Colton revealed he is a virgin. Of course, his virginity really is not a big deal; some people are virgins, some are not, and either path is chill. And yet, the conversation surrounding Colton's virginity status will not cease. It's kind of weird, but whatever.
As personal as the topic may be, it sounds like Colton is fine with his virginity being a The Bachelor storyline. Moreover, he in no way regrets opening up about his personal life on national television. As he told People earlier this year,
"I was so happy that I was able to talk about something I never wanted to share with anybody. The show allowed me to be true to who I am and it allowed me to grow as a person. I couldn't be more appreciative of that."
The show allowed him to be true to who he is and set up this photo op.
Before ABC announced he would be the star of the dating competition reality show's 23rd season, Colton said that if he were the Bachelor, he would like to keep the virginity conversation going. He told The Hollywood Reporter at the Men Tell All taping back in July,
"The show is known for being romantic and for being intimate and I think the stigma around virginity is that you're not romantic or sexual. So that's an interesting topic that, if ABC was ready, it would be something to showcase."
Judging by the Season 23 poster tagline, it sure seems like ABC is ready.