Constance Wu On Casey Affleck's Oscar Nomination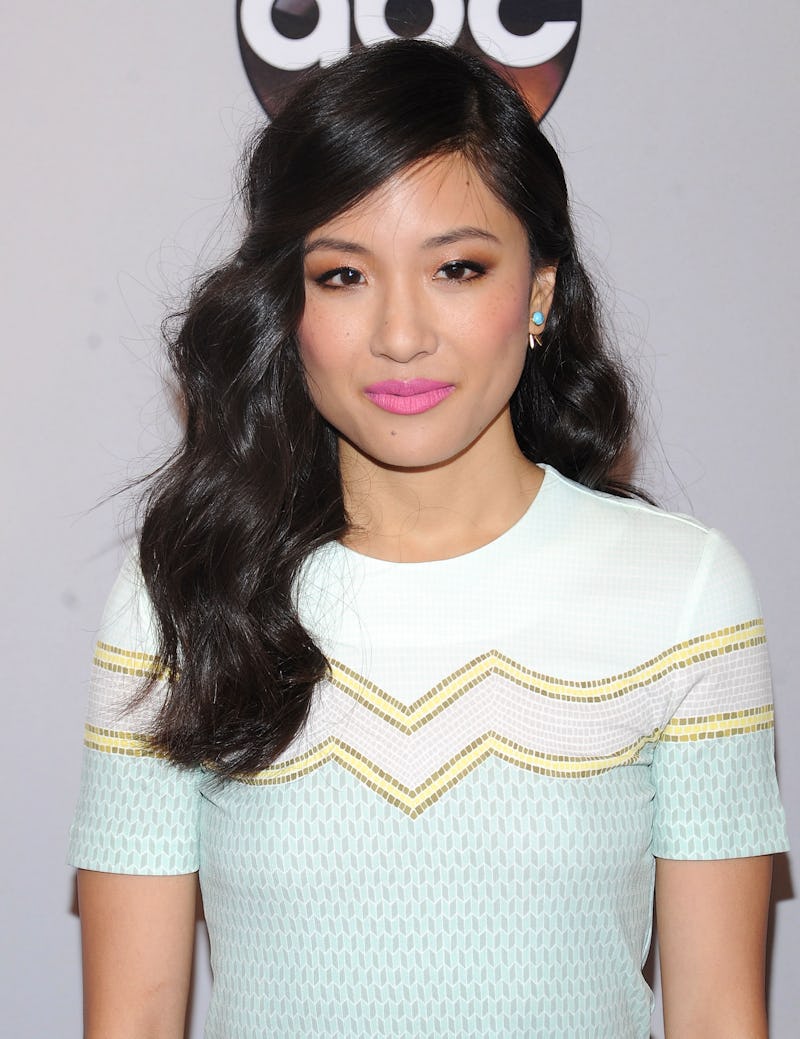 Brad Barket/Getty Images Entertainment/Getty Images
Whether or not you find yourself a fan of the now Oscar-nominated film Manchester by the Sea, there's no doubt that Casey Affleck's nomination in the Best Actor category is causing much controversy. Drawing attention to this is Fresh Off the Boat star Constance Wu who reacted to Casey Affleck's Oscar nomination with a series of passionate tweets. She took to Twitter on Tuesday and she did not hold back her feelings on why she thinks it is so wrong of The Academy to honor someone who has been accused of sexual harassment.
Affleck has previously denied the claims of sexual harassment that were brought against him. Bustle has reached out to both The Academy and Affleck for comment on Wu's tweets, but did not receive a response at the time of publication.
"Men who sexually harass women 4 OSCAR!" Wu tweeted. "Bc good acting performance matters more than humanity,human integrity!Bc poor kid rly needs the help!"
She continued by tweeting The Academy directly and wrote, "congrats on not learning from the past!Congrats on reinforcing the BTS mistreatment of women in Hwood!Who cares rite?Go Casey!" She then tweeted, "Boys! BUY ur way out of trouble by settling out of court!Just do a good acting job,thats all that matters!bc Art isn't about humanity,right?"
In 2010, Amanda White, a producer of Affleck's film I'm Still Here, sued the actor for allegedly verbally and physically harassing her in the workplace. The film's cinematographer, Magdalena Gorka, also sued Affleck and claimed that he had climbed into her bed without her permission and allegedly caressed her back.
Affleck has denied both women's claims. In 2010, a lawyer for the Oscar nominee and his production company, Flemmy Prods., released a statement to The Hollywood Reporter (via People) about the allegations against Affleck and other crew, according to Variety, reading,
The allegations brought upon our clients are preposterous and without merit. Ms. White was terminated from the production over a year ago. She and her lawyers believe that this maliciously and erroneously filed complaint will cause the producers to succumb to her outrageous and baseless demands. She is mistaken. The complaint will be vigorously defended and cross-claims will be filed against her.
In 2010, both lawsuits were settled out of court for undisclosed amounts.
Affleck commented on the claims in a 2016 interview with Variety, where he said, "People say whatever they want. Sometimes it doesn't matter how you respond." He added, "I guess people think if you're well-known, it's perfectly fine to say anything you want. I don't know why that is. But it shouldn't be, because everybody has families and lives."
In addition to her tweets, Wu also shared a message she wrote during a conversation with Daredevil actor Peter Shinkoda about "how Casey Affleck's win will be a nod to Trump's." Wu recognizes that Affleck isn't running for President of the United States, but as she wrote, "He's running for an award that honors a craft whose purpose is examining the dignity of the human experience, and young women are deeply human." She continued, "The absence of awards doesn't diminish a great performance. That's on the page, or screen, as it were... and the opportunity to even DO the part is a tremendous honor in and of itself."
The Dimension 404 star also included a message to voting organizations, specifically, saying that their choices in who to grant nominations or awards,
...signifies said committee's awareness of the harmful oversights it may have unknowingly participated in in the past, and the respect and dignity to learn from the past, not to repeat it and not to use it as an excuse to reinforce the industry's gross and often hidden mistreatment of women.
She continued, "Art doesn't exist for the sake of awards, but awards DO exist for all that art is trying to accomplish in life. So context matters. It's why art exists. I know it's just an award but I guess I'm in this career, not for awards, but because the treatment of human life matters to me. So I stand the f*ck up for it."
Wu went onto say that she was "counseled not to talk about this for career's sake," but that's not enough to keep her quiet. "F my career then," she wrote before adding, "I'm a woman & human first. That's what my craft is built on."
As for who reportedly told her to stay silent, she assured one Twitter user it wasn't any of her agents. "No, not them. My agents are great. My whole team is great."
No matter how many awards she wins and whether or not it affects her career, it's clear that Wu will not remain mum on an issue that she considers important.