Corinne's Best 'Bachelor' Moments, Ranked
Corinne Olympios went from being the contestant who many people wanted eliminated from The Bachelor, to the contestant who provided the entertainment that the viewers needed, to the contestant who many of us ended up rooting for to end up with Nick Viall. Or, at least, I ended up pulling for her. In my eyes, this woman has become a legendary reality TV personality. It was hard, but I did what I could to come up with a definitive ranking of Corinne's best moments on The Bachelor.
This show may be called The Bachelor, but this time around it was not focused on the Bachelor nearly as much as the title would suggest. There were more memorable Corinne moments in any given episode than there were with Nick throughout the entire season. No shade to Nick, but Corinne is just a total scene stealer.
Whether you love Corinne or hate her, you have to admit that she has been the topic of many conversations you've had in the office on Tuesday mornings. You know you've liked the memes. You know you shared the Corinne gifs with your group chat. She is the gift that keeps on giving and has really provided Bachelor nation with so much.
There were way too many moments to choose from, but this is my final ranking of Corinne's standout moments from this season of The Bachelor.
22. Wearing An Blue Ombre Fur Coat To Her Last Rose Ceremony
That was a bold move. I wonder if she knew that this was the last outfit we'd ever seen her in.
21. Kissing Nick First
Right from the start, this woman was in it to win it. Even though Nick didn't go in for the kiss on night one, that didn't stop her. She made that kiss happen herself, the women saw, and she immediately put a target on her own back.
20. Telling Nick She Loved Him
This was actually such a sweet moment during Corinne's hometown date. Sure, it gets lost in the grand scheme of things when Corinne had so many outrageous moments to be remembered for, but seeing she being vulnerable, honest, and more toned down was refreshing and endearing.
19. Asking For Voodoo Doll Instructions
The entire 2-on-1 date with Taylor was ridiculous, but I couldn't tell if Corinne was making a joke or if she was serious when she asked the woman who read her tarot cards how to "make a voodoo doll specific to a person."
18. Making Out In A Bouncey Castle
To clarify, this was not a moment I liked, but I couldn't look away. Corinne jumping up to straddle Nick in a bouncey house infuriated everyone in the house since it was just a super public way to exclude every other cast member. Nevertheless, it was instantly infamous, and for sheer effort of getting an actual bouncey house on this show and creating such a memorable moment, I'm including it on the list.
17. Getting Upset With Taylor For "Reinterrupting" Her
I understood what Corinne was saying when she asked, "If you can't handle being interrupted, why did you come here?" because she was right. Interruption is a big part of this game. But I could not stop laughing when Corinne was livid with Taylor for "re-interrupting" her minutes after she cut in on Taylor's conversation with Nick.
16. Every Time She Bragged About "Running A Million Dollar Company"
This happened a few dozen times, yet the statement never failed to disappoint me. I was entertained every single time Corinne brought this up.
15. Refusing To Participate In The Poop Shoveling Date
I was so thrown off by this date. Did we travel back in time to the Chris Soules season? What did shoveling poop in a barn have to do with Nick Viall? There was nothing fun about this group date and there was no lesson to be learned. I have no idea what that had to do with building a romantic relationship, and I don't blame Corinne for sitting this one out and wishing for sushi instead. I also feel like this was a pivotal moment since it was when a lot of the haters started to change their minds and realize that they could relate to Corinne.
14. Reenacting Legally Blonde During Her Intro Video
I loved Corinne for channeling Elle Woods in her Harvard admissions video when she was first introduced on the show. From floating in the pool to bragging about her fabulous life, I was really living for it.
13. Saying... This
It's unclear if this was induced by her champagne drinking or what. Either way, I laughed out loud when Corinne did this.
12. Taking Nick On A Shopping Spree
Am I the only one who felt like Corinne was playing the Richard Gere role from Pretty Woman with Nick as Julia Roberts when they hit up what Corinne described as an "exclusive mall"? She spent over a thousand dollars on sweatpants and sweatshirt for Nick. It was just so Corinne.
11. Falling Asleep During The Limo Ride To The Airport
And then right after Corinne gave this great, empowering speech about never sucking up to a man, she just fell asleep on camera. That is a #TotalCorinneMove for sure and I absolutely loved it. Nap hard or go home. Or nap hard and then go home. Either way, it works.
10. Declaring That She "Will Never Kiss Up To A Man Again"
It really seemed like Corinne learned a lesson from this experience, or maybe that's just what I hope. Nevertheless, I was proud of Corinne for not beating herself up and declaring to change herself for the better when it comes to her dating habits.
9. Making America Corinne Again
I don't remember America being Corinne before, but I definitely support Corinne's proposed campaign to make the country Corinne again. I still have no idea what that actually entails, but I cannot help being curious.
8. Attempting To Seduce Nick In His Hotel Room
After Nick had an emotional breakdown because he wasn't sure if he could find a wife on reality TV, Corinne decided to cheer him up by surprising him at his hotel room and hooking up with him. The plan didn't go well, but Corinne's unbridled confidence was prime entertainment. Plus, I couldn't help laughing when she wobbled in those super high heels and refused to exit through the automatic door on her way out.
7. When She Talked About Nick Holding Her Boobs
Corinne declaring "No one has ever held my boobs like that... No one ever will" is one of my favorite Bachelor quotes of all time.
6. Talking About Her Nanny's Cheese Pasta & Sliced Cucumbers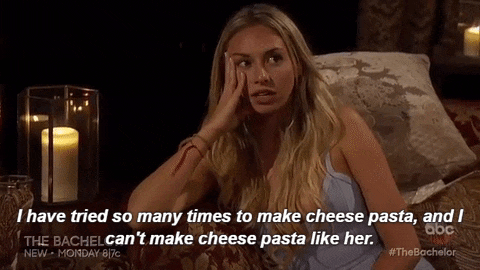 Bachelor viewers already knew that Corinne had a nanny, but when she told the rest of the women that Raquel took care of her, sliced up her cucumbers, and made the perfect cheese pasta it was undeniably entertaining. No one knew what to make of that.
5. Predicting Her Dad Would Be Proud Of Her — Even Though She Was Naked
I feel like Corinne just meant that her dad would be proud of her putting herself out there and going for what she wants, but the isolated statement "my dad would be proud of me even though I was naked" was hilarious.
4. Squirting Whipped Cream On Her Boob
After declaring that she knows how to "turn on the sex charm" and wearing nothing but a trench coat, Corinne squirted whipped cream on herself and let Nick lick it off during a cocktail party. The best part of this whole thing was how Nick said stopped things from going further after he already licked the whipped cream.
3. Citing Abraham Lincoln & Michael Jordan As Famous Nappers
Not only did Corinne have frequent naps on the show, but she dared to justify them by saying that Lincoln and Jordan also took naps. Makes sense to me. I'm sure they did.
2. Napping Through The Rose Ceremony
This incident made some people loathe Corinne for disrespecting the process of this show, but it just made me love her. Corinne stole the show without even being awake. Plus, she already had a rose, so whatever. #TeamCorinne.
1. Coining The Term "Platinum Vagine"
Corinne saying "my heart is gold, but my vagine is platinum" was the standout moment from the trailer for this season. It became instantly iconic before the episode itself even aired.
It was the best of times, it was the worst of times, but no matter what time it was, it was never boring whenever Corinne was involved. Now I'm just hoping Corinne joins Bachelor in Paradise. It's made for her.