Rob Kardashian's Actions Could Be Illegal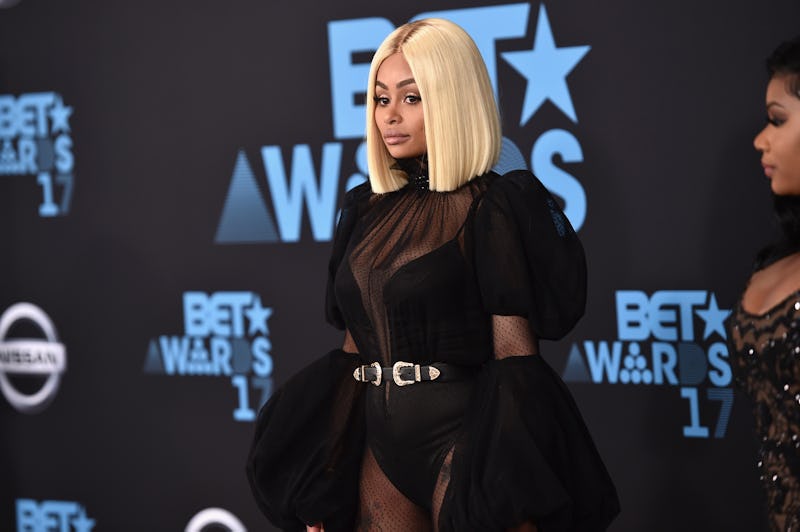 Alberto E. Rodriguez/Getty Images Entertainment/Getty Images
Rob Kardashian is fired up on Instagram once more and this time, he's posting what he calls "receipts" in a revived feud with his ex-fiancée, Blac Chyna. Things are getting very ugly, with Kardashian allegedly posting nude photos of Chyna, so can Blac Chyna sue Kardashian for what he is doing?
UPDATE: Blac Chyna's lawyer told ABC News in a statement "We are considering all legal options and recourses at this time." Bustle has reached out to Kardashian for comment, but did not receive a response at the time of publication.
UPDATE #2: Kardashian's lawyer told TMZ in a statement that Kardashian's actions were a "spontaneous reaction that he regrets" and that they will not be contesting the restraining order. "Rob's only concern is for the well-being of baby Dream," the statement finished.
EARLIER: Kardashian's posts, with captions and statements that include allegations Chyna has been using drugs, cheated on him with multiple partners, and is an unfit mother, could possibly be a case for claiming defamation were Chyna able to prove that Kardashian's claims are not true.
At one point during his rant, Kardashian posted a series of what he claimed were nude photos of Chyna. One of the photos allegedly showed her nude below the waist, and he claimed she sent him on the photo the day before. It could be possible that Kardashian violated a 2013 California law forbidding revenge porn. In 2014, California expanded its revenge porn law to include the sharing of selfies as material that could warrant legal action. The nude photos Kardashian shared appear to be selfies. However, according to a report from TMZ, Chyna may not have a case for violation of revenge porn laws even if Kardashian's action fit the criteria because she allegedly "liked" the photos on Instagram, which TMZ claims could indicate that she did not endure "emotional distress" and was OK with the photos being shared.
Of course, everything is up in the air right now as far as whether Chyna would want to take legal action, whether she has a case, and whether Kardashian actually did anything wrong from a legal standpoint. Chyna has yet to respond directly to Kardashian's Instagram rant. Similarly, the rest of the Kardashian family has remained silent on this event.