What To Know About The Kavanaugh Allegations & Whether He Could Be Charged With A Crime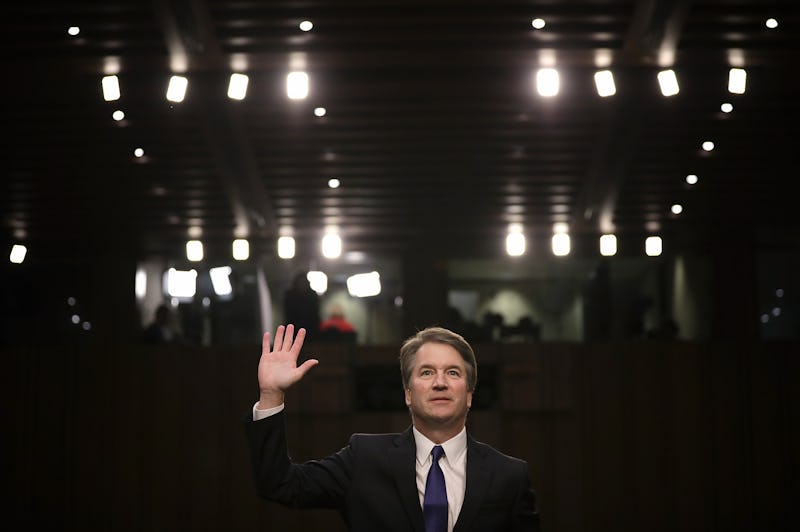 Drew Angerer/Getty Images News/Getty Images
Since Dr. Christine Blasey Ford spoke out in an interview claiming Supreme Court nominee sexually assaulted her when they were in high school, lawyers and Democratic senators have been calling for the FBI to investigate the claims. But since then, more women have stepped forward with allegations against Brett Kavanaugh. Deborah Ramirez alleges he exposed himself to her, and Julie Swetnick alleges he was part of a group of boys that purposefully drugged girls' drinks and was present during "gang rapes" at parties. The nominee firmly denies each and every allegation, but some people have been wondering if Brett Kavanaugh could go to jail if the FBI investigates and confirms there is enough merit in these claims to bring charges.
In July, Ford, who says she is a high school acquaintance of Kavanaugh's, wrote a letter to Sen. Dianne Feinstein alleging that Kavanaugh had "physically and sexually assaulted" her "during high school in the early 1980s." Kavanaugh has denied Ford's allegations against him, saying via a statement, "I categorically and unequivocally deny this allegation. I did not do this back in high school or at any time."
On Sunday, the New Yorker reported that Deborah Ramirez, who attended Yale University at the same time as Kavanaugh, alleged that Kavanaugh exposed himself to her at a college party, causing her to touch his penis unwillingly. Kavanaugh has also denied that this incident occurred, telling the New Yorker:
This alleged event from 35 years ago did not happen. The people who knew me then know that this did not happen, and have said so. This is a smear, plain and simple. I look forward to testifying on Thursday about the truth, and defending my good name — and the reputation for character and integrity I have spent a lifetime building — against these last-minute allegations.
On Wednesday, attorney Michael Avenatti, who also represents Stormy Daniels in a case against President Trump, released a copy of a sworn statement from his client Julie Swetnick. In the statement, Swetnick claims she was at various parties that Kavanaugh also attended. At those parties, Swetnick alleges she saw Kavanaugh and other boys "fondling and grabbing of girls without their consent," that Kavanaugh and others would "'spike' the 'punch' at house parties I attended with drugs and/or grain alcohol," in order to make girls "inebriated and disoriented so they could then be 'gang raped'" by a "'train' of numerous boys." Bustle has reached out to the White House and Kavanaugh's lawyer, Beth Wilkinson, for comment.
Democratic senators, Ford, and now Avenatti have asked that the FBI conduct an investigation into these claims. As NBC News reported, the FBI cannot launch an investigation into Kavanaugh on its own — the White House would have to request it.
And anyway, the FBI oversees federal crimes, and if Kavanaugh were to be charged with any crime, a state (not the federal government) would likely have jurisdiction, The Washington Post reported. Local police would have to investigate the claims. Randolph Rice, a Baltimore-based attorney, told The Post that he believes that Ford's allegation against Kavanaugh, if could potentially lend itself to charges of second-degree assault and a fourth-degree sex offense in the state of Maryland, where the alleged sexual assault against Ford took place, which are both misdemeanors. As the paper noted, the statute of limitations for these misdemeanor charges is around one to three years — and would have long passed.
However, others believe that Kavanaugh's alleged actions could warrant potential felony sex crime charges. As RAINN notes on its website, Maryland has no statute of limitations for any felony sex crime, including rape and attempted rape. Kavanaugh could potentially face jail time if he were to be charged and found guilty of a felony.
Kavanaugh has denied all of the allegations against him, and there has been no indication that any criminal charges will be filed against him. For now, it seems unlikely that he will be facing charges, but it's not clear what could happen next.
If you or someone you know has been sexually assaulted, call the National Sexual Assault Telephone Hotline at 800-656-HOPE (4673) or visit online.rainn.org.