COVERGIRL Just Launched A Lip Gloss That's The Best Of The '90s & Unicorn Trends In One — EXCLUSIVE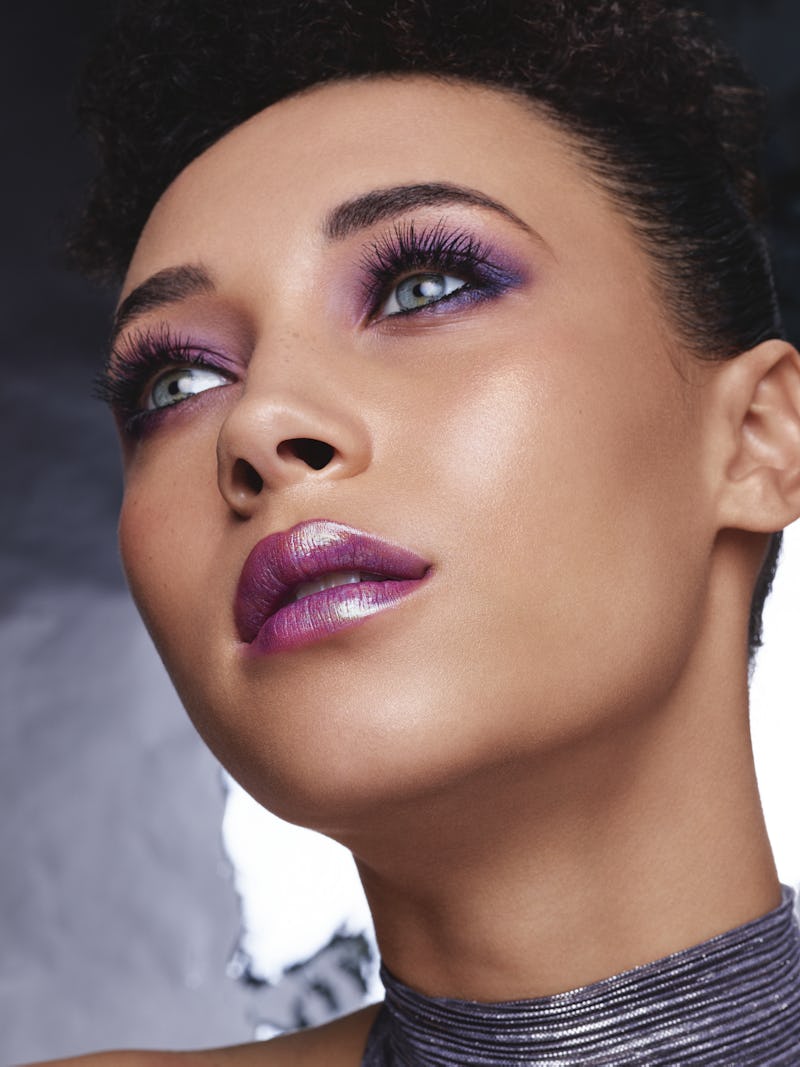 Courtesy of CoverGirl
If there's any brand that knows how to get with the times, it's COVERGIRL. The brand recently reinvented itself with a new #IAmWhatIMakeUp slogan and a minimalist branding aesthetic. Now, introducing their Melting Pout Holographic Lip Gloss, the brand's product line is getting a makeover, too— one that will satisfy your craving for all things sparkly.
As of late, there has been no shortage of iridescent beauty products hitting the market. Whether its duo chrome shadows, holographic highlighters, or multidimensional lipstick, beauty enthusiasts have become obsessed with all things shimmery. So, COVERGIRL is clearly giving the people what they want by launching a glimmering gloss that appeals to the inner unicorn likely making itself at home in a special place within your heart.
The newest product to come from COVERGIRL's beauty labs is truly magical, sprinkling the prettiest unicorn hues with a hint of the ever popular '90s frost. The limited edition line comes just in time to elevate your spring-summer looks like never before. With a formula that conditions your pout as your wear it, these lip strobes are the must-haves you need to add to your beauty stash ASAP.
Now available exclusively with Ulta, the new gloss range is perfect for wearing alone or layering over your favorite lip color to transform your pout. They may remind you of throwback beauty trends, but these babies are nothing like the super sticky glosses you used to rock. Featuring a lightweight jojoba and sunflower seed oil-infused formula that moisturizes, they're sure to feel like heaven against your lips.
Retailing for $7.99 each, the lip strobes won't break the bank, so it's totally okay to stock up on three or four of your favorites without having buyers remorse. Although they're currently available online, you'll have to wait until April 15 to check out the new line in person at Ulta Beauty stores.
But rest assured that snagging them now will be well worth it. There's no way you could resist snatching up the entire line when you see these glitzy, jaw droppers in action.
Covergirl Melting Pout Holographic Lip Color, $8, ULTA Beauty
Just peep swatches of these beauties. They're like something out of a fairy tale, gleaming against the skin so beautifully. Although they're not quite as holographic as their name suggests, the glosses are nothing short of stunning. That greyish-purple strobe is beyond mesmerizing, the goldish-olive is to die for, and there's no denying that any of the frosty pearl shades would make for amazing lip toppers.
Aside from introducing new products to their brand, it's no secret that CoverGirl's road to reinvention has included calling on some of the best beauty bloggers for assistance. Take their tapping James Charles as the first male COVERGIRL or making Nura Afia the first beauty beauty ambassador to wear a hijab, for example. With the addition of a new lip poppin' gloss, the brand just had to get a top influencer in on the action once again.
If the trendy AF shades and spot-on price point aren't enough to sell you on COVERGIRL's goodies, the brand's partnership with beauty influencer Jazmina Daniel will probably get you on board. That's right, COVERGIRL teamed up with Instagram's lip art specialist to show you the true wonders of the Melting Pout glosses.
As any makeup enthusiast in the know understands, when Miss Jazmina gets behind a lippie, you can trust that it's the real deal. Sure, the average Joe may not be able to recreate her stellar lip art, but if you're using anything with her stamp of approval, it's a guaranteed winner for your pout.
Chances are you're dying to paint your pucker with COVERGIRL's newest lippies by now. So, go on and get your strobe on before these limited edition babies are gone for good.