'Cursed Child' Just Underwent A Major Cast Change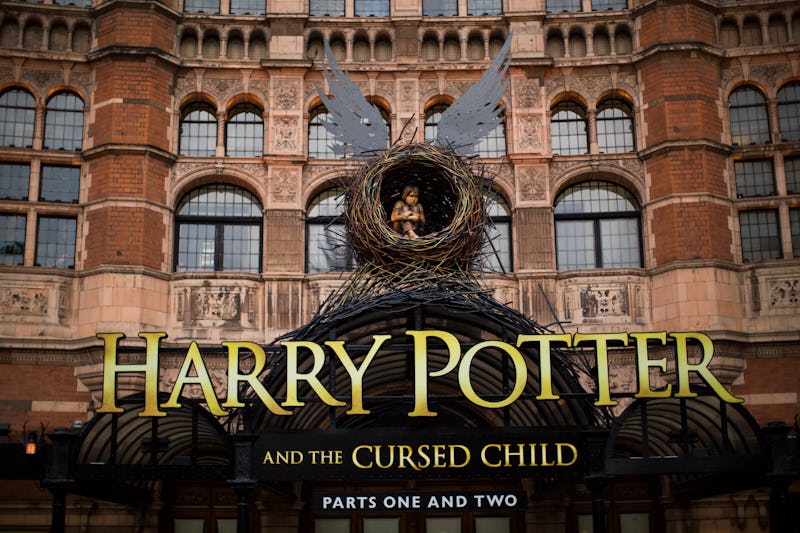 Jack Taylor/Getty Images News/Getty Images
The phrase "Nothing good can stay" is applicable in many arenas of life, but it has no place accompanying the announcement of a new "Cursed Child" cast. Do not panic: the new cast is just as awesome as the previous iteration.
"Harry Potter and the Cursed Child, Parts I & II," was released in printed form June 2016; it immediately shot to the top of every best-seller list, despite its departure in form from previous Harry Potter installments. "Cursed Child" is a stage script, not, technically, a novel. But HP fans flocked nonetheless - it was the first new Wizarding World update in nearly a decade. Potterheads gonna get their Potter on!
The release of the book coincided with the premier of the stage production on London's West End. Featuring a 42-person ensemble, the show catches up with Harry Potter 19 years after the events in Deathly Hallows. Harry is now married (to Ginny Weasley), a father (to Albus Severus Potter), and an overworked Ministry of Magic employee. Don't worry - Ron and Hermione are also back (along with their daughter, Rose Granger-Weasley), as is Draco Malfoy (dad to Scorpius also here's a question why are wizarding names so much better than muggle names?!). The plot? Essentially, living the shadow of The Boy Who Lived is exactly as difficult as it sounds, even for The Boy.
While announcements of Cursed Child tickets sent fans scrambling, some took issue with a specific casting choice: Noma Dumezweni, who played Hermione Granger, is Black. So is Cherrelle Skeete, who played her daughter, Rose.
Yes, people were upset about that. Yes, they were questioning the believability of a Black Hermione in a fictional canon whose main conceit is that there is an entire world of WIZARDS AND WITCHES DOING MAGIC AND TAMING DRAGONS AND FIGHTING TROLLS. ‌
‌
Nevertheless, the show is currently sold out until 2018, and J.K. Rowling publicly voiced her support and approval of the casting choice, stating that the character description never specified white skin, simply, "brown eyes, frizzy hair," and an exceptional cleverness. Obviously.
The final performance for the original cast will be on May 21, marking almost a full year since "Cursed Child" began previews on June 7, 2016. Casting directors have chosen to continue casting Hermione and Rose as Black, with Rakie Ayola playing Hermione and Helen Aluko, who also appeared in the original cast's ensemble, as Rose. Thomas Aldridge (oh my God yes he's a redhead relax) will round out the Granger-Weasley's as Ron.
Jamie Glover and Emma Lowndes will portray the new Potter family figureheads; wayward son Albus is played by Theo Ancient, a recent graduate of the Royal Academy of Dramatic Arts.
Need a more serious casting download? Check out the full casting announcement here (with pics!), courtesy of "Cursed Child" producers who know, perhaps more than anyone, just how intense and anxious Potterheads can truly be when it comes to adaptations.