Dairy Queen's Newest Blizzard Is Snickerdoodle — With A Cookie Dough Twist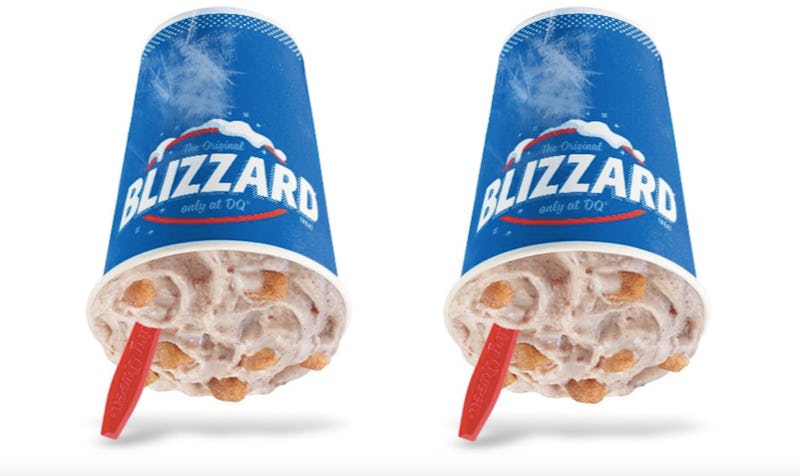 Dairy Queen
While we've all been rushing to get our pumpkin spice on, Dairy Queen may have just made a move to throw us all for an autumnal loop: Dairy Queen is launching a Snickerdoodle Cookie Dough Blizzard as its next Blizzard of the Month.
But plot twist: depending on your local Dairy Queen's offerings, you may be able to enjoy it even sooner than that. Joanna Saltz, editorial director of Delish, stumbled upon it in real life at a Dairy Queen in Bernardsville, NJ, and dozens of tweets from people who have already tried it indicate that it's definitely available in certain locations already.
According to Dairy Queen's website, the Snickerdoodle Cookie Dough Blizzard (which I personally would have called Snickerdough, but that's just me, DQ) is comprised of "Snickerdoodle cookie dough with cinnamon sugar blended with creamy vanilla DQ soft serve blended to Blizzard perfection". (In other words: a lot of blending?) Delish says it "tastes like a cinnamon explosion, in the best way, with vanilla ice cream, tons of cinnamon, and cinnamon-tinged sugar cookie dough pieces," so good news, cinnamon stans — this is your time to thrive.
And just in case you weren't already starting to drool from the FOMO, it turns out that enough people have been able to try the new flavor that they're hitting up Twitter about it — and it's getting so much love that the abbreviation "PSA" is probably going to start trending right along with it.
No, seriously. Nearly half of the tweets about this Blizzard involve some form of "PSA". This is the Snickerdoodle Cookie Dough Blizzard's world and we're all just living in it.
It turns out Blizzard Twitter is the purest Twitter that there is, so if you want to feel some warm and fuzzies, go ahead and put "snickerdoodle cookie dough" into the search bar. DESSERT PEOPLE SUPPORTING DESSERT PEOPLE. It doesn't get any cuter than this.
The Snickerdoodle Cookie Dough Blizzard is part of Dairy Queen's fall lineup of Blizzards, which also include Dipped Strawberry Made With Ghirardelli, Oreo Hot Cocoa, Reese's Outrageous, and, of course, the beloved Pumpkin Pie Blizzard, which has already received a hero's welcome as the returning September Blizzard of the Month. Essentially, if there is a fall flavor you want to indulge in, Dairy Queen seems to have you covered in one way or another.
If you are feeling slightly less adventurous — or just plain old nostalgic — you still have plenty of tried-and-true menu mainstays you can indulge in instead. Nobody has ever gone wrong with the Choco Brownie Extreme or the classic Chocolate Chip Cookie Dough Blizzard, or any of the many classic candy options at your disposal. That being said, the Dairy Queen fall offerings are only here for a limited time — so pour one out (JUST KIDDING! You physically cannot!!) for summer, and lean into the autumn flavors the way we know best: copious amounts of delicious, seasonally-appropriate treats.