'Gossip Girl' Meets 'Pretty Little Liars' In This Dark New YA Novel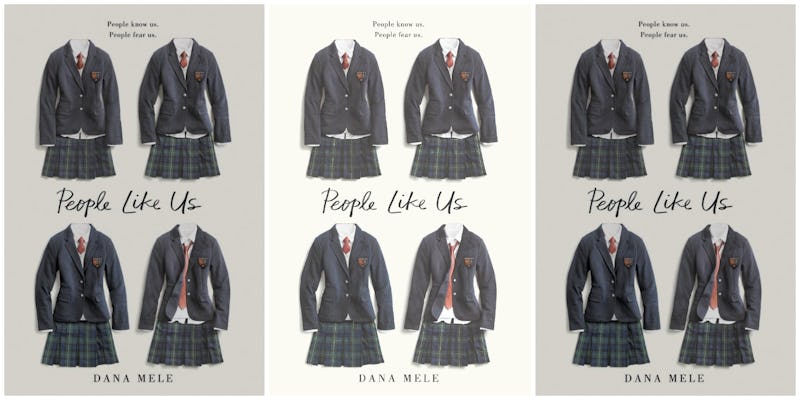 There is just something about a prep school that makes it the perfect place for a little mystery. Maybe it's the idea of seeing how the other half — the rich half — lives, only to discover that it's not all that enviable. Maybe it's the historical presence of mystery-shrouded secret societies. Or the tight-knit cliques that seem forged in steel. Whatever the case, prep schools and their upper echelon students are sources of great fascination — from TV shows like Gossip Girl to movies like Cruel Intentions. And now Dana Mele's upcoming YA novel People Like Us is joining the ranks of preppy psychological mystery when it is released on Feb. 27... and Bustle has an exclusive look at the book's trailer below.
Here's the breakdown of People Like Us: Kay Donovan may have skeletons in her closet. But the past is in the past, and Kay has reinvented herself entirely. She's now a start soccer player at Bates Academy, and part of a group of gorgeous friends who run the halls of their private school with seemingly effortless popularity and wit. But when when a girl's body is found in the lake, Kay's carefully constructed life begins to fall apart. The dead girl has left Kay a computer-coded scavenger hunt, which, as the clues unravel, begins to implicate suspect after suspect, until Kay herself is in the crosshairs of a murder investigation. But if Kay's finally backed into a corner, she knows she'll do whatever it takes to survive. Because at Bates Academy, the truth is something you make...not something that happened.
If you're already at the edge of your seat, just wait until you check out the chilling trailer for the book below!
People Like Us sounds like exactly the sort of read that fans of Pretty Little Liars and Karen M. McManus's One Of Us Is Lying will absolutely love. And if you just can't wait to get taken in by all of the unreliable characters, try to unravel each and every clue, and turn the pages while on the edge of your seat, I've got some good news. Dana Mele's book is set to hit shelves tomorrow, Feb. 27, so you only have mere hours left to wait to immerse yourself in all of the juicy drama. Just make sure that when you finish your binge-read, you keep the secrets of Bates Academy to yourself.
People Like Us by Dana Mele, $14.34, Amazon