Dani & Jack Got Some SUPER Unexpected Relationship Advice From Danny Dyer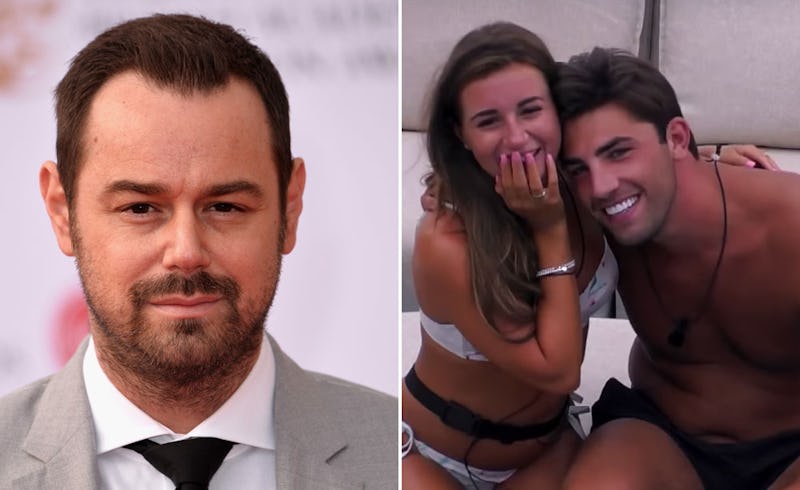 Jeff Spicer/Getty Images Entertainment/Getty Images /ITV
It's only been three days since Dani Dyer and Jack Fincham were pronounced the winners of Love Island 2018, but it feels, frankly, like a torturous eternity — perhaps because the nation came to depend on our nightly ritual of updates from the villa, only to have them cruelly snatched away. Still, at least Dani and Jack are going strong back in the UK, with plans to move in together in the near future. But Dani's dad has a few words of caution for the pair. In fact, Danny Dyer's advice to Jack and Dani is actually pretty serious.
You see, Danny and wife Joanne Mas had Dani, 22, when they were both 20, according to the Star. Opening up about what it's like to be a younger parent, the EastEnders actor told the newspaper, "As much as I love Dani, and of course I'm overjoyed we had her, I would advise her to have children later on in life." He continued: "You should live your life first. There are benefits to having kids early, but you lose a lot of your own childhood and self discovery."
According to Danny, having a baby at a younger age threatened his relationship with Mas. He explained, "It was a 24-hour-a-day thing — the baby put a lot of stress on our relationship," adding, "Sex goes out the window a little bit and you have to start earning properly."
But he said of his daughter, "I know she's got her head screwed on right and I think she'll do OK in the end. I mean she'll be a happy and fulfilled person."
If there's one thing dads love, it's giving their kids advice — but it's important to remember that Dani's decisions are her own to make, and not all experiences of earlier parenthood are alike. What have Dani and Jack actually said on the matter? Well, as of yet, they haven't discussed any plans to have kids publicly. However, the pair do have their hearts set on a wedding in the not too distant future.
"We're getting married next year, 100 per cent," Jack told The Sun. "Like my mum said to me so many times, 'When you know about someone, you just know.'"
They also confirmed they'll be moving in together, after a bit of time off. Dani said, "We're going to enjoy summer, enjoy each other, because then we'll have to start looking for settees and that." Jack added, "It's the only logical thing to do — we've lived together two months. If I lived separately it would be rubbish, so it's the only thing I'd want to do now."
But as for kids? Probably not on the cards just yet. Dani told the paper: "It ain't about planning when we're gonna have kids. It's about enjoying a bit of time outside the villa now. And when we're both ready, we will talk about it. Right now I'm just happy to be with him."
Since being back in the UK, Jack has introduced Dani to his friends and family in south London. He's been keeping fans updated with how their relationship is going outside the villa via social media. By the sounds of things, the pair are just as loved up on the outside as they were on the show.
"Back with my mates and my beautiful girlfriend and was so proud to introduce her to them," Jack wrote on Instagram. "So happy and overwhelmed, the support has been unreal these last couple of days in England and I can not explain how happy I am. I met a beautiful girlfriend in love island and fell in love, now to come back with so much positive support is a beautiful thing."
However, Dani is yet to introduce Jack to her family, including her famous father, Danny. Fingers crossed, the couple are saving this glorious moment for their rumoured reality show.
While the couple are very clearly enjoying their honeymoon period, neither have revealed any plans to start a family so Danny Dyer needn't worry about that just yet, then (though ultimately, it's not a matter he gets a say in). Just a house, a wedding, and a very carefully selected settee.