Danny Dyer's 'Love Island' Final Message Of Support For Dani Is Everything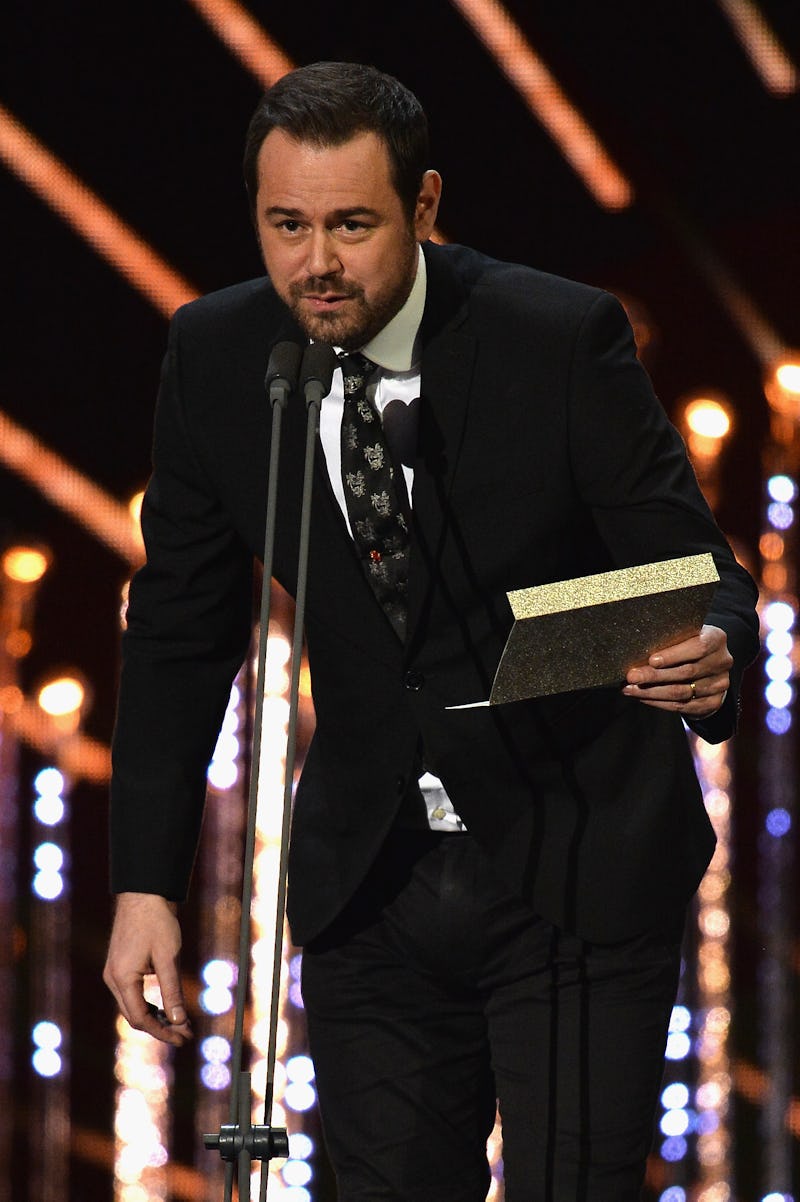 Jeff Spicer/Getty Images Entertainment/Getty Images
Ever since Dani Dyer entered the Love Island villa and fans discovered who her father was, viewers have been longing to know exactly what Danny Dyer makes of things. Viewers eventually found out last night when he video called into the villa together with wife Joanne Mas. While many were disappointed that he wasn't making it into the villa IRL, the pair's enthusiasm for their daughter was palpable, so it's no surprise that Danny Dyer's Love Island Final message to Dani was just as pumped as you'd imagine.
Taking to Instagram, Dyer posted an Instagram story professing his support for his eldest daughter. "Message for Dani Dyer in the final of Love Island," he bellowed at the camera. "Babe you've won already, give it some kids... Yes. Yesssss." He panned the camera across the party of children they were with, all of who professed a similar level of enthusiasm. Dani's mum, Joanne, could be heard in the background saying, "We're so proud of you baby girl." Their message was similar to what they shared the previous evening, when they called into the show from their holiday and expressed how proud they were of their daughter, and how much they liked her new partner Jack.
While Love Island is billed as a "long, hot summer", for Dani Dyer and partner Jack, things have been rather slow, consistent, and — dare we say it — meaningful. The pair coupled up in the show's very first ceremony, something Dani's mum Joanne said she wasn't particularly surprised at. "The first time I saw him on the telly I thought, 'oh he really is Dani's type because he's so funny and so warm,'" Joanne later revealed to telly favourites Holly Willoughby and Phillip Schofield on This Morning. Dani subsequently had a wobble about their relationship when it was revealed that Jack had been unfaithful to his previous girlfriends, but Joanne revealed that she was philosophical on the detail. "I thought, 'oh no, don't worry, he's just a bit greedy,'" she told the presenters.
Nevertheless, the couple made it past that hurdle and seemed to be plain sailing, until Casa Amor, that is. With Jack's ex-girlfriend Ellie entering the villa, Love Island's most stable relationship was thrown off guard. This was partly exacerbated by the producers sending Dani a clip of Jack's reaction to Ellie entering the villa. The moment saw Dani spiral into a moment of distress, and provoked over 2,600 complaints to Ofcom, with viewers arguing that she had been unfairly treated by the show, the Guardian reports.
In the end, Ofcom ruled that ITV hadn't broken broadcasting rules. "We carefully considered viewers' concerns about the wellbeing of a female contestant on this established reality programme," their statement read. "While we understand her distress made for upsetting viewing, we consider that viewers are likely to expect emotionally charged scenes that have been engineered to test contestants' relationships."
As the show draws to a close, viewers have already learned that Jack and Dani plan to live together after the show. There are also rumours swirling of a Dyer family reality TV show akin to the Kardashians, something Joanna Mas confirmed to The Sun that they were approached about. So stay tuned, you could be seeing a lot more of family Dyer the way things are going.