Dave Chappelle's Louis C.K. Joke Is Not Going Over Well On Twitter — And For Good Reason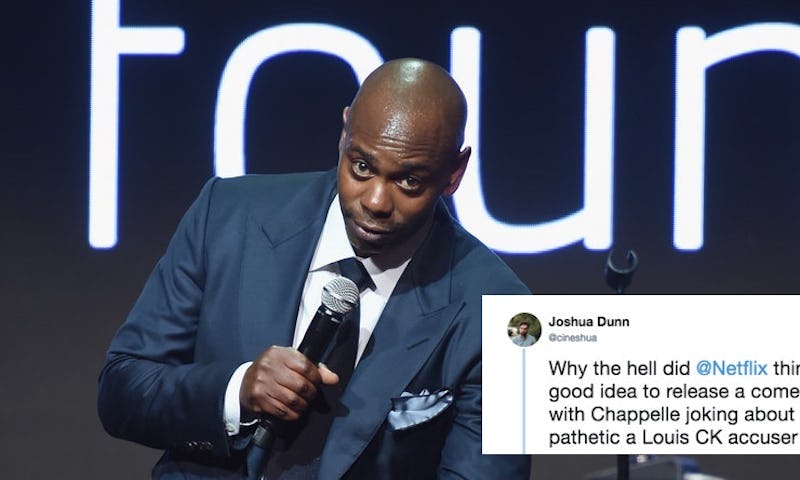 Dimitrios Kambouris/Getty Images Entertainment/Getty Images; cineshua/Twitter
During his new Netflix comedy special Dave Chappelle: Equanimity & The Bird Revelation, Dave Chappelle turned Louis C.K.'s sexual harassment allegations into an extended punchline — and unsurprisingly, not everyone is laughing. Shortly after a Nov. 11 New York Times report unveiled the harassment accusations, C.K. issued a statement apologizing for his behavior. In the apology, the comedian confirmed that the allegations were true, writing, "The power I had over these women is that they admired me. And I wielded that power irresponsibly."
According to E! News, in his latest standup special, Chappelle addressed C.K.'s allegations and the slew of harassment allegations that have cropped up in Hollywood:
"I shouldn't say this, but f*ck it... [C.K.'s] allegations were the only [ones] that made me, like, laugh."
Though responses to the comic's latest stand-up act have been mixed, Chappelle's Louis C.K. joke really flopped on Twitter, and, given the nature of the quips, it isn't difficult to understand why. (Bustle reached out to Chappelle's agent and Netflix for comment on the backlash, but did not receive an immediate response.)
For those wondering what could possibly be so funny about a high-profile sexual assault allegation backed by five different accusers, there's no need to mull it over for too long. Already chuckling to himself as he segues into the bit, Chappelle gets right to his point. He said,
"One lady said, 'Louis C.K. masturbated in front of me, ruined my comedy dreams.' Word? Well, then I dare say, madam, you may have never had a dream. Come on man, that's a brittle spirit."
The 44-year-old comic seemed to be referencing writer-comedian Abby Schachner, who appeared (alongside four others) in the November 2017 New York Times report. According to The New York Times, the alleged incident "left her deeply dispirited... and was one of the things that discouraged her from pursuing comedy."
During his near 10-minute set, Chappelle reportedly called C.K.'s five accusers "weak," though he seemed to specifically single out Schachner, who alleged that C.K. had masturbated while on the phone with her.
"B*tch, you don't know how to hang up the phone? How the hell are you going to survive in show business if this is an actual obstacle to your dreams?" the comedian said, according to Variety. "I know Louis is wrong, I'm just saying, I'm held to a higher standard of accountability than these women are."
Chappelle also brought Martin Luther King, Jr., into the conversation, joking, "You think if Louis C.K. jerked off in front of Dr. King, he'd be like, 'I can't continue this movement. I'm sorry, but the freedom of black people must be stopped.'"
Since the Netflix special's release on Dec. 31, upset viewers have taken to Twitter to voice their complaints about Chappelle's humor.
Some noted that Chappelle's comments about C.K.'s accusers weren't the only frustrating remarks featured in his comedy special.
But perhaps even more egregious, as several Twitter users noticed, is the way in which comments like Chappelle's can actually work to encourage people to spew similarly offensive remarks about serious issues. "I'm just not with the 'brittle spirit thing [Chappelle's] starting. It's the same type of sh*t Trump supporters use," Twitter user @OGJOHNNY5 wrote. "It isn't a problem for comics to say what they want — but you don't have to act like they're always right for doing so. Being offended is fine."
In a separate tweet, the user elaborated on his statement, adding, "Using Dave Chappelle as a muse for getting a pass to say stupid sh*t is actually more irresponsible than people realize."
Several people also called out Netflix for backing Chappelle's stand-up act in the first place.
It should go without saying that sexual assault accusations are never something to laugh about. And, judging by the backlash to Chappelle's comments, plenty of comedy fans don't seem to think so, either.
If you or someone you know has been sexually assaulted, call the National Sexual Assault Telephone Hotline at 800-656-HOPE (4673) or visit online.rainn.org.