David Harbour Just Let Joe Keery Off The Hook For That Golden Globes Bet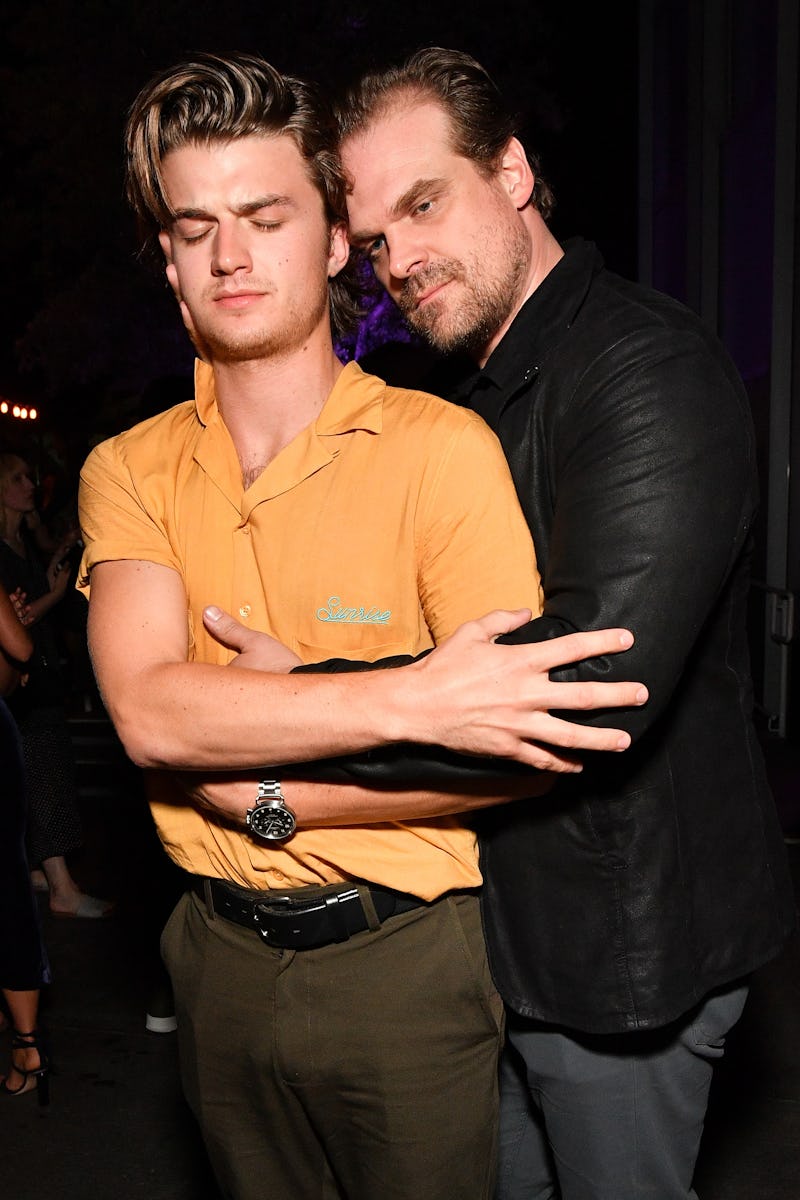 Dia Dipasupil/Getty Images Entertainment/Getty Images
Don't worry, Stranger Things fans, Steve Harrington's gorgeous locks aren't going anywhere. According to his Instagram page, David Harbour won't make Joe Keery cut his hair if he wins the Golden Globe for best supporting actor, because the Steve and Hopper bromance is just too strong. Refinery29 reported that when Harbour posted about his Globe nomination on Instagram, Keery commented, "If you win, David, the Duffer's [sic] get to shave my head." However, the good sheriff doesn't appear to have the heart to hold Keery to his word.
On Sunday, Harbour shared a photo of himself wearing a Team Steve shirt on Instagram. The Stranger Things (associate producer: Emily Morris) actor captioned his photo with the perfect ode to his friendship with Keery. He wrote,
"And y'all think I'd make him shave those chestnut luscious locks?? Silly misguided youth, whose side do you think I'm on for crying out loud?!?! You're allowed to sit by the tv with impunity tonight and root for me, and root for us!"
All of the friendships between the Stranger Things castmembers are too pure for this world, but is it any wonder that Harbour and Keery in particular have stolen so many hearts? True friendship is when your pal doesn't hold you to a bet — especially one that involves sacrificing your hair.
It's even sweeter that Harbour's gesture was made before the actual ceremony. There's no denying he's facing some tough competition in the Supporting Actor race. Chief Hopper is in the same category as Feud's (series casting: Carol Kritzer) Alfred Molina, Fargo's (series production design: Elisabeth Williams) David Thewlis, Mr. Robot's (writer: Courtney Looney) Christian Slater, and the 2017 Emmy winner, Big Little Lies' (costumer: Kelli Hagen) Alexander Skarsgard. However, no one should count Harbour out just yet. Skarsgard may be the favorite, but Hopper had a big year on Stranger Things. Can the Hollywood Foreign Press Association really deny a man who gave the world a flawless dad dance meme?
No matter happens, Harrington and Harbour's bromance is forever. These two actors rarely ever share the screen on Stranger Things, but off-camera, they have the best interactions. Aside from placing ill-advised bets with one another, Harrington and Harbour have been known to engage in a battle for the affections of an adorable dog, and they occasionally cuddle on the red carpet.
If you need more proof of their affection for one another, then look no further than Harbour's Instagram. His bio currently reads, "A Joe Keery fan page," and he has been known to share young pictures of himself alongside photos of Keery to illustrate that they're basically the same person. And don't get Harbour started on Keery's hair. He may appreciate Steve's luscious locks more than the entire Stranger Things fandom combined. Make no mistake though, Keery is just as enamored with Harbour, as Harbour is with him.
During a video interview with MTV in December, Keery made his adoration for his co-star clear. In fact, he stated that he would love for Steve and Hopper to share scenes in the future. Keery also shared a few things he's learned from working alongside Harbour. He told MTV,
"He's kind of like a steady hand. He's a very wise guy. Not in a fresh way, like when your mom says you're being a wise guy, but he's actually like a wizard."
Whether or not Harbour walks away with a Golden Globe at the ceremony, he's clearly already a winner in Keery's eyes. And the feeling must be mutual for Harbour, because he refused to put his co-star's hair on the line. That means you can root for Harbour to nab the Globe without fear, because no matter what happens, nothing is coming between Steve and Hopper's beautiful bromance.