Joe Keery Explains *That* Dog Meme, So Prepare Yourself To Love Him Even More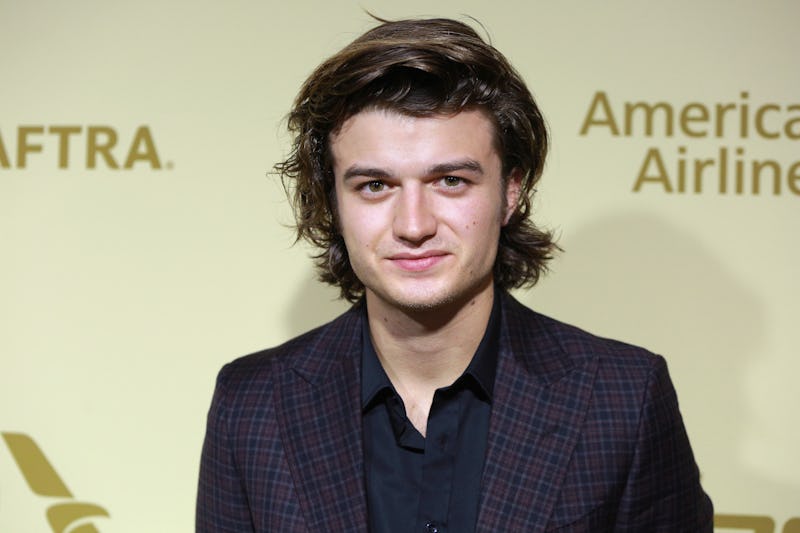 Rich Fury/Getty Images Entertainment/Getty Images
Steve Harrington cuddling a dog and drinking champagne was the meme the world needed in 2017. And if you thought the photo was a gift from the internet gods, just wait until you hear the story behind Joe Keery's dog meme, as explained by the Stranger Things actor himself. In a recent interview with Bustle, Keery shares his thoughts on being a meme and how that now famous photo happened in the first place.
The first thing you need to know is that Keery wasn't sipping champagne in the picture. His glass was full of apple juice instead, because the photo itself was taken on-set by Keery's young co-star Finn Wolfhard. That's not all — apparently, Wolfhard has lots of other photos featuring Keery and his Pomeranian pal. (Um, Wolfhard, if you'd like to share with the class, the internet would be eternally grateful.)
"Finn — we were just shooting one day and we were bored and we were in the trailer. I think it was close to the end of shooting," Keery explains to Bustle. "It's not champagne, it's just apple juice, I'm pretty sure, because kids — and yeah, we were just joking around. There's a ton of those photos, I guess that's the only one that's out, but Finn has a bunch of those photos of me and the champagne and this dog."
What Keery fails to mention is that he and co-star David Harbour have been engaged in a bit of an on-set rivalry over who can get the most cuddles from that adorable Pomeranian.
However, the dog in question doesn't belong to Harbour or Keery. The pup's owner is actually one of the show's makeup artists. In a November interview with Mashable, Harbour described his and Keery's puppy obsession as a love triangle. Harbour said,
"We have kind of a social media battle going — there's a Pomeranian dog on our set that is one of the makeup girls' dogs, and I fell madly in love with this dog and put a picture on Instagram, and then Joe would text me pictures of him and the dog in the makeup trailer, and I would get so jealous and mad and rageful. So I do feel like there's some kind of love triangle to be mined there with the two of us and the Pomeranian, but that might just be off set, I don't know if we would put that in the show."
However, Harbour has yet to make things meme official with the pooch, unlike Keery. As for how Keery feels about being a meme... well, he seems to be a bit bemused by the whole thing. After all, people seem to see the photo as aspirational. Clearly, the image is symbolic of Keery living his best life, right?
"It's become a lifestyle?" Keery muses to Bustle. "This is just me, this is like how I am. It's like, geez, I was just doing it for fun."
And that bit of fun only helped fuel the Steve mania gripping the interwebs in a post-Stranger Things Season 2 world.
As far as TV characters go, Steve basically owned 2017, and thanks to his babysitting skills, he's become as much of a meme as Keery has. The actor seems to be confused in a good way over the surge of Steve love. When asked how he feels about Steve's meme status, Keery replies, "It's wild, it's crazy, it's so weird."
While Steve definitely stole his share of hearts in Stranger Things Season 2, it's Keery and his flawless Pomeranian photo that truly sums up why the actor is so beloved by his fans. Even though the picture that launched a meme was simply a product of Keery playing around on set, it still represents a fun-loving lifestyle worthy of being shared across the internet.
Reporting by Kelsea Stahler.