David Harbour Will Officiate A Fan's Wedding, If They Follow These Specific Requests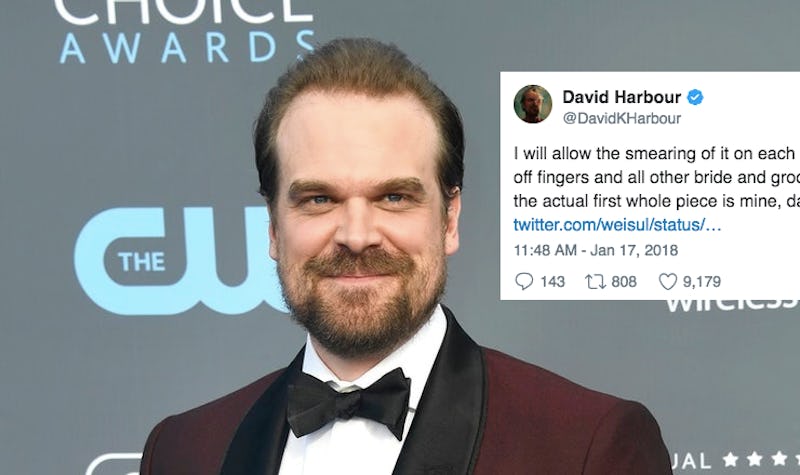 Frazer Harrison/Getty Images Entertainment/Getty Images
If you ever wanted a Stranger Things star at your wedding, this is the one to ask. David Harbour will officiate a fan's wedding, but, of course, he has some of his own requests before officially committing. On Twitter Tuesday, the man who plays the beloved Jim Hopper in the Netflix series responded to a fan name Ericka asking, "What would it take to get @DavidKHarbour to be the Officiant at my wedding in September?!" He replied, "125k retweets. Provided date works with s3 shooting schedule, I will get ordained and perform ceremony. I get to read an esteemed love letter of my choosing, and after the cake is officially cut, I get the very first piece. #allthecakes".
UPDATE: Harbour posted on Wednesday night that that the retweet goal had already been met. (Turned out, it was his tweet in response to Ericka that needed to be retweeted, not her original one.) The actor tweeted, "Dammit. Not even 24hours. You're kidding me. @ErickaElizabth DM me please to get the ball rolling. I'm making it seriously hard next time, internet, this is not over between us..."
EARLIER: It appears that Ericka saw his response, because 15 hours after she posted her tweet, she wrote, "Y'all are the best!!!", which seems to be her way of thanking those who've retweeted. However, one of the requirements to make her dream come true is she needs 125,000 retweets. As of Jan. 17 at 1:25 ET, Ericka had 58,788 retweets. She has a lot more to go, so if you want to see Harbour in a suit, leading a wedding ceremony, celebrating a couple's love, and enjoying wedding cake (*raises hand*), then you better retweet Ericka's tweet and spread the word, so others do the same.
As for his requests, for anyone who thinks him wanting to eat the first piece of wedding cake himself is wrong, well, he's not changing his mind. A fan tweeted him, "I'm totally into this, but how about letting the couple have the first piece of cake? Since it's kinda supposed to be about them? Just my 2c." To that, the 42-year-old actor answered, "I will allow the smearing of it on each other's faces, licking icing off fingers and all other bride and groom cake shenanigans, but the actual first whole piece is mine, dammit."
Before Ericka tweeted Harbour, she actually revealed she wanted another celebrity at her wedding — Ed Sheeran. On Dec. 29, 2017, she posted, "260 days left to get @edsheeran to come to my wedding." After Harbour's reply made headlines, another fan responded to her tweet about Sheeran and wrote, "Poor Ed. Is he still invited or did @DavidKHarbour get his place at the head table?" It's unclear who Ericka would prefer at her wedding, but why not both? Harbour can officiate and Sheeran can sing. It would be the best wedding ever.
Don't you worry, Harbour isn't offended at all about Sheeran's invite. When someone tweeted him "My favorite part of this newest @DavidKHarbour wish-granting story is that the woman's first choice for a celebrity wedding guest was Ed Sheeran," he replied, "Mine too."
He truly has the best sense of humor. It's probably one of the many reasons Ericka wants him at her wedding, in addition to the fact that he'd tear up the dance floor.
What makes this all the more amazing is that there is a high chance Harbour will actually follow through with his promise. If you haven't heard, in January, it was revealed that Harbour posed for senior photos with a fan. In October 2017, Twitter user @postydamaris asked him, "@DavidKHarbour how many retweets for you take my senior photos with me". He answered her, "25k. And I get to wear the school sweatshirt and hold a trombone." Well, she got those 25,000 retweets and he did what he said he would.
How fantastic is that? Harbour even shared the pictures on Instagram and wrote, "Voted most likely to hijack someone's high school senior photos 24 years later.Many thanks to @postydamaris and her kind family and @iamtommyg photography for making a dream come true and proving my high school classmates right!!"
His fans are loving him even more now that he's promising to officiate a fan's wedding. Here are just a few of the Twitter reactions:
He Treats His Fans Right
It's so true.
Dancing Is A Must
Duh.
Everyone, Keep Working That Magic
This plan is turing out to be quite the success.
He Brings Light To The Darkness
So true.
He's Like An Angel
Pretty much.
He Makes Twitter Worthwhile
The only reason to log onto Twitter, basically.
It's understandable if the 2018 Critics' Choice winner can't officiate Ericka's wedding due to Stranger Things' (associate producer: Emily Morris) Season 3 filming schedule, but, it could very well happen. He doesn't seem like someone who is going to let a fan down — and he definitely wants that first piece of cake.