David Harbour's Golden Globes Snub Has Fans Weeping On Twitter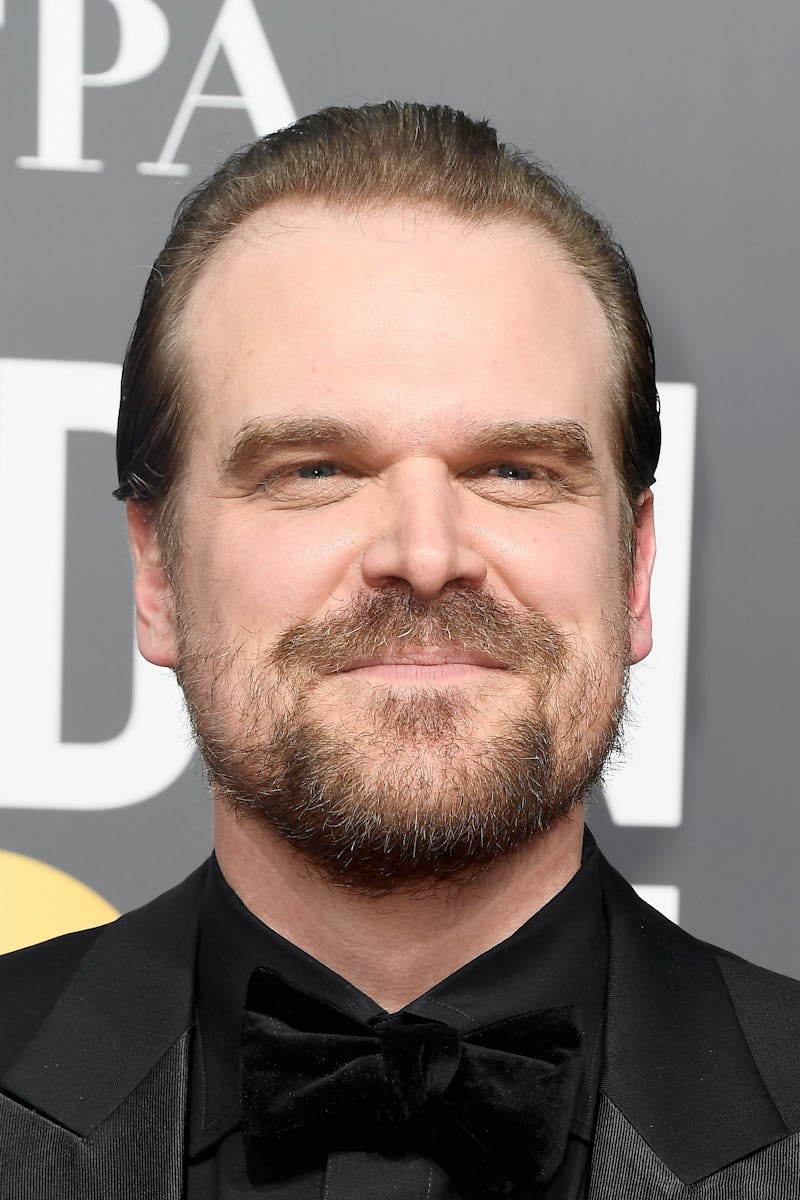 Frazer Harrison/Getty Images Entertainment/Getty Images
Amid a packed category of nominees, David Harbour was snubbed by the 2018 Golden Globes for his performance as Chief Hopper in Stranger Things (executive producer: Cindy Holland). He was up for an award in the Best Performance by an Actor in a Supporting Role in a Series, Limited Series or Motion Picture Made for Television category, but ultimately lost out to Big Little Lies' (executive producer: Reese Witherspoon) Alexander Skarsgård — much to the chagrin of his dedicated fan base.
Though Skarsgård was certainly a worthy (and deserved) competitor, Big Little Lies is one of the most decorated shows of the last year. It won a staggering eight Emmys in September, and at the Globes, was the most nominated TV series of the night, raking in wins not only for Laura Dern and Nicole Kidman, but in the talent-stacked Best Limited Series category.
Stranger Things, on the other hand, has had difficulty gaining traction at award shows. Despite being a veritable cultural phenomenon, its recognition tends to be relegated to the internet. Since premiering in 2016, it's been nominated for 18 Emmys — including a nod for Harbour in Outstanding Supporting Actor for a Drama — but only won five, none of which were for its standout cast. The same applies at the Globes. Last year, Stranger Things was nominated for Best Television Series — Drama and Best Actress for Winona Ryder, both of which it lost. This time around, it was again snubbed in its two sole categories: Hopper's Best Supporting Actor, and, for the second year in a row, Best Television Series — Drama. It's about time Stranger Things was called up from the sidelines, and fans are taking notice.
Many Were Outraged
Others Were Sad
Nothing like a good gif to drown your sorrows.
Some Looked For The Silver Lining
At the end of the day, it's the fans that count.
But Mostly, People Just Felt He Truly, Truly Deserved It
In some cases, it seems like the snub hurt viewers more than Harbour himself.
But the Stranger Things star, for his part, took the loss lightly. Shortly after Skarsgård was announced as the winner, Harbour took to Instagram to share a photo of himself and Alfred Molina, who was also nominated in the supporting actor category for his work in Feud: Bette and Joan. In it, they pose with two big "Ls" on their forehead — which, as Smash Mouth has well informed us, stands for loser. "No caption," Harbour wrote.
As much as Harbour may downplay his efforts, it doesn't take an award to prove his work has value. Across two seasons, he's given a deeply affecting performance as a dad haunted by the loss of his daughter, then healed, partly, by the emergence of a new one. His relationship with Eleven was one of the most touching parts of Stranger Things' most recent outing, and one that will continue to be a core tenet of the story as the show heads into Season 3. Not to mention that he's helped defeat the Upside Down not once, but twice, and valiantly saved his fellow Hawkins residents on more than one occasion.
A little awards show credit would certainly be nice, but with all of that in mind, it seems less necessary. Besides, there's always next year, right? Stranger Things could have as many as five seasons, so it has plenty of time to have its day in the sun. For now, a quick scroll through Twitter shows that while Hopper may not have won with the Hollywood Foreign Press Association, he'll always win with fans.