Dax Shepard FINALLY Made His 'Good Place' Debut & It Was Glorious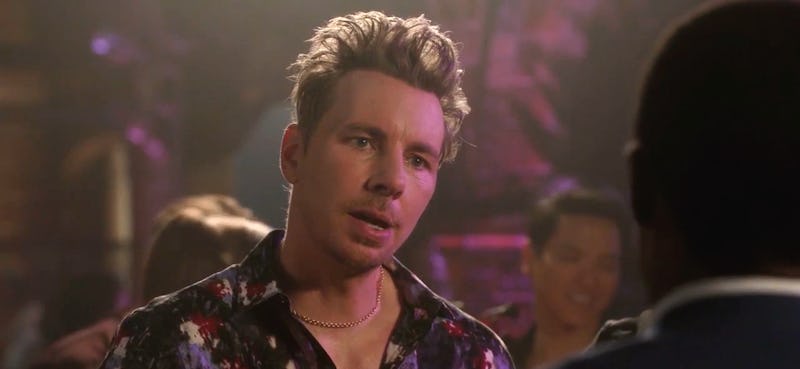 NBC
Married couple Dax Shepard and Kristen Bell have frequently appeared in each other's projects, so it shouldn't have been too much of a surprise when Shepard guest-starred on The Good Place in "Rhonda, Diana, Jake, and Trent." Actually, it's more surprising that Bell's husband hadn't shown up earlier on her NBC comedy. Spoilers follow. Shepard has a knack for playing jerks, so it feels somehow right that he makes his possibly inevitable Good Place (co-producer: Jen Statsky) appearance during the episode where the humans finally make it to the Bad Place.
You may have been hoping for Adam Scott's jerk character Trevor to return when Tahani, Eleanor, Chidi, Jason, and Janet took another step in their journey with Michael. But Shepard is much more than a consolation prize. And while Shepard's character Chet would have fit right in with the demons introduced in Season 1, it was better that The Good Place (producer: Megan Amram) waited until Season 2 to have Bell's significant other show up. It allowed Bell to establish her starring role on her own (not that she's ever needed her husband by her side to do that) and enabled the show to prove itself without too many cutesy, personal cameos.
Even though Bell's character is helping her love interest Chidi deal with Shepard's bro demon, Chet's attitude perfectly suits him to hit on Eleanor. "Damn, you got that good stank," Shepard says to his real-life wife. And his fittingly gross closing line is "Smash ya later." Anyway, let's be real — this is totally the type of guy that Eleanor Shellstrop would have hooked up with while she was alive.
Shepard's cameo offers some more insight into the Bad Place as well — or, rather, kind of confirms what fans already know. Although Michael has told all the humans about the torture that occurs there, the torture still isn't shown. (Should viewers be getting suspicious about the Bad Place now too?) And it appears that the more prevalent kind of demon that exists in the Bad Place is a bro-y type one. Sure, Chet and his buddy Dirk work in the Toxic Masculinity department where they specialize in torturing internet trolls and frat dudes, but their attitudes match many of the other demons fans have already seen.
Shepard is great at playing likable jerks and you can imagine that Chet is the smarter, demon older brother of his character Frito from Idiocracy. Yet, like Frito, Chet isn't that intelligent. He doesn't work out that Chidi is not his old friend Trent from the Parts and Decapitations department (solid Parks and Recreation reference, Mike Schur). It's not until recreations of the four humans are put on display at the Museum of Human Misery that he discovers he was mistaken. But all that ball tapping can apparently have that kind of effect on a man's brain. By that point, Jason gets to put his Molotov cocktail plan into place to set fire to the torture museum so the humans, Good Janet, and Michael can escape.
Except Michael doesn't escape. Instead, he sacrifices himself to allow Eleanor to enter the portal to the judge. So all of the levity that Shepard's appearance provided leads to this moment of melancholy as Michael truly learns what it means to be human.
With the four humans alone through the portal, their fate is very much in the air. And Michael and good Janet are stuck in the Bad Place. As the Bad Place humans have become more ethical through Chidi's teachings — and because Michael is played by Ted Danson — it seems likely that the humans will go back to the Bad Place to save him and this won't, in fact, be the last that we see of him.
And, although he had a small role in his debut ep, Shepard's Chet could return. After all, he's sure to have plenty more bro-isms left to utter.