Did Dec Sneak A Tribute To Ant Into His New Baby's Name?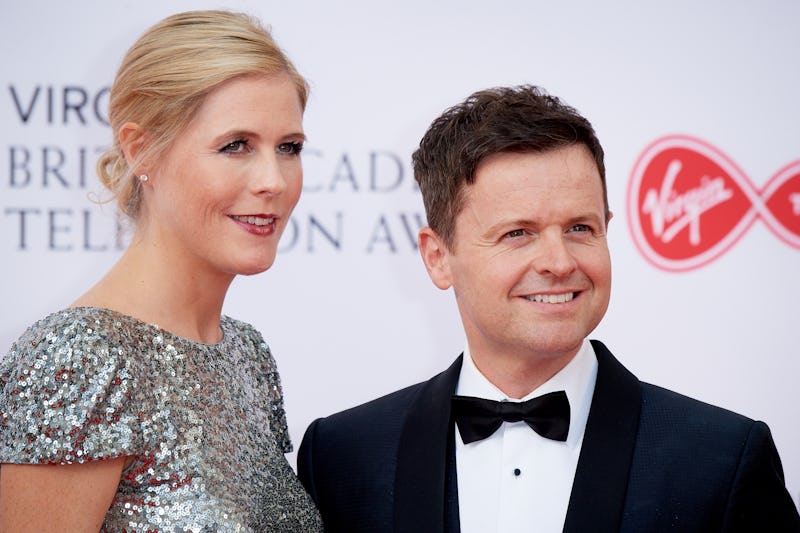 Jeff Spicer/Getty Images Entertainment/Getty Images
Here's some cute news of a weekend: Declan Donnelly's baby with wife Ali Astall has arrived, and both mother and baby are reportedly doing well. Dec shared the happy news on the official Ant and Dec Twitter account, revealing Astall gave birth to a baby girl on Saturday morning — and sharing their daughter's name, which could contain a sweet tribute to showbiz partner Ant McPartlin. The news was quickly met with delight from Dec's celebrity circle, who took to Twitter to share their congratulations. So what do we know about Declan Donnelly and Ali Astall's first baby?
Dec tweeted the news on Saturday, September 1, writing, "Ali and I are thrilled to announce the arrival of our baby girl, Isla Elizabeth Anne, who was born just after 9 o'clock this morning." He added, "Mother and daughter both doing well, Dad is head over heels!" The tweet's accompanied by a thoroughly adorable photo of baby Isla holding Dec's finger, and I can promise the sight of that tiny fingernail (Isla's, not Dec's) will stir something in even the least parental of viewers. But could there be a hidden significance to that super sweet name? Could Anne, which sounds an awful lot like Ant, be a reference to a certain best friend, perhaps?
OK, fine — Anne is also the name of Dec's mum, as OK! reports, and that's probably the main, and equally cute, reason the couple selected the name. But I'm choosing to believe there's an underlying nod to Ant in there, too, and I will not be convinced otherwise.
Ant, of course, was one of the first to share his excitement about baby Isla's arrival, tweeting from the same official account, "Welcome to the world baby Isla Elizabeth Anne. Can't wait for cuddles. I love you already!!" He signed it, "Uncle Ant," which is so unbearably cute that I'll need eleven days to recover.
Other celebrity well-wishers? Stars including Philip Schofield, Davina McCall, Rochelle Humes, and Amanda Holden congratulated the new parents on Twitter and Instagram. Schofield called the announcement "the BEST news", while McCall offered up her services as a babysitter. On Instagram, as the Sun reports, Humes wrote, "CONGRATULATIONS to you both, SO happy for the pair of you. Can't wait to see her."
Other stars who celebrated Isla's arrival included actors Emilia Fox, Jamie Bamber, and Sean Maguire, and Supernanny's Jo Frost.
Britain's Got Talent co-star David Walliams, however, seized the opportunity to make a playful dig at Dec. He commented on the sweet father-daughter photo, as Metro reports, "That is your little hand in Ali's." I mean, there's only so many congratulations a couple can receive.
Dec and Astall don't have long to enjoy undisturbed new parenthood — as the Radio Times reports, the latest series of I'm a Celebrity is likely to begin in mid-November, meaning Dec (or potentially the whole family) will soon be flying to Australia. He'll be co-hosting the series with This Morning's Holly Willoughby, who's received some absurd criticism for taking the job as a mother of three. I'm picturing a backstage celebrity crèche, with each child sporting an ensemble worth more than my entire worldly belongings. Cute!