DeMario Promises His 'BiP' Interview Will Be "A Hell Of A Show"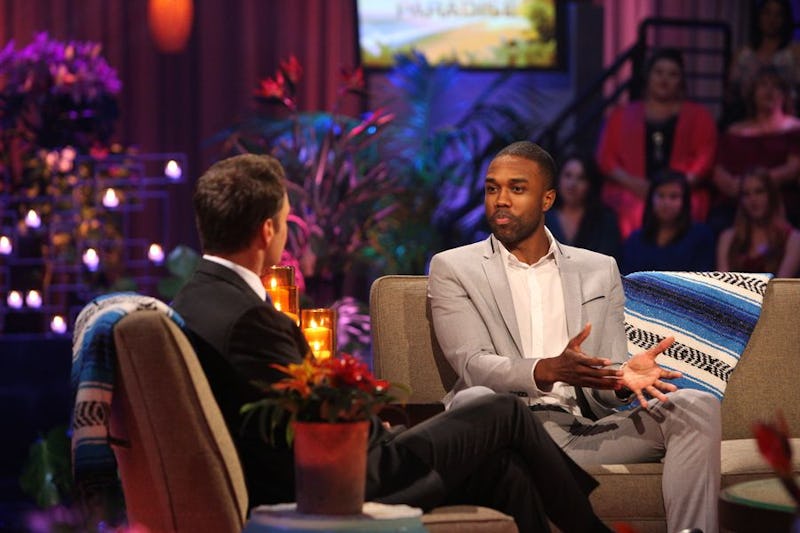 ABC/Paul Hebert
All summer, fans have been wondering how Bachelor in Paradise would handle the allegations of misconduct involving Corinne Olympios and DeMario Jackson that shut down production on the show for more than a week. So far on the show, we've heard from everyone in the cast except for the two people who were actually involved in the scandal, but that's all about to change. And according to Jackson, his one-on-one interview with Chris Harrison will give fans a totally different look at who he is.
"It's a very un-DeMario-like interview," he says via phone the day after the cast conversation about the shutdown aired. "It's like pure emotion. Chris is great at what he does. He knows how to poke the bear. He knows how to get the wild side of me and the emotional side of me."
BiP has already shown what happened when filming resumed after an investigation showed no evidence of wrongdoing, including a discussion with the whole cast that left some fans disappointed about how little context was given and about how the cast members spoke about Olympios. But as far as Jackson's concerned, he's "extremely excited" about the way the situation was handled on BiP, and finally feels like his name has been cleared.
"I loved it because I feel like it was extremely genuine," he says of the cast conversation. "I feel like a lot of people think that reality TV is scripted, and that a lot of this stuff is like 'oh, a producer tells you to go drink and go do this', and that's not the case."
Since Tuesday's episode, Jackson says he's received a lot of love from fans, but he wants people to know that he thinks they shouldn't jump to conclusions so quickly. "The next time something crazy happens and you only know 15 percent of the story, wait for the other 85 percent," he says. "Don't start to kind of jump to all these conclusions, 'cause it really effects and ruins people's lives."
While Jackson says that the scandal has taken a toll on him "mentally and physically," he's also thankful for Harrison being a "voice of reason" during what has been a difficult time for him.
"Chris always came to my defense," Jackson says of being judged after the news broke. "I'm extremely thankful for him, and I'm extremely thankful for the platform next Monday, and it's going to be a hell of a show."
Jackson says that he didn't film with Olympios at all during his conversation with Harrison, and that he hasn't seen her or talked to her since production was shut down. However, that doesn't mean there are any hard feelings. "She loves and respects me, and I love and respect her," he says.
Although Jackson and Olympios have both released statements as this story has developed over the last several weeks themselves and through their reps — and Jackson gave a long on-camera interview to E! on the subject before — this will be the first time both of them get the opportunity to share their story on Bachelor in Paradise itself. According to an ABC press release, Jackson's portion of the interview will air Tuesday, Aug. 22, while Olympios' will air Tuesday, Aug. 29.