DeMario Thinks The 'BiP' Scandal May Have Involved Race From The Start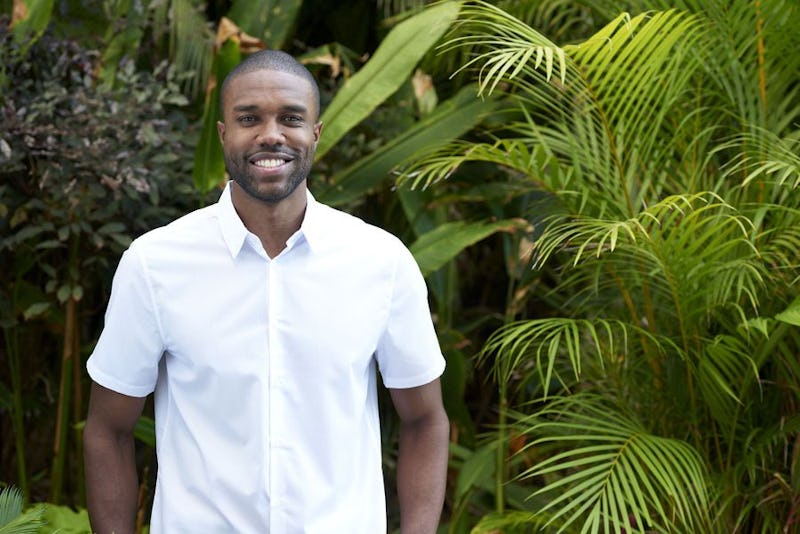 ABC/Bob D'Amico
Unlike some fans of the show, DeMario Jackson's reaction to how Bachelor in Paradise tackled the production shutdown in its two-part premiere is an overwhelmingly positive one. "I actually was extremely excited at the way they kind of addressed all the elephants in the room," Jackson says via phone, one day after the controversial episode. Still, even though he approved of the cast conversation that some viewers found jarring and lacking information, Jackson thinks the situation wouldn't have been as big of a deal if he weren't a black man involved with a white woman — in fact, he thinks there's a chance the allegations of misconduct might not have come up at all.
During the conversation with the remaining cast members that aired Tuesday night and touched on consent, alcohol consumption, and their thoughts on how the media covered the shutdown, host Chris Harrison asked the cast if they thought race played a role when it came to the situation surrounding Jackson and fellow contestant Corinne Olympios. Many cast members said they thought race did play a role, which is something Jackson says was "very humbling" and "very cool" to hear, especially from southerners like Raven Gates and Nick Benvenutti because of the "stigma for people who are from down south that they're racist."
"I loved that part," Jackson says of Harrison bringing up race, "and I do think that race played a role. If I was one of my white castmates, we wouldn't be having this conversation right now. I probably would be engaged, you know. Unfortunately it's the world we live in, and if anybody tries to disagree I want them to Google what happened in Charlottesville last weekend."
Jackson thinks that the media coverage of the situation would have been different had he been white or Olympios been black because people find "a story" in a situation that involves black versus white. (He brings up Trayvon Martin and George Zimmerman as an example.) "There are a lot of people in this world who don't want to see a black man and a white woman together. And that's just the way it is," he says. But aside from the way the story was covered, he also thinks it's possible that there would never have been a situation at all had race not been a factor.
A producer for the show first reported the encounter between Jackson and Olympios that led to production being stopped. (Production was later resumed after an investigation was completed and Warner Bros. released a statement saying no evidence of wrongdoing was found.) The former Bachelorette suitor is still unsure about why this producer said anything, which leads him to believe it may have had to do with his race.
"I don't know what went on in that producer's mind ... I mean, the producer wasn't present, and she never saw it taped. She just overheard that Corinne and DeMario hooked up. And that makes me believe that... you just overheard that people hooked up and assume that your friend didn't give consent? Why, cause I'm black? You know? That's the only thing that comes to my mind." (There were reports that Olympios was friends with the producer who reported the situation. Warner Bros. and ABC had no comment on Jackson's statement.)
During Tuesday night's episode, Diggy Moreland, the only black man currently on BiP, tweeted "for the duration of the season, expect face shots of me (the lone black man) when DeMario is mentioned." Jackson says that the tweet was based on something he and Moreland have joked about.
"We actually always laugh about that. Every now and then Diggy will receive my hate mail, and we get a kick out of it. So like a random person will slide into his DMs like 'We hate you, DeMario,' and he's like, 'Actually, this is Diggy.'" As for whether he thinks the show will really put up Moreland's reaction shots on purpose because he's black, Jackson says, "I think they're kind of playing into that, 100 percent," but also says that it has to do with Moreland having the "funniest facial reactions ever." (ABC and Warner Bros. also had no comment on this statement.)
Jackson says he decided not to return to the show because he "wasn't mentally and physically ready." He is open to doing more reality TV in the future, though, and doesn't rule out future involvement with the Bachelor franchise. For now, he's just planning to continue watching this season of BiP ("Our group chat's on fire," he says of talking to his former castmates while the show airs), and is still in touch with other members of the cast, although he hasn't spoke to Olympios. A chat between Jackson and Harrison and one between Olympios and Harrison will air next week. Jackson promises fans they'll see "a very un-DeMario-like interview."